12 miles on a sandy dirt road between three sets of mountains.
Authentic Cowboys, Jumping Cactus.
Dry Arizona Temperatures and Air Conditioning.
Horse Trails straight out of a Western Movie Set.
During our stay provided by the owners, these are the best real words I can use to describe life at the Stagecoach Trails Guest Ranch that finds its home well outside of tiny town Yucca, Arizona.  And I feel privileged to have taken part in that world for two days this summer.
Cowboy Life at Arizona's Best Dude Ranch
At the Stagecoach Ranch, Cowboys are never far away.  And I mean Cowboys.  Jake (pictured immediately below) left his cattle ranching job on the western edge of the Grand Canyon to come and work at the ranch.
Jake was a pleasure to be around.. Although he is quite used to entertaining cattle, he was a lot of fun, had plenty of jokes, and interacted well with kids and adults alike.  My son bent his ear off talking about wild animals, cactus and succulent plants, and he smiled the whole time!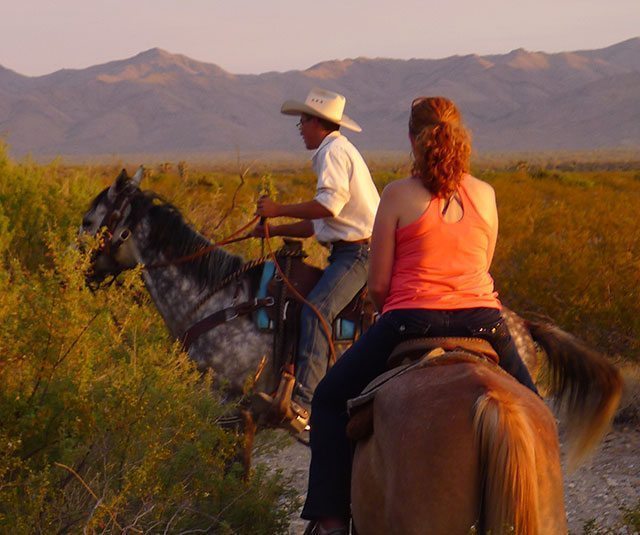 Jake was the cowboy that took care of us on the ranch.  But he wasn't the only one.  Our beautiful mustache'd ranch manager brought out his mustache in a wheelbarrow so we could photograph it. 🙂

Big Sky in Yucca, AZ Dude Ranch
Living in the woods in Ohio, I look up and see layers of deciduous green.  Not so in John Wayne Country.  Seriously right out of 1960's technical western, the Bureau of Land Management land surrounding the guest ranch boasts cactus, jack rabbits, coyotes, snakes, lizards, washes, Joshua trees and yucca plants galore.
Beautiful horse trails, dirt roads, and mountain views.
The picture below shows Peanut.  He is a miniature horse that is more or less the Ranch's pet.  Kids and adults alike are invited by the ranch owners to lead Peanut around the ranch grounds. Our kids loved it!
Cowboy Dinner Bell
When we heard the cowboy dinner bell, we knew it was time to eat!  Lunch, Dinner, and Breakfast were served in the Ranch's dining hall.  Served with a heaping helping of Air Conditioning, the food is served Buffet style and guests get to eat right along side their favorite cowboys and ranch hands.
I felt very special and a little awkward because the staff has to wait for all guests to be served before they eat.  Either way, we felt well served.
There was always great variety and plenty of food to choose from. When a spicy dish was served, they always made sure they had an alternative available for my daughter and I since they knew we didn't like spicy food. I also noticed on our last day that they were serving gluten-free dishes for the new set of guests that had just arrived.
A Little Bit of Heat
Our visit to the Ranch was during a summer heat wave.  The pool was well welcomed by the entire family.  As water is fairly rare to be sitting out in the open, the pool was frequented by Night Hawks that swooped down with mouths open and gathered water.  Their wings flapped so fast and they were so agile, we thought they were bats!
Swimming in the middle of the dessert was an amazing experience that we won't soon forget.
During our summer visit, trail riding was limited to sunrise and sunset to avoid the scorching sun.  We felt like we were in the scene of a movie because of how the light set around the mountains.  #WaitingforJohnWayne to appear.

Unlike other dude ranches, at Stagecoach Trails Guest Ranch, you get plenty of time to ride horses. We rode 1 to 1-1/2 hours every morning and every evening, and that was limited because of the heat.  My kids are 8 and 10 and their experience with horse back riding before the dude ranch was just once at a party. The first evening we were there, they rode 1 hour into the sunset! I was astonished. My kids loved horse back riding so much that they are now signed up to take lessons here in Ohio.
OK, back to Jake!  When he finished telling us about his John Wayne movie collection on DVD, Jake took time to give us directions to see the trailing edge of the Grand Canyon on our way up to Nevada. Everyone at the ranch made us feel like family, we felt very much at home.
Common Views
Riding at sunup and sundown brought its share of long shadows,
Beautiful varieties of cactus on and off the Ranch,
and the inside of a gorgeously, newly renovated suite with strong air conditioning and well selected decor.
Did I mention cactus?  My son the aspiring botanist was in heaven.  We had to bring a piece of cactus home with us on the plane.  Have you ever tried to move a cactus in a suitcase?  Fingers were damaged in the process…  Not recommended. He has bragging rights now that he is probably the only kid in Ohio with a jumping cactus.
Night
The nights were cool and refreshing, the sky was brilliant with stars, the ranch buildings were decked out with lights, and the sunsets almost foreign compared to what we have here in Ohio.
Warm and Brilliant
Everyone was smiles at the ranch, we all shared in every experience, and our children voted it well above the day spent at Disneyland the day before and the scenic drive on Highway One.  Let's just say we recommend this trip and cannot wait to go back.
The Stagecoach Trails Guest Ranch
19985 South Doc Holiday Road
Yucca, AZ 86438
More Links