Bringing your dog to a dog park brings a smile on everyone's face. Not only will your dog think they won the jackpot, everyone will end up exercised, socialized, and just feel like a successful pet owner!
Akron – Akron Dog Park/BARC
499 Memorial Pkwy.
Akron, OH 44310
330.510.1364
Open dusk – dawn, year round.
www.akrondogpark.org
Aurora – Tails-n-Trails Dog Park
Plenty of room to run off leash, Aurora's Tails-n-Trails Dog Park is a beautiful choice. A Pump Water Well is available to water your dog, a fire hydrant attraction and human seating.
841 Page Road
Aurora, OH 44202
330.562.6131
Open dawn – dusk, year round.
www.oh-aurora.civicplus.com
Cuyahoga Falls – Keyser Dog Park
2 Acres of Shade Trees, a Hyrdant for Water and Human Seating! Keyser Park is also home to ball fields and other human related activities.

851 W. Bath Rd.
Cuyahoga Falls, OH 44221
330.971.8223
Keyser Dog Park on Facebook
Massillon – Furnas Dog Park
Furnas Park is not easily found on a map. Surrounding Smith Elementary School, the Park offers Massillon's Best chance to recreate your dog!
Furnas Park (Hankins/17th St. NE)
Massillon, OH 44646
330-832-1621
Open dawn – dusk, year round.
www.massillonparks.com/parks/
Medina – Memorial Dog Park
Memorial Park has a big Pavillion, an Exciting Playground and a 10,000 square foot area (1/4 acre) for dogs to run off leash.
East Homestead Dr.
Medina, OH 44256
330.721.6950
Open dawn – dusk, year round.
www.medinaoh.org
Mogodore – Wingfoot Lake State Park Dog Park
Well shaded and against the back drop of Wingfoot Lake, this dog park is nestled against one of Akron's Greatest Secrets- Wingfoot Lake! Dogs do not have access to this lake.
993 Goodyear Park Blvd.
Mogadore, Ohio 44260
330.628.4780
Open dawn – dusk, year round.
www.parks.ohiodnr.gov
Orrville – Orrville Dog Park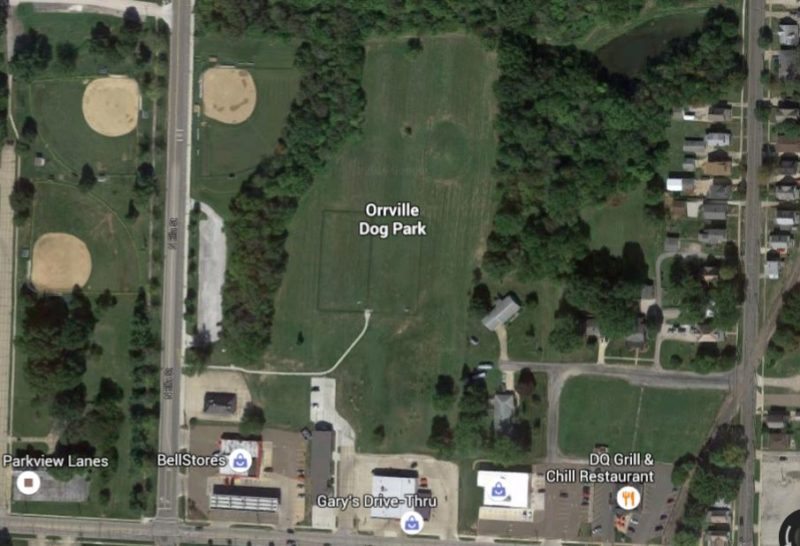 Across from Pizzazios Pizza, 424 N Ella St.
Orrville, OH 44667-1110
Open dawn – dusk, year round.
330.684.5000
www.orrville.com
Portage Lakes – Portage Lakes Dog Park
5031 Manchester Road
Akron, Ohio 44319
Open dawn – dusk, year round.
330.644.2220
www.ohiodnr.gov/portagelakes
Stow – Bow Wow Beach Dog Park @ Silver Springs Park
My favorite water side park, Bow Wow Beach offers a sandy beach, small dog area, wash station and dog agility training area. Silver Springs also has basketball and tennis courts, pavillions, and an accessible playground for kids.
5070 Stow Rd.
Stow, OH 44224
330.689.5100
Open 8 am – dusk, March 15th – December 1.
Learn more in our Silver Springs Park post.
http://www.bowwowbeach.org
Twinsburg – Liberty Dog Park @ Liberty Park
Twinsburg's Liberty Park is HUGE! There is lots to explore with your dog on leash. Take him or her to the off-leash and sit down for a few minutes.
9430 Liberty Rd.
Twinsburg, OH 44087
330.963.8722
Open 6 am – dusk
www.twinsburgdogpark.com
I see it in our two dogs: when they get exercise, they are happier, calmer, more obedient, less barky pups. We received dog training to facilitate the writing of this and other dog articles.Since Sit Means Sit Dog Training, our dogs went from unruly pets to polite pooches. This has led us to spend more time them on walks/runs with them and socializing our dogs. What an awesome benefit!