Discover out of this world cosmic family fun at Ohio's Best Mini Golf at Alien Vacation Mini Golf in Medina, Ohio. There isn't anything typical about this mini golf experience. Each of the 18 holes are extraordinarily themed with fiber optics, freaky 3D illusions, animated features, black-lights, lasers, and even real Sci-Fi movie props!  Be prepared to be blown away with crazy fun!

Each of the 18 holes are expertly and custom designed by world renowned sculptor, Mark Klaus. Hang on because it is an immersive sensory experience from every angle – there is so much to see and experience, you won't want to move onto the next hole! Even the carpets have 3D murals that respond to the black light!!
We love the fun alien theme that runs throughout the mini golf course. It is lively, colorful, and exciting! Kids and adults alike will enjoy it!
Many of the features are animated including the below alien riding in his car!  You never know what features will move, make sounds, or pop out at you. No worries, nothing scary or at least not too scary – the TRex is quite a fright!
Bring your camera or at least have your phone handy because you won't wan to put it away. There are so many fun photo ops! Be careful not to fall off the iceberg!!!!!!!
I wasn't surprised to see one hole was decked out with a Christmas theme. I wasn't surprised because I know that attached to Alien Vacation Mini Golf is Castle Noel, America's Premiere Year-Round Indoor Christmas Attraction!  You have to check it out too – they even have the actual GRINCH sleigh and costume! You can even go down the slide from The Christmas Story movie! So fun!
At the 8th hole at Alien Vacation Mini Golf is the Mars Bar On. This is the perfect place to take a break with your kids or if you are with friends. They offer slushies and soft drinks for everyone! Plus, they are a licensed bar for adult beverages. You can even host a small gathering/party at the Mars Bar On.
While relaxing at the Mars Bar On, you'll enjoy the beautiful salt water aquarium behind the bar and movie memorabilia from Independence Day movie!
Take a quick video tour of Alien Vacation Mini Golf with me from our Facebook Live event!
Live at Alien Vacation Mini Golf in Medina!

Posted by AkronOhioMoms.com on Saturday, 2 February 2019
As you can see, each of the 8 themed holes seem even more outrageous than the one before like this giant octopus ready for a photo opp!
You can even get a souvenir photo taken by the staff here!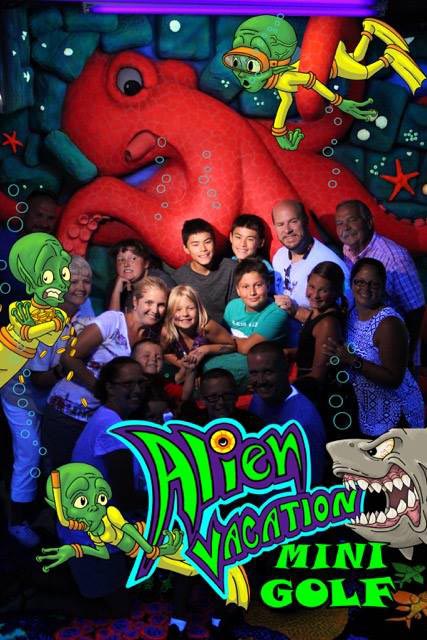 If you are a movie buff, you'll really appreciate the authentic props & costumes from block busters like Star Trek, Galaxy Quest, and Men in Black throughout Alien Vacation Mini Golf. This place is just so amazing and so fun on so many levels. I love that it offers a fun place for both children and adults – the experience is extraordinary for all ages.
We are fortunate to have such a creative entertainment option right here in NE Ohio. They have won multiple awards over the years including Cleveland's Top 3D Mini Golf Experience!
If you are tired of being stuck indoors in the cold this winter, load your family and friends up for a fun day in Medina! Or, if you are reading this and it's summertime, it is the perfect place to cool off indoors in the summer. The point is, this is a fun year-round family entertainment option in NE Ohio.
And don't let your kids have all the fun!! Play mini-golf with your kids. Have fun yourself too!
Party at Alien Vacation Mini Golf
Parties are more fun at Alien Vacation Mini Golf! Give your guests a party they will all enjoy and talk about for years to come! Alien Vacation Mini Golf is perfect for birthdays, anniversaries, corporate events, senior events, office parties, field trips, and even unique weddings. Book your party and party room. 
Visit Alien Vacation Mini Golf
Find the admission prices and hours here.
Alien Vacation Mini Golf
260 S Court St
Medina, OH 44256
Phone: (330) 721-1224