It is time for the Akron Zoo's annual Boo at the Akron Zoo! After our fantastic fun experience last year, Boo at the Akron Zoo has become a tradition for my family! It is the best non scary Halloween Event for kids in Akron, Ohio. It is a safe alternative to neighborhood trick or treating in Akron, Ohio too.
Best Non Scary Halloween Event for Kids in Akron Ohio
With all the big kids going to haunted houses and hayrides, younger kids get left out. Boo at the Akron Zoo is one of the best non scary Halloween events in Akron, Ohio. The entire zoo is transformed into a fun and playful Halloween event.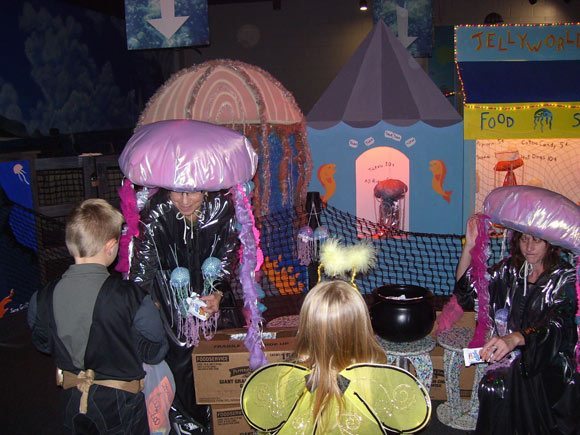 There are 12 treat stations this year, 2 more than last year. Each is decorated with a theme and the person handing out treats is dressed in a coordinating costume. Some themes include the bats, witches, construction, trains, and safari. Also new this year is that there is not a one-way trick or treating  path. You can roam the zoo on a scavenger hunt for the treat stations. I think this will be a welcomed change.
Boo at the Akron Zoo is so much fun. Of course the kids will be happy with the generous amount of candy but there is even more fun like straw bail mazes, the carousel, new train ride, and more. Plus, don't forget the animals! Now that the weather is cooling down, many of the animals are more active than ever! It is one of the best times of the year to visit the zoo.
My biggest advice is to buy our tickets ahead of time either at the Akron Zoo or at any Acme Fresh Market in NE Ohio before October 15, 2011. Doing this will save you $1 per ticket AND save you from waiting in a super long line. Even though the staff moves the line right along, that is the last thing your kids want to do – wait in a line!
Boo at the Akron Zoo Hours
Boo at the Akron Zoo runs Oct. 15 – 16, 21-23 and 28-30, 2011. Hours are 5:30 – 8 p.m. on Fridays and 3 p.m. – 8 p.m. on Saturdays and Sundays.
Buy Boo at the Akron Zoo Tickets
Tickets for Boo at the Akron Zoo are $10 for trick-or-treaters and $6.00 for observers. Akron Zoo member observers are free, but will still need a ticket. Boo at the Akron Zoo is presented by Acme Fresh Markets.
The Zoo will be serving an all-you-can-eat pizza buffet in their Komodo Kingdom Café during Boo. In addition to freshly made pizzas, the buffet will include dessert pizza, too. The buffet is $4.99 for kids and $6.99 for adults.
This was not a paid post. My own opinions were used based on my perceptions. Thank you to Akron Zoo for their on-going relationship with AkronOhioMoms.com.