Our favorite pizza shop is Pizza BOGO in Hudson, Ohio. They go way beyond the typical pizza, around in the world, in fact. They have pizza flavors for every taste and tradition, plus all of the favorite American combinations. Every day, their deal is buy one pizza, get one free! You can't beat this deal. Plus, for every additional pizza, it is just 1/2 off. Plus, Pizza BOGO offers unbelievable deals to their followers.
Best Pizza in Hudson, Ohio for Kids Birthday Parties
Kids love pizza, so it is no wonder why many businesses that offer kids birthday party packages include Pizza. Many use  Pizza BOGO as their preferred pizza choice for kids birthday parties. Many places will let you bring your own food or choose your own pizza company. We recently had our daughter's 4th birthday party at Little Leapers in Hudson, Ohio. They allow parents to bring food in from any vendor. We choose Pizza BOGO and the kids scarfed it up.
Of course, I chose Pizza BOGO because it is my family's favorite but I have another reason. Remember how I just said they were a preferred pizza choice for local businesses? There is a reason, a huge one! With organized birthday parties at a business location, you have an allotted time for food and gifts, usually 1/2 hour. If you have an unreliable pizza or food vendor, the whole party can get out of balance leaving you with not enough time to eat or paying extra for the time you use the party room. Since Pizza BOGO has a lot of birthday and business party clients, I knew I could trust Pizza BOGO to deliver hot, fresh pizza, on time.
Not only does Pizza BOGO offer the best pizza in Hudson but it is the perfect choice for convenience for any birthday party. Whether you have a party outside or at your home, you can rely on Pizza BOGO. You know the kids will like it and you know it will be on time.  Save yourself the time and hassle of figuring out what to make for kids birthday party and order pizza. It is easier and will be a guaranteed hit.
Pizza BOGO Pricing:
Remember, you Buy One Get One FREE! Get each additional pizza 1/2 Off! Free Unlimited Toppings.
Small, 4 slices, $12
Large, 8 slices, $16
XLarge, 10 slices, $20
Miracle Crust, 10 slices, $20
Pizza BOGO Pizza Selection:
For a kids birthday party, I recommend ordering cheese pizza and pepperoni. You can't go wrong with these kid favorites.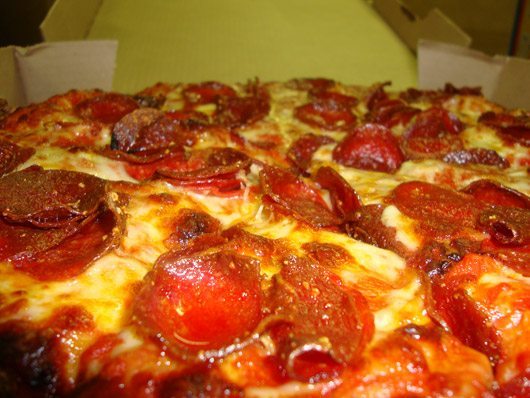 Pizza BOGO Menu
Choose your own toppings or choose a World Gourmet Pizza.
World Gourmet Pizzas include: Bombay, Bangkok, Morocco, Latina, Mediterranean, Morocco, Hawaiian, Milano, Greek, Bianco, French Quarter, All American, Napa Valley, Tuscan Fiorentina, Chicago Stuffed.
Local Favorites: Veggie Works, Meat Works, Serious Pepperoni, BBQ Chicken, Big Bang

Orley Family favorites are Greek, Milano, All American, BBQ Chicken, and Bombay.
Pizza BOGO Pizza Hours:
Monday – Thursday: 10:30am – 11pm
Friday – Saturday: 10:30am – 12am
Sunday: 12pm – 10pm

Follow Pizza BOGO on twitter
"Like" Pizza BOGO on Facebook
Pizza BOGO
180 West Streetsboro Rd
Hudson, OH 44118
330-342-3333
This was not a paid post. My own opinions were used based on my perceptions and experience. Thank you to Pizza BOGO who provided pizza for review.