Did you know that there are still wild horses running on the beaches of the Outer Banks in North Carolina? Honestly, I had no idea there were still wild horses in the USA aside from the wild horses and burrows in Nevada. The wild horses is must see Outer Banks attraction. There are several companies to choose from but only one has received the coveted title of #1 attraction in the Outer Banks by TripAdvisor, Wild Horse Adventure Tours in Corolla, NC.
Wild Horse Adventure Tours Review
We were very excited to see the wild horses and to ride in an open-top jeep on the beach. Wild Horse Adventure Tours give you 3 opens for their tours, perfect for every comfort and adventure level.
Personally Guided Suburban (closed vehicle, A/C) horse tour
Personally Guided open-top vehicle horse tour
Rent a Jeep and drive yourself on a guided tour
We chose the guided tour with the open-top, and no doors jeep. My kids thought it was amazing to ride in a vehicle with no top or doors. They were way in the back, not next to an open door, so as a mom, I felt this was safe. Plus, I popped in their booster seats too. Wild Horse Adventure Tours is the only horse touring company with the availability of open door jeeps, for those that want that kind of adventure.
What we saw on the way to the Outer Banks Wild Horses
Our tour guide was super friendly, talking about the history of the area as we drove to the beach. We drove past the Whalehead Club and the Currituck Beach Lighthouse, explaining the stories behind each and their significance on the area. For instance, it took 1 million bricks to build the Currituck Beach Lighthouse, one of few with the original brick color and not painted white or black & white.
Outer Banks Wild Horses Tour Family Review
Each tour guide tailors the adventure to the group on the tour. Our tour guide really involved the kids, asking them questions, pointing out neat things, and even stopping for blackberries for our kids.
We saw 3 horses immediately upon arriving on the OBX Corolla beach, they were retreating from the beach toward the sea grass on the dunes. It was so fun to find the wild horses so quickly.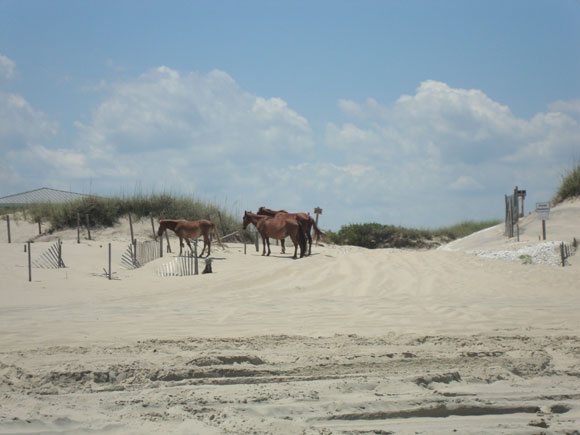 From there, we headed up into the dunes area where the sand was thick and loose. Honestly, I'm glad we had our tour guide driving through this area because I know that if I drove there, I would be stuck in no time. I'm sure my husband would have done ok but it would have added an element of stress to the trip. With an experienced tour guide, riding through the dune was an exciting part of the adventure!
Surprising to me, there are many beach homes that you can rent right in the thick of the sand dunes. You need 4WD to get to these homes! We spied a young male horse just grazing on the sea oats on the dunes.
We learned that male horses stay with their family until they are about 3. After that, they spend 1-3 years running with other "teenagers" in a rowdy herd. From there, they find a lovely female bride to settle down and start their own family.
Video of Wild Horse Adventure Tours in Outer Banks, NC
[youtube]http://www.youtube.com/watch?v=0uK3nO7YKKs[/youtube]
During our 2+ hour tour, we covered much of the 20 miles of beaches and sand dune areas that the wild horses call home on Corolla beach. We found another herd of about 5 or 6 wild horses hanging out in the back yard of a rental beach house. If you love horses, this is the place to rent a house on the Outerbanks.
Besides birds, we didn't see any other wild life while on our tour. We did see fox holes, which was pretty neat. My son asked why there were so many holes. We found out that foxes like to have more than one way in and out of their homes. You may also see deer and wild boar in this area during your Wild Horse Adventure Tour. We even saw the popular monster truck driver Grave Digger's Beach House.
It's hot outside, so be sure to bring drinks on your tour. Each vehicle comes with a pre-iced cooler.
If you are headed to the Outer Banks, you and your family won't want to miss out on the Wild Horse Adventures Tour. It is a once in a lifetime opportunity to see wild mustang horses running free.
Where did the Outer Banks Wild Horses come from?
Before going on the Wild Horse Adventure Tour, I had no idea there were even wild horses still in the USA, let alone where they came from. The Currituck County Outer Banks wild horses are ancestors of horses that escapeds from Spanish stock brought to the Outer Banks of North Carolina in the first part of the 16th century.  Find out more on the Wild Horse Adventure Tours website. In the 1980's there were about 6,000 wild horses, the government put a bounty on them and many have been injured by vehicles. Now, they are protected by fenced in area of 20+ miles.
There are 104 wild Corolla Spanish mustang horses running free for you to discover. They hope to get up to 130, as that is the target # that is ideal for healthy genetics. Currently, when a horse is injured or has problems with their knees, as a result of genetics gone bad, those horses are taken out of the wild. Once they are treated, they cannot return to the wild population. They are sold or taken care of by other organizations.
Book your Wild Horse Adventure Tour
You can book your Wild Horse Adventure Tour on their website.  When you book online, receive a coupon! Tours offered February through the end of December.  With more than 10 vehicles and times throughout the day, you are bound to find the right fit for your family. They guarantee that you will find Corolla Wild Ponies or you get your money back.
Wild Horse Adventure Tour Times:
5:30am, 8:30am, 11am, 1:30pm, 4:00pm, 6:30pm
Wild Horse Admission:
Adults $ 49.00
Kids  (12 & under) $ 34.00
Senior Citizen $47.00
4 Seater Jeep – $ 169 total inclusive price
5 Seater Jeep – $ 189 total inclusive price
This was not a paid post. My own opinions were used based on my perceptions and experience. Thank you to Wild Horse Adventure Tours who provided the tour for review.