If I was to be shipwrecked, I would hope to end up in a place like Castaway Bay! Castaway Bay in Sandusky, Ohio is a fabulous family retreat anytime of year with the feel of a Caribbean tropical paradise. We were invited to attend their special Mommy Blogger Event to get our take on this Ohio waterpark.
A trip to Castaway Bay will make you feel like you were just transported to a paradise island. The tropical decor extends throughout the entire resort, including the impressive shipwreck scene as you immediately enter Castaway Bay.
The ship's wheel and found treasure welcomes you to the entrance of the Castaway Bay Indoor Waterpark.
Castaway Bay Indoor Waterpark Review
We have been to several indoor waterparks in Ohio, each has their own strengths and weaknesses. I can honestly say that Castaway Bay was all positive, there is nothing I would change.
The most important part of an indoor waterpark for me is temperature (you'd think it would be safety, I'll get to that). You don't feel like you are in the Caribbean if you are freezing cold. Castaway Bay is a warm 82 degrees year round and it really is. We were very comfortable both days that we were at the waterpark in the middle of Winter. This is a huge deal because if the water is too cold or the air, you won't have fun or want to stay long.We've experienced this elsewhere.
The 2nd most important part of an indoor water park are the lifeguards. We keep a good eye on our kids, but having good lifeguards are critical.  Lifeguards at Castaway Bay are trained under the Ellis & Associates National Pool & Waterpark Lifeguard Training Program (NPWLTP). This program provides the highest degree of swimmer protection in the industry. This is the same technique that Cedar Point's Geauga Lake WildWater Kindgom uses.  The lifeguards at Castaway Bay were the best of any indoor waterpark that I have visited so far, not as extremely impressive as WildWater Kingdom but far better than other indoor waterparks.
Lookout Lagoon Family Funhouse at Castaway Bay
My favorite part of an indoor waterpark is the climbing structure where you can squirt people, at Castaway Bay it is the Lookout Lagoon Family Funhouse. Okay, so I love to catch people by surprise with squirting water and so do my kids, especially my daughter! It is good, clean fun! Kids and grown-ups can have fun together on this structure.
With this 4-story structure, you are sure to get wet with buckets of tipping water, soaking gadgets, and my family squirting you with one of the many squirting guns! There are also 4 slippery slides that are fairly easy, yet fun with short or no lines. When we were there, 1 was closed but there was still plenty to do.
Attached at the top of the 4 story Lookout Lagoon is a gigantic 1,000-gallon bucket ready to tip on you every 2 minutes! You have plenty of opportunities to get in on the splashing fun with how often it tips.
Castaway Bay Wave Pool at Castaway Bay
The rest of my family chose the Castaway Bay Wave Pool as their favorite and it was my 2nd favorite part. What is a paradise island without the waves of the oceans? Castaway Bay has one of Ohio's largest indoor wave pools. It is filled with 100,000 gallons of splashing fun water! The waves get up to 3 feet high. This wave pool is just perfect for young families. The deepest depth, without the waves is just 4 feet. (It goes to 5 feet deep behind the roped off area.) There are no rafts or floating rings but they weren't missed. I had the best time playing with my kids in the wave pool, we just loved it. I liked it because I was having fun with my kids while feeling like a kid myself. I didn't care who is looking or what is going on around me, I was just having fun with my kids! Elijah and I counted the waves, we stopped at 172 so if you are wondering, I think there are about 300 waves per wave cycle. Who says you can't add a little education to fun times?
Creature Cove at Castaway Bay
Creature Cove is an 80,000-gallon activity pool with water basketball hoops, and a dolphin & giant snake to climb on.  We spent a lot of time here too, just playing and the kids practiced swimming. They had a great time climbing on the sea creatures too.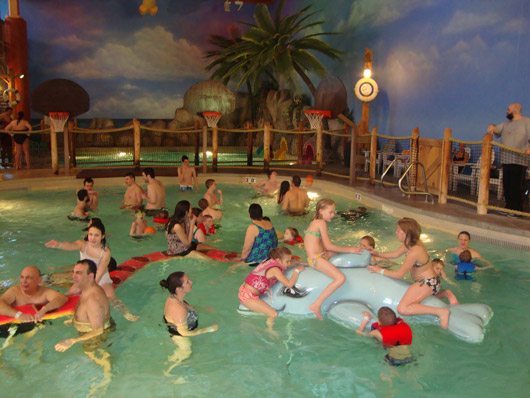 The activity pool also has a rope climbing area where you can hold onto the rope and walk from barrel to barrel.
Toddler's Tide Pool at Castaway Bay
For the little ones, there is a Toddler's Tide Pool area. This is a zero depth entry area with 3 slides, waterfalls, squirting guns, and other fun ways to get wet! My kids spent some time here but are starting to outgrow this area. The slides were still a hit here for them at ages 4 & 6. This is a nice size area for families with little kids and babies.
The Grotto Indoor & Outdoor Spa at Castaway Bay
The Grotto is an indoor and outdoor spa where you can relax and warm up. This 100 person total hot tub is where we head right before we leave the waterpark area. My kids especially liked that they could go outside in the hot tub when it was only 30 degrees outside! Lots of people enjoyed this feature, although it was never over crowded.
Rendezvous Run Water Coaster at Castaway Bay
Elijah and Daddy road the Rendezvous Run Water Coaster. It is a 35 foot tall water roller coaster. It is a bumpy ride through open sky and dark, covered areas of hills and turns with splashes of water throughout.
Body Slides at Castaway Bay
There are 3 Body Slides at Castaway  Bay. They are each 35 feet tall and end with a big splash at the bottom.  My kids are too young to participate, so these will have to wait for us. I'm sure they will be a big hit in a couple years. There were very short lines from what I saw.
Castaway Bay Resort Review
So, the main part of Castaway Bay is the waterpark but the fun doesn't end there. Once you have had your fill of splashes, head over to the day spa, fitness center, 6,000-square-foot state-of-the-art arcade, a craft and child activity center, 3 restaurants, retail shops, or adjacent marina. Believe me, you won't be have a chance to be bored!
Crabbie's Quarterdeck Arcade at Castaway Bay
Crabbie's Quarterdeck Arcade is 6,000 sq ft of fun for all ages! You will find all of your favorite arcade games spewing out lots of tickets, or at least filling them up on your e-ticket card. They have all of the latest video games, basketball, air hockey, etc for adults as well as a nice selection of arcade games for little ones. My kids are 4 and 6 years old and found plenty to enjoy at the Castaway Bay Arcade. Plus, their prizes are a lot nicer than other arcades. We never earn a lot of tickets at arcades, but always enough to get a tiny toy and candy. At Castaway Bay, my kids left with a small bag of toys and candy, and well-made toys too. We were impressed.
Storytime at Castaway Bay
Storytime at Castaway Bay was way more than just a story by an employee. It began with a 1/2 hour Snoopy video, my kids loved it as they laid there in their pjs. Then, Snoopy came out in his pjs ready for story time. They read the "If you give a mouse a cookie" book. Afterwards, you could line up for a picture with Snoopy for FREE. My kids were exhausted, so we went back to the room.
Castaway Bay Rooms
There are 237 rooms & suites at Castaway Bay. Most have a private patio or balcony and come with remote control TV, microwave, mini-refrigerator and coffee-maker.  We stayed in a very clean, tropical theme room with 2 beds. It was way too cold to sit outside but the balcony would be very nice to enjoy during warmer months.
The Spa at Castaway Bay
The Spa at Castaway Bay offers a true escape from it all for a little pampering. The Spa at Castaway Bay offers massages, facials, manicures, pedicures, body waxings and Botox and Juvederm services for guests and non-guests alike. For the Castaway Bay Blogger Event, I was able to tour their beautiful spa and learn about their services.
The Castaway Bay Spa Manicure and Pedicure Room is large enough to accommodate entire girls night out and bachelorette parties with multiple stations. This room overlooks the spa pool and bay.
There are several massage rooms, including a couples massage room.
The Spa at Castaway Bay offers Spa Vacation Packages including special packages for mother-to-be, bridal experience, men's spa day, mother daughter castaway, and Castaway Couples Escape. The Spa at Castaway Bay offers a variety of facials, manicures, pedicure, paraffin dip, polish change, body polish, body rejuvenating treatment, body wrap, waxing services, and massages (Stone, Couples, Pregnancy, Therapeutic). It is also a full service salon offering cuts, color, perms for women, men & children.
The Spa at Castaway Bay offers a aromatherapy whirlpool & spa pool free with any services or per hour without service. Both areas over look the bay waters for a more relaxing experience with a beautiful view.
While on the tour, I was able to meet the friendly Dr Gregory Surfield who offers Botox and Juvederm services at the spa. Call 419.621-1940 to schedule a consultation. I have never had Botox. At this event, I was able to witness it being administered. She said it was painless and it was so quickly done. This demonstration put me at ease about considering this in the future.
Products at The Spa at Castaway Bay
The Spa at Castaway Bay carries a select array of products for purchase including md formulations and bareMinerals.
md formulations deliver immediate, long lasting results with continued improvement. These products can reduce up to 48% reduction in the appearance of fine lines and wrinkles.
bareMinerals is a mineral makeup that looks like a powder and feels like a cream. It leaves your skin feeling silky. I was able to watch a demonstration and feel like this is a product I will be using or at least should, in the near future. My current make up is oily and not treating my skin very nicely!
Angie's Boutique for those battling cancer
What I was most impressed with at The Spa at Castaway Bay was Angie's Boutique.  Angie's Boutique is a specialty shop designed specifically for ladies battling cancer. In a private setting, you can find the most flattering breast prosthetic and bra or the perfect wig. Professional certified fitters will pamper you.
Angie's Boutique carries the latest in breast prosthesis including Anita, Trulife, and Amoena.  They also offer customized prosthesis to imitate your existing breast.
Angie's Boutique offers full wigs as well as hair and scalp rejuvenation.  They also carry Cinderella Human Hair Extensions, Rene of Paris wigs, and Nioxin products to thicken hair.  Men and Women hair pieces available.
Other products available include Post-breast surgery bras, luxurious bras for sizes up to 42G, and maternity apparel.
They even have direct insurance billing as most services can be covered by your insurance provider. For complimentary consultation, call 419-483-3793 or 419-625-5772.
Castaway Bay Indoor Waterpark Review
I hope this detailed review was helpful to you. I recommend Castaway Bay to families with babies to teens. It is well taken care of with great service. The layout of the waterpark is easy to navigate and see what your kids can do or not based on their height. There are plenty of towels and life jackets. The life guards are top notch and helpful. This would be a great escape from Ohio's colder weather as well as a great add-on for your  next trip to Cedar Point!
Special Castaway Bay Deal for AkronOhioMoms.com Fans
Castaway Bay is offering you a special deal! Using the Castaway Bay coupon code BLOG, you can book an overnight package for as low as $129! Plus, there are great spa deals when you use the Castaway Bay coupon code MOMMYBLOGGER. Please mention you got this code from AkronOhioMoms.com when you call. Click below for both Castaway Bay and The Spa at Castaway Bay deals!
This was not a paid post. My own opinions were used based on my perceptions and experience. Thank you to Castaway Bay, Cedar Point, and ThunderTech (Melanie & Misty) for the tickets & room for review.