Expect more screams than ever at Cedar Point HalloWeekends 2014 with a newly expanded kids area and more! My family looks forward to Cedar Point HalloWeekends every year! It is our last chance to ride all the rides as well as enjoy frightfully fun family-friendly monsters and entertainment!
We were welcomed by these family-friendly monsters soon after we arrived. They had their own band and were dancing all around!
I received tickets to facilitate this post.
We always look forward to chatting with our favorite ogre! He snores a lot and makes pretty serious threats but I've never seen him eat a human yet!
Cedar Point does a fantastic job decorating their park for HalloWeekends! There is always new exhibits every year, keeping it fresh and fun. One of our favorite parts is exploring all the new exhibits around the park. We loved the skeleton horses in Frontiertown!  The skeletons sitting around a bonfire was pretty cool too!
Cedar Point HalloWeekends has 2 tracks: Family Friendly and Frightfully Scary.
The Family Friendly section has expanded with even more fun for younger kids including trick or treat spots all around the kiddie rides, corn stalk maze, tractor riding, hay maze, foam pit, and more! These attractions close early, around 5pm, so be sure to do all of these attractions early on in the day! We didn't realize this and missed out on 1/2 the fun.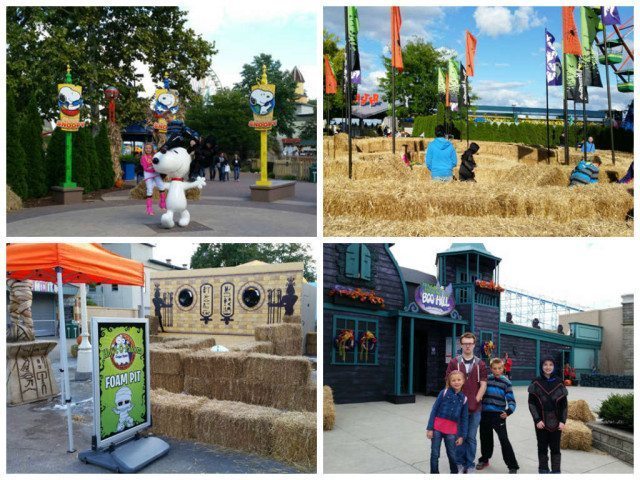 The Boo Hill haunted house stays open all evening and is one of our favorites. It is a kid-friendly "haunted house" with scenes like toy alligators coming out of toilets, a bed made out of needles, witches kitchen, and more.
Have your kids wear their Halloween costumes and enter the Kids' Costume Contest! They can even join the Monster Midway Invasion Celebration parade with a special seat for the contest winners!
The Monster Midway Invasion Celebration parade has a new route this year, so plan accordingly. It has all your favorite monsters and of course your favorite Peanuts characters!
It is a really enjoyable parade and a good time to rest during your visit to Cedar Point.
Don't forget the rides!!! I love riding the rides at Cedar Point during HalloWeekends because it is like a new experience with the cooler weather and Halloween theme decorations. We enjoy going with friends and family during HalloWeekends which offers a totally new experience than when it is just the 4 of us. My kids love riding the rides with cousins, aunts, uncles, grandparents, and friends!
There are so many things to do and see at Cedar Point HalloWeekends that you can't do it all in just one visit! This is also the perfect time for those that ride many rides to visit Cedar Point because there is even more for them to do like the newly expanded Barnyard!
The Barnyard use to be a small area with sheep and goats for kids to pet and parents to watch. Now, it is an interactive experience for adults and children!
There are many new animals and you have a chance to feed them for just $1!
One of our favorite spots to visit is Fort Sandusky Mining Company, located near the Barnyard in Frontiertown. My kids just love this store for their amazing gems, magnets, and stones. They buy something unique from this store every time. There are actually quite a few unique stores in Frontiertown that offers unique gifts for all – perfect for a little Christmas shopping.
While in Frontiertown, stop by CJ's Provisions for a delicious treat. We enjoyed their huge caramel apples and pumpkin cookies. They have a variety of fresh baked treats and fudge for everyone!
Like I said, there is so much to see and do during HalloWeekends that you can't do it all. Head on over to Adventure Island to visit the dinosaurs at Dinosaurs Alive. We didn't make it this time around but had a blast earlier this Summer!
Another one of our favorite spots is the Midway Market. This is the best place to sit down for a delicious meal at Cedar Point. It is a buffet that has something for everyone including healthy options! At around $15 for adults, this all-you-can-eat option is one of the best deals there. Choose from carved meats, salad bar, fried chicken, soups, pasta bar, dessert bar, unlimited drinks, and more.
It is also the perfect time to warm up and relax during the chilly days of HalloWeekends!
Be sure to schedule enough time in your visit to check out a show or two. Cedar Point has an amazing line up of live entertainment all season long with new shows for HalloWeekends. One of our favorite shows is the magic show at Jack Aldrich Theatre – we always leave asking, "How did they do that?"
When the sun sets, Cedar Point turns eerie with more fun to be had. My kids LOVE riding rides after dark – it's a whole new experience! Cedar Point is lit up and is quite the site to see after dark!
This is also the time for the 2nd track of Cedar Point for teens and adults: Frightfully Scary!! There are many haunted house experiences and scary walk through trails for the older and braver guests.  My kids are still too young for most, but we do walk through the Carn Evil haunted trail and through Frontiertown. If you go through right when it starts to get dark outside, it isn't as intense. We don't stay long though!
The lines can get long for the haunted adventures. There is a Fright Lane option with a Skeleton Key that cost as low as $60 when you purchase it online. This allows you to skip most of the line to be able to visit more attractions in the evening!
Cedar Point HalloWeekends is every weekend now through through November 2, 2013.
Buy HalloWeekends at Cedar Point Tickets
You can save money (up to $10!) when you buy HalloWeekends at Cedar Point Tickets online.
Adult Admission: $47.99 (online) $59.99 at gate
Junior Senior Admission: $34.99 (online)
Friday & Sunday Starlight: $38.99
Saturday Starlight: $45.99
This was not a paid post. My own opinions were used based on my perceptions and experience. Thank you to Cedar Point who provided tickets for the review.