If you are looking for a playground for your kids to play on, a trail to walk or bike, and/or a ballfield in Twinsburg, Ohio, Center Valley Park is for you! We recently discovered this Twinsburg, Ohio park and have returned several times!
There is plenty of parking off 2026 Glenwood Drive, next to the ballfield and clean public bathrooms (a must with kids!).  The playground area is within a large grassy area, so there is plenty of space to run and play. The actual playground equipment is all in good working order with plenty of slides, climbing structures, and assorted monkey bars.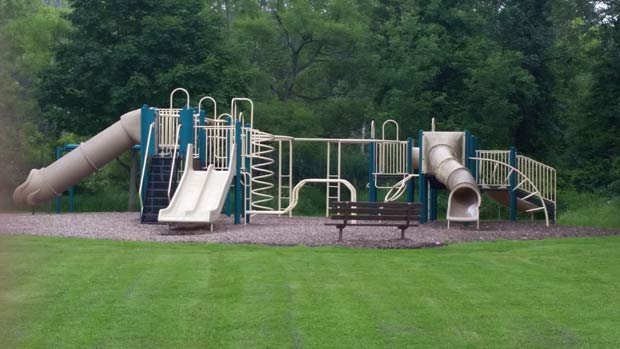 Just be cautious as the Chagrin River runs next to the playground area!

There are also swings and a pavilion next to this Twinsburg, Ohio playground.
After playing on the playground, we always take a walk.  Center Valley Park offers 8 wooden trails and a 1.35 mile asphalt bike path. It offers scenic walks and bike rides all season long.
The flat terrain and shorter bike path makes this park perfectly suited for young bike riders!
Along the asphalt bike path, you'll come across a butterfly garden. Take a moment to check it out with your kids. You are sure to spy several butterflies while learning about the types of flowers that attract butterflies. We incorporated a butterfly bush in our garden this Summer and can't believe how many butterflies and hummingbirds it has attracted!
Next to the entrance of Center Valley Park are several ballfields. Each time we have visited, they have been empty but I'm sure it fills up for games and practice other times of the year.
Center Valley Park
2026 Glenwood Drive
Twinsburg, Ohio
Parking is also available behind Dodge Middle School at 10225 Ravenna Road.
While in the area, check out Liberty Park in Twinsburg, Ohio too.