If you are looking for a place to stay in Coshocton, Ohio, you have to check out the Coshocton Village Inn & Suites. Whether you are visiting Coshocton on business or pleasure, this is a great place to stay!
Coshocton Village Inn & Suites Review
I recently traveled to Coshocton with my two sisters-in-law for an overnight girls trip! We stayed at the Coshocton Village Inn & Suites and we are glad we did because it is a beautiful hotel. It is very clean, has a wonderful (free) breakfast, and everyone we met was so friendly and helpful.
We had 2 full days planned so we didn't have any time to sneak into the pool or spa tub. They both looked very clean and inviting! I plan to bring my husband and daughter back with me next time and we will stay here & enjoy the pool then. My daughter loves to swim!
Other Amenities Coshocton Village Inn & Suites Has To Offer
Aside from the amenities I discussed above, they also have a fitness center that is available for guests to use. The rooms have a microwave, refrigerator, hair dryer, flat screen TV, & a coffee maker.
They also have a nice, clean bathroom in the room. It was equipped with toiletries including complimentary soaps, shower cap, face wipes, and plenty of towels.
For a full list of the facilities the hotel has to offer, check out their website here!
The other nice thing about staying at the Coshocton Village Inn & Suites is that the location is very convenient! Everywhere that we wanted to go was a convenient drive from our hotel!
The hotel was very quiet. We stayed during the week, so that may have had something to do with it, but there was still a lot of people there and we were not disturbed at all in our room! That is really nice and something I wanted to mention as noise level can be an issue when you are traveling (especially if you are traveling with kids that have early bed times)!
We were very pleased with our stay and would highly recommend it to anyone that is looking to travel to Coshocton, Ohio!
Experience the Three Rivers Wine Trail While Staying At The Coshocton Village Inn & Suites
We are so glad that we did the Three Rivers Wine Trail while we were in Coshocton. We didn't have time to get through the whole trail with the other things that we did, so we said that we wished we had one more day. Our only regret of the whole trip was that we did not make it a two-night stay. One night/two days was a lot of fun but there was so much to do that we definitely could have used more time!
How The Three Rives Wine Trail Works
You can purchase the wine trail package at the Coshocton Village Inn & Suites and when you do, you receive vouchers for each of the stops on the trail. Each voucher offers something at each of the stops on the wine trail. Some vouchers may offer wine/beer tastings, while some may offer a meat & cheese tray! You also get a "passport" that you can have signed at each stop and once you have visited all the stops, you receive an exclusive Three Rivers Wine Trail keepsake!
The other thing to note about the Three Rivers Wine Trail is that it is not only wine but it also includes beer and spirits as well. You can see a full list of all the stops on the wine trail here! 
Our First Stop Was At Ravens Glenn Winery And Italian Restaurant
Ravens Glenn Winery is a really beautiful winery. At this stop our voucher was for (2) tasting samples of 9 wines each and we also got to keep the wine glasses.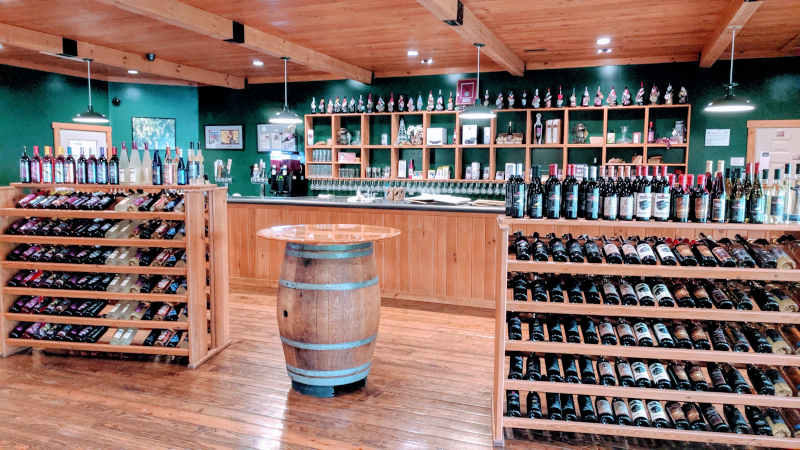 The wine was very good. We, of course, had our favorites but all of the wine was great! I also enjoy the tastings because you get to learn more about the wine. The host informed us of each wine including what it was made of and what food it would pair nicely with.
After we did our tasting, we enjoyed dinner in the Italian restaurant that is in the back. Dinner was amazing! I highly recommend timing your stop to this winery at a time that you will be hungry so you can enjoy the food & dining experience. Our server was very kind and friendly which made our time even more enjoyable!
Our Next Stop Was At the Wooly Pig Farm Brewery
This brewery was such a fun and unique place to visit! We were glad we made time to stop here! At the Wooly Pig, the voucher allowed us to sample 4 beers of our choice. Believe it or not, these 4 beers are all very different beers, even though they look very similar. One was even a coffee flavored beer that was delicious!
While you are there you can pick up a 4-pack or a growler of your favorite beer to-go! We took some with us to bring back to our husbands!
Baltic Mill Winery
The last winery we made it to was the Baltic Mill Winery. This winery is beautiful and unique! The downstairs of this winery has a great setting to be able sample wines and/or sit and enjoy wine and food with your group!
The voucher is good for a meat and cheese tray at this winery and wine samples are .50 each! Every wine that we sampled was delicious!
The Baltic Mill used to be a flour mill and in 2014 it was renovated into a winery. The upstairs still has the flour mill equipment and you are welcomed to go up and view it. That was really unique and fun!
Many More Stops On The Three Rivers Wine Trail
As I mentioned, we ran out of time to make it to all of the stops on the wine trail. To view all the wine trail stops, check out the visit Coshocton website!
The nice thing is that the vouchers are still valid and we can go back at a later date to be able to redeem the vouchers!
Since there is driving involved to get to all the wine trail partners, it is worth it to mention that it is advised to have a designated driver or plan ahead to have a cab service to drive you! 
Of course, you do not have to do the Three Rivers Wine Trail in order to stay at the Coshocton Village Inn & Suites. It is just something fun to do if you are traveling there for a girls trip and/or a romantic get-away!
I would recommend staying at the Coshocton Village Inn & Suites whether you are in town for business or pleasure! It is a wonderful hotel!