I have found the best place for Halloween Costumes, Costumes4Less.com!  I was thrilled to find an AMAZING selection of Halloween Costumes for kids in all of the latest and favorite styles as well as Halloween Costumes for adults.  They don't just have a few, they have more than 18,000 costumes to choose from!  With a selection this great, I would expect to pay more than the local retails, this is Not the case.  The company name says it all "Costumes 4 Less". I found the prices to be very affordable.
Inexpensive Halloween Costumes – Best Prices Guaranteed
Costumes4Less guarantees that you will not find the same costume for less anywhere or they will more than match the price, they will pay you 110% the difference!  You can shop with confidence with Costumes4Less. There is an impressive selection of costumes at every price points. You could go very inexpensive with a variety of costumes or purchase a la carte for items like costume wigs, masks,  hats, makeup and accessories.  Prices start at just $5.95 and go up to $140. The average costume is between $20 – $30 for kids.
Halloween Costumes for all ages
Costumes4Less has a costume for everyone from newborn through adults, even pet costumes. You can search for the perfect costume easily by age, gender, costume category (such as classic, movies, scary), and then by sub category (animal, Disney, Princess, etc). Plus, you can search for the perfect Halloween costume by price!
Costumes of all styles
So, whether you are looking for pirate costumes, princess costumes, Disney costumes, superhero costumes, cartoon and movie  character costumes, monster costumes, and everything in between, you will find it at Costumes4Less!  Your kid will have the most original costume in his class!  It is fun to browse the selection.
Special Occasion Costumes
Costumes4Less even have special occasion costumes for 4th of July, Christmas, Thanksgiving, Easter, Valentine's Day, St Patrick's Day, Cinco De Mayo, and Mardi Gras.
Halloween Props, Decor and Novelties
Whether you are hosting a Halloween Party or handing out candy for Trick or Treating, you need Halloween Props & Decor! Find the spookiest, weirdest, and most original Halloween items at great prices at Costumes 4 Less.
Hands On Review of Costumes 4 Less
We let our kids select their own Halloween Costumes this year, with direction. I'm not into super scary costumes for my young kids or sleeveless tutus for Ohio's freezing Octobers! I was pleased with their selections and think they are the most adorable kids ever! Their costumes are not the typical costumes you would find at Target or the mall! Plus, the prices for the costumes were better than retailers.
Boy Halloween Costume
We choose to review the Batman Dark Knight Deluxe Muscle Chest Batman Child Costume for my 5 year old son.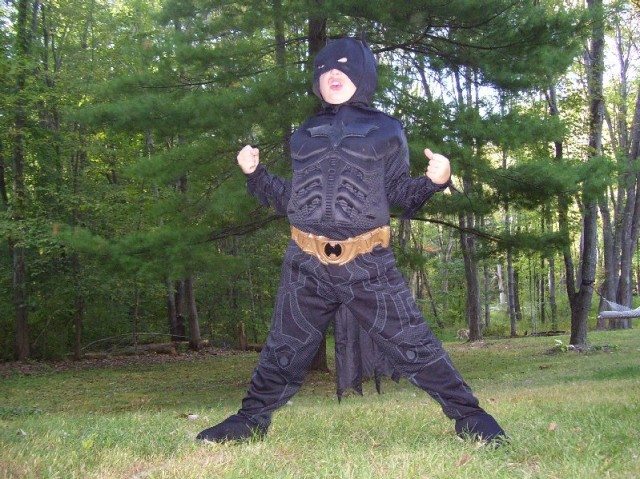 It is not just a wimpy costume, it comes with a muscle chest jumpsuit that kids love! Kids instantly transform into a super strong superhero with this costume! The jumpsuit has designs on the legs so it is not just plane and comes with attached boot tops. The headpiece and long cape are attached. The tie on belt stands out in gold against the black jumpsuit.  It is an officially licensed Batman costume.  See more pictures of this Kids Batman Costume in my post Is Superhero Role Playing good for kids?
Elijah loves his Batman Costume and I think it is pretty cool too.  I ordered Child Size Medium for him, it fits great. He should be able to wear it for at least another year. I ordered it a bit larger so he could enjoy it past this fall. Elijah loves to play in his Halloween Costumes year-round. The quality seems great too, he's played in it a few times so far with no show of wear or tear. The mask is slightly too large for his face but again, I did order it a big large. He doesn't seem to even notice.
Ordering the right size is easy with Costumes4Less, there is a sizing guide with each order form. You can find your kid's size based on waist size in inches and height in inches.
Girl Halloween Costume
I figured that my 3 year old daughter would select a princess costume. She already has several and most girls you see will be wearing a Disney Princess costume. Of course, they have those at Costumes4Less but they also have really adorable non-princess costumes as well.
Elizabeth chose the Bumblee Bee Toddler/Child Costume.
The Bumble Bee costume comes with an adorable long sleeve velvet-feeling leotard that Velcros in the back and underneath. It also come with antenna headband, nicely designed wings, bee wand with streamers, and shoes puffs. I was disappointed that it did not come with the black and yellow stripped tights. Most likely, I will dress her in warm black tights.
I'm impressed with the quality of the leotard, it looks nice enough to let my daughter take a dance class in, if it didn't have the Velcro of course.
Buy the Costumes we reviewed
You can purchase the Batman Dark Knight Deluxe Muscle Chest Batman Child Costume for  $39.33  or the Bumblee Bee Toddler/Child Costume for $25.95.
Win Costumes4Less $35 Gift Certificate (Closed)
Updated: 10-4-10 Winner Announced: Congratulations, Brooke C, entry #161.! Thanks to all who entered to win, please visit Costumes4Less.com today to order your costumes for this year's Halloween!
Costumes4Less is generously offering a $35 Gift Certificate to one lucky winner!
Required Entry
You must visit Costumes4Less.com website and leave one comment on this blog post regarding what costume you would like to have.
Increase your Chances of Winning with Extra Entries
Leave an additional comment for the value of each extra entry and a way to verify the entry.
"Like" AkronOhioMoms on Facebook (posting a comment is appreciated but not required)
"Like" Costumes4Less on Facebook (posting a comment is appreciated but not required)
Follow AkronOhioMoms on twitter
Follow Costumes4Less on twitter
Tweet about this giveaway. Tweet daily for an extra entry every day! Copy and paste: Win $35 Gift Card for Costumes4Less from AkronOhioMoms https://www.akronohiomoms.com #contests #sweepstakes
For 2 entries/day, tweet my Pillsbury Finalist status. Copy and paste: Vote for my friend Cindy Orley and win $5,000 http://bit.ly/dmnKWS #sweepstakes #contest
For 2 entries/day, comment on my (voting not required but APPRECIATED)
For 3 entries, comment on any Total House Remodel post
For 7 entries, blog about this giveaway on your website and link back to this article and to Costumes4Less.com
For 3 entries, Stumble Upon this post with button on top of screen
Yahoo Buzz this post with button on top of screen
Google Buzz this post with button on top of screen
Join us with Google Friend Connect (on the sidebar)
Email 5 friends about this giveaway and CC me. I do not keep email addresses.
Cast a vote for us on Top Baby Blogs
Rate my site on Top 100 Mommy Blogs

Leave one new comment on any other post or giveaway
For complete contest rules, please see our Contest Statement and Blog Disclosure. If you ever have any questions on entering to win, just ask cindy@ akronohiomoms .com.
Contest ends at 11:59pm EST on September 29, 2010 when a winner will be drawn at random and announced the next day. When commenting, please include your email address (not visible to public). I will notify the winners and they will have 36 hours to respond! 
This was not a paid post. My own opinions were used based on my perceptions and experience. Thank you to Costumes4Less who provided the product & gift card for the review and giveaway.