The  Cleveland Auto Show is going on now through Sunday, March 6, 2016. This is the place to be if you are in the market for a new vehicle or if you want to check out the latest and greatest!
We are in the market for a new car this Spring, so being able to check out all of the vehicles under one roof is just perfect for my family. We don't have to run all over NE Ohio to test drive vehicles. We can browse the show and get a hands-on look at all of our options.
I really like the Chrysler Pacifica that was on display. It won't be available until late Spring but has everything we are looking for in a vehicle – plenty of space, style, quality, and safety features!
My 11 year old son has his eye on something a little more sporty like the 2016 Dodge Challenger 392 HEMI®!
You can even test drive vehicles at the show like this FCA lineup:
Chrysler 200
Dodge Challenger
Chrysler 300
Dodge Dart
Chrysler Town & Country
Dodge Durango
Jeep Cherokee
Ram 1500
Jeep Grand Cherokee
Fiat 500 Abarth
Jeep Renegade
Fiat 500X
We had a great time checking out the Jeep brand too. Jeep captures my family's love for the outdoors and exploring for sure!
We were able to experience the capabilities of the Jeep brand first hand while riding in a Renegade and Wrangler at Camp Jeep! You can also ride in the Cherokee and Grand Cherokee there.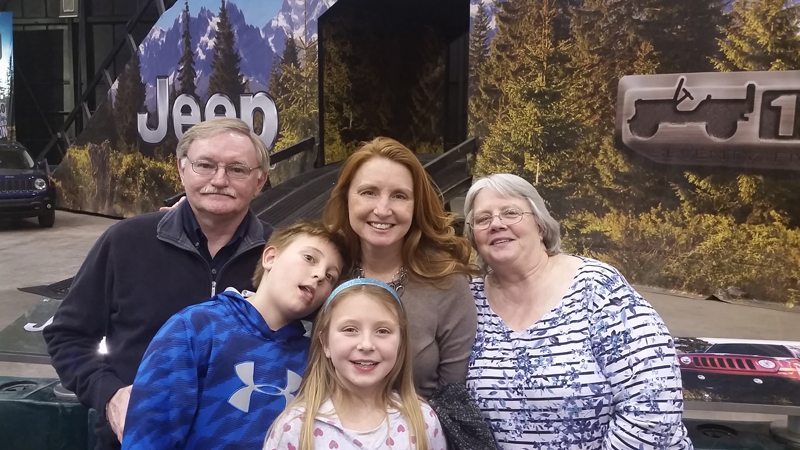 The line was long but the wait was only about 20 minutes because they have so many vehicles running. The line moves very quickly, so don't let a long line deter you from this exciting experience. You'll ride over obstacles that span a 20,000 sq. ft. space right inside on the showroom floor!
There were hills, stairs, and inclines of 35 degrees! It was exciting as you can see in the below video.
Next door, take a ride in a Ram 1500, Automotive Fleet magazine's 2015 Fleet Truck of the Year at the Ram Truck Test Track! You'll be able to ride over the 35 degree Ram Mountain to experience the what Ram Trucks can offer in even the toughest terrain.
Your kids will also enjoy test driving mini Ram Trucks, located between the Ram Track and Camp Jeep.
Another incentive to ride or test-drive at Camp Jeep, Ram Truck Test Track and Drive FCA! is that all test drive participants will be entered into the 2016 FCA US National Giveaway for a chance to win $45,000 towards a vehicle from the Chrysler, Jeep, Dodge, Ram Truck, FIAT and Alfa Romeo brands!  What an amazing prize!
Make plans to visit the Cleveland Auto Show now through Sunday, March 6th to experience why the 4×4 leadership, military history, and open-air freedom and adventure of Jeep.
Tickets are $13 for adults and $11 for kids ages 7-11 and seniors.
IX Center
1 I-X Center Drive
Cleveland, Ohio 44135