Is Put in Bay for kids? What is there to do at Put in Bay? Is it expensive to go to Put in Bay? Is there anything to do free at Put in Bay? These are questions I've wondered about and was thrilled when the Perry's Cave Family Fun Center asked if we would like to write a review! If you've asked these questions, now you'll know all the answers!
Put-in-Bay Island Fun Pack
The best way to see Put-in-Bay is through the Put-in-Bay Island Fun Pack. It makes the island feel almost like an all-inclusive resort because you aren't shelling out money all day. You pay a discounted rate once and play all day! Come along with my family as we see if Put-in-Bay is for kids.
Miller Boat Line Ferry
To get to Put-in-Bay which is actually South Bass Island in Lake Erie, you must take a ferry. You can get either tickets for the Miler Boat Line Ferry or Jet Express with your Island Fun Pack. We chose the Miller Boat Line, they have been in business for over 100 years. This is a relaxing ferry ride on Lake Erie. It's not just a way to South Bass Island, it is an 18 minute adventure. There is plenty of places to sit outside and inside as well as places to stand up on top or down with the cars.
INCLUDED in Island Fun Pack!
Tickets are $6.50 for adults, Kids 6-11 $1.50, Kids under 6 FREE! Bring your bike for $2 and car for $15. FREE Parking if you get to their parking lot early enough, otherwise it's just $5 at the next lot. Sign up for their Island News to get a $1 Coupon.
Lime Kiln Bus
Once on South Bass Island, Miller Ferry passengers get a free trip on the Lime Kiln Bus to downtown Put-in-Bay. It's a regular school bus but if your kids are young like mine, they will even like this!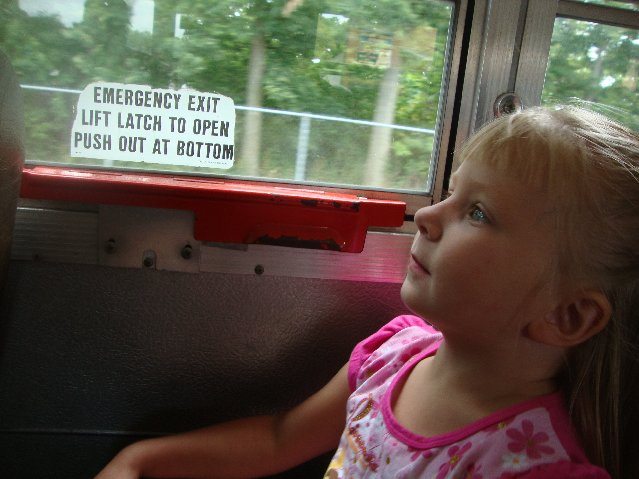 INCLUDED in Island Fun Pack!
Tickets are $2.50 one way, Kids under 6 FREE!
Put-in-Bay Tour Train
The  Put-in-Bay Tour Train not only gets you where you want to go with select on and off privileges but you will actually know what is on the island. The Tour Train guides are very friendly and knowledgeable about the island. We learned a lot about the history of the island including how fires have destroyed not only the grape vines that use to cover 80% of the island but countless homes and buildings! The Put-in-Bay Tour Train was relaxing and enjoyable way to tour the island. They make scheduled stops across the island every 30 minutes so it is easy to catch the train when you are ready to go to your next destination. A lot of people rent golf carts at Put-in-Bay. Although they allow you freedom to wander the island, it comes with a hefty price tag. We have done both, the Tour Train is a way better deal!
INCLUDED in Island Fun Pack!
Tickets are $10 Adults, $3.50 Kids 6-12, Kids under 6 FREE!
Free Put-in-Bay Activity Ohio Division of Wildlife
Our first stop off of the Tour Train was the Ohio Division of  Wildlife building. This is a free thing to do at Put-in-Bay. They have a large open air fish tank of fish and turtles found in Lake Erie as well as many fish aquariums of various kinds of Lake Erie fish throughout the building.
There are many educational displays about Lake Erie, the history of Put-in-Bay, and how we can preserve our natural resources.
My kids were surprised to see how big some of the fish in Lake Erie can get. There were bottles of preserved fish eggs and baby fish at various stages next to the large displays of full-grown fish, the kids loved seeing how a huge fish starts out as a small egg.
Kids can even enjoy free fishing on Lake Erie off the dock by the Ohio Division of Wildlife building. My kids have never gone fishing before so this was a fantastic experience.  A girl next to us caught a small fish, the attendant put it on the dock and in flew Hank, the Blue Heron that "lives" at the dock for Free Food!
FREE for All! Not part of the Island Fun Pack but is a stop on the Tour Train, pick ups every 30 minutes.
Perry's Cave Family Fun Center
Our next stop was the Perry's Cave Family Fun Center. This is home to Perry's Cave, Butterfly House, Miniature Golf, Fort Amaze'n, Gemstone Mining, Climbing Wall, Antique Car Museum, and a lovely picnic area. You could easily spend 3 hours here!
Perry's Cave
Perry's Cave is the main attraction at Perry's Cave Family  Fun Center. It was a much larger cave than I expected, 208 feet long by 165 feet wide, 52 feet below!
The tour guide did a great job informing us about the cave with funny jokes and a great personality. Watch the video.

Elijah was super excited when we told him we would be going into a cave. The only cave he's seen is the small Ice Box Cave in the  Cuyahoga Valley National Park.  He came prepared with his flashlight and explored the cave up high and on the ground in search of treasure and creatures!
Perry's Cave is a limestone cave with stalactites, stalagmites and cave pearls on the cave's walls. They look like ice cycles and moon rocks.
Perry's Cave has an Underground Lake, which is quite rare. It is so crystal clear that it only looks a couple feet deep but is actually 6-8 feet deep! The water level rises and falls with Lake Erie. One interesting tidbit that our guide pointed out was that the native Indians tookhelped  Commodore Oilver Hazard Perry during battle by taking them to the cave for crystal clear, clean drinking water!
My kids are explorers and they loved Perry's Cave! There is plenty of light so don't worry about it being too scary. The tour was about 15 minutes long, which was just perfect to see everything. The tour guide was very friendly, knowledgeable, and entertaining.  The gift shop has all sorts of gems and stone for kids to collect. I highly recommend taking your kids to Perry's Cave.
INCLUDED in Island Fun Pack!
Tickets are $7.50 Adults, $4.50 Kids 6-12,  Kids under 6 FREE!
Butterfly House
You may think you have been to a butterfly aviary before but you've never seen anything like the Butterfly House at Put-in-Bay.
All of the butterfly action starts outside as the entrance gardens are bloom after bloom of fragrant blossoms that attract butterflies. We enjoyed a snack sitting on rockers on the porch before we went inside while enjoying the peaceful beauty.  Before going into the aviary, there is a large gift store with gifts for butterfly and nature enthusiast of every age! I want to go back to get decorating items for Elizabeth's room once the remodel is complete!
This 4,000 sq ft aviary has butterflies galore, try 800!! There are more than 500 different types of exotic butterflies flying all over the beautiful gardens.
There paths that wander through the gardens, benches to sit on surrounded by flowers, water fall display, gazebo to relax in, and soft nature music playing. This is a very relaxing, yet exciting place.

My kids loved seeing the butterflies up close. There were so many, everywhere you looked!
You can stay as long as you like and even come back during the day with the hand stamp. My kids, ages 3 and 5 both enjoyed discovering the butterflies at the Butterfly House.
I was inspired with all of the butterflies and gardens. The guide gave me plant stakes with names of flowers that I can grow in Ohio to attract butterflies. I plan to set up the garden next Spring with Trailing Lavender Lantana Montevidensis, New Gold Lantana Camara, Fragrant Delight Heliotropium, Cranberry Punch Pentas Lanceolata, Asclepias Curassavica, and milkweed.
INCLUDED in Island Fun Pack!
Tickets are $7.50 Adults, $4.50 Kids 6-12, Kids under 6 FREE!
Eating at Put-in-Bay is cheap
We packed snacks and juice boxes to for our day trip to cut down on cost of eating on the island. Of course this did help, however, our family of 4 was able to eat more then enough chicken fingers and french fries at Dan Dee's Snack Shack at the Perry's Cave Family Fun Center for $11! That's a super deal, plus they were freshly made as we ordered them. Yummy and affordable! There is plenty of seating at the covered picnic area.
War of 18 Holes Mini Golf at Put-in-Bay
Next, we went to the War of 18 Holes Mini Golf.  This is a very well laid out miniature golf course with running streams of water and waterfalls throughout as well as cannons. At each hole, there is a historical fact about the War of 1812 and Commodore Oliver Hazard Perry's role in the victory of the Battle of Lake Erie. My husband and I enjoyed learning these tidbits of trivia.
My kids, ages 3 and 5 have a short attention span when it comes to Miniature Golf. My 3 year old really enjoyed hitting the ball into the hole and was always so excited!
My 5 year old made it through about 3 holes and was done.  He was easily distracted by the cannons to climb and streams to explore.
This course was fun with lots of water running through with bridges to go to the next hole. There were several holes with a water trap and plenty of our balls landed in the water! At least our kids didn't end up in the water, not too much anyway! 🙂
INCLUDED in Island Fun Pack!
Tickets are $7.50 Adults, $4.50 Kids 6-12, Kids under 6 FREE!
Antique Car Museum Put-in-Bay Free Attraction
The Antique Car Museum is a Free Put-in-Bay Attraction.  There are about a dozen antique cars including Model T's. My kids liked seeing these old cars. It took just 5 or 10 minutes to walk through but it is something free to do at Put-in-Bay. The vintage snow mobile was actually pretty neat to see too, it was used to deliver mail on the island.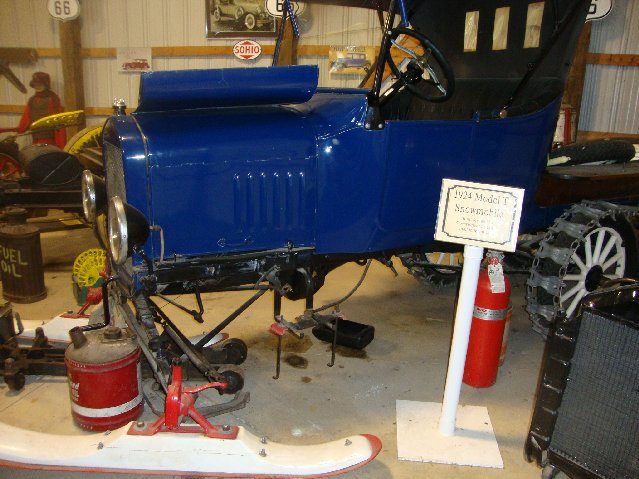 Crystal Cave and Heineman's Winery
Across the road from Perry's Cave is Crystal Cave and Heineman's Winery. You can take the tour bus or just walk, it isn't far. My son loves crystals, gems, and treasure! He could not wait to see Crystal Cave. We've seen TV Shows on various caves with large crystals, so his hopes were set pretty high!
The Crystal Cave tour comes with a tour of Heineman's Winery and a glass of wine or grape juice.
Crystal Cave
Crystal Cave is located at Heineman's Winery. It was discovered quite by accident when workers were digging a well for the winery. Crystal Cave is covered top to bottom. Crystal Cave is the world's largest geode. The strontium sulfate crystals are anywhere from 8-18 inches long.

The actual area to tour Crystal Cave is small. With a tour group of 25, it is too tight to really enjoy. Plus, there isn't much to say about the area, I suppose because the tour guide didn't say much about the cave. We waited until much of the crowd left to walk around and explore more. It's a pretty small area. I am sure they don't want to disturb the natural beauty of the place but this place would REALLY be an attraction if they would polish up the crystals like they do in the gift shop that sells crystals! It would be magnificent!
Although my husband and I were not impressed with it, Crystal Cave was my son's favorite part of our Put-in-Bay trip!
Heineman's Winery
For more than 100 years, Heineman's Winery has been producing some of Ohio's finest wines. We made it through a portion of the Winery tour until my kids were getting cranky so we cut it short. We did taste the fresh grape juice afterward and it was quite tasty.
Hear Elijah's reaction to the grape juice burning!

INCLUDED in Island Fun Pack!
Tickets are $6 Adults, $3 Kids 6-12, Kids under 6 FREE!
Perry's Victory and International Peace Memorial
The Perry's Victory and International Peace Memorial is under construction and due to be completed in 2011. There is a nice Visitor's Center to tour with a replica of the Battle of Lake Erie. They have junior ranger programs for kids to complete to earn a badge, since we hit this up at the end of our trip, my kids passed this up, they were too tired.
Kids Playground is one of the fun free things to do at Put-in-Bay
In the middle of all of the shopping and restaurants is a nice grassy lawn with a kid's playground, more cannons, and large fountain. The kids enjoyed having some play time with the other kids.
Is Put-in-Bay for kids?
Yes, Put-in-Bay is for kids. Our day trip was 6 hours long, we barely touched all the fun things to do at Put-in-Bay for kids and families. The Island Fun Pack is an excellent deal and way to see some of the best parts of South Bass Island.  Remember, kids under 6 are FREE!! That makes Put-in-Bay an excellent choice for families with young kids and kids 6-11 can do most things for about 1/3 the price of adults. There is plenty more for kids to do at Put-in-Bay including the wood, hand-carved carousel and so much more! Most
We had so much fun, the kids were exhausted at the end of our visit to Put-in-Bay! There is still time to plan your trip to Put-in-Bay this year, most attractions are open through the end of October. Check the website for a schedule for exact times and dates.
Buy a Put-in-Bay Island Fun Pack
Pricing:
Via Miller Boat Line at Catawba Island is Adults 12 & up $47, Kids 6-11 $20, Kids under 6 FREE
Via Jet Express Port at Port Clinton is Adults 12 & up $58, Kids 6-11 $20, Kids under 6 FREE
Via Jet Express Port at Sandusky is Adults 12 & up via $66, Kids 6-11 $23, Kids under 6 FREE
Without Ferry The Depot is Adults 12 & up via $32, Kids 6-11 $16, Kids under 6 FREE
This was not a paid post. My own opinions were used based on my perceptions and experience. Thank you to Perry's Cave Family Fun Center for tickets for this review.