We took a short trip to Columbus, Ohio to experience central Ohio's largest indoor water park resort, the 80 degree temperature was just what we needed to escape from Ohio's cold winter! Where did we go? Fort Rapids Indoor Waterpark Resort! We had a super fun time at this family fun resort with plenty to do and see. The indoor waterpark is 60,000 square feet of splashing fun for the whole family!
Take a Video Tour of Fort Rapids Indoor Waterpark
Fort Rapids Indoor Waterpark Rascal Round Up
The Rascal Round Up is the most exciting feature of the waterpark. It is a 40-foot tall water playground with squirting water at every turn, bridges, rope walls, and 4 water slides. My favorite part is squirting or dumping water on unsuspecting passersby either on the Rascal Round Up or walking down below! My kids and I get a kick out of surprising people with water on their heads, the reactions are priceless both of the victim and my kids! I'm not the only adult who enjoys this, you should see how fun and exciting this thrill is for people of all ages!
Another favorite of the Rascal Round Up for many is the tipping bucket. Every 10-15 minutes 1,000 gallons of water is tipped out of the bucket perched onto the structure. People run to catch the splash down below. My kids are just a little too young and hesitant to fully enjoy this feature. They like to stand right at the edge so they aren't totally dumped on. The tipping bucket is tops for lots of people, especially kids.
There are 4 sets of slides on the Rascal Round Up. My kids did them all, 2 start 40 feet off the ground while 2 are perfect for younger kids! Don't think you won't get wet at this waterpark, because you will! I had a hard time capturing good photos from this playground because I couldn't take my camera up high. Luckily, the water was pretty warm. It was especially warm when the doors opened in the morning!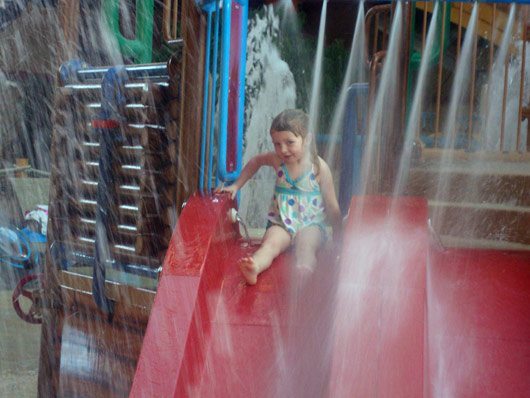 I like that the Rascal Round Up has plenty of fun for the whole family. My kids love the slides and geysers spraying up from the ground as well as the cannons they can use to squirt other people!
Rascal Round Up at Fort Rapids Indoor Waterpark Video
Fort Rapids' Lazy River Cowboy Creek
We like to take breaks at waterparks on their lazy rivers. Fort Rapids' lazy river is the Cowboy Creek. I was amazed at their decor, they really carry the theme of the West throughout the entire waterpark. Check out the set up of Indians with tee-pees on Cowboy Creek. On down the creek, you'll find cowboys and horses. The first day at the park, it was way too overcrowded on the creek, once we finally got a tube, we were packed tube to tube, not a lazy river kind of experience. The next day, we had it to ourselves. With waterparks, it's good to plan to spend several days because each day is a different experience. Plus, the Cowboy Creek has plenty of changes to get buckets of water tipped on your heads or sprays squirting your body. You may or may not get dumped on, it just depends on your luck or lack-there-of!
Fort Rapids Activity Pool
With all of the waterslides and activity in the waterpark, guess what my kids favorite part is? The activity pool! Here, you can swim in the 4 ft. deep pool, play a little water basketball, or try to cross the Perilous Promenade.
Fort Rapids Kiddie Korral
Fort Rapids Kiddie Korral is perfect for babies and little kids with the zero depth entry. There are plenty of water features for kids, including ride-ons, slides, tipping buckets, geysers, and more. Check out Elijah below getting a bucket of water dumped on him! He loved it!
Fort Rapids Indoor Waterpark Resort of older kids and adults
As my kids get older, we will be experiencing waterparks in a whole new way. For now, we stick with the stuff safe for all ages but there is plenty to do at Fort Rapids Indoor Waterpark for older kids, teens, and adults. Climb up 40 feet to 4 exciting waterslides. Ambush Alley, Raging Bull, Black Out Pass, and Shoot Out Racer. I noticed that the lines never looked too long for these waterslides which would be a huge deal if we were going on them. I hope that we'll get the chance soon. The height requirements are different for each but starts at 42″. There is also a 30 person Hot Tub for guests 18 and older.
Fort Rapids Indoor Waterpark Resort Restaurants
Sidewinder Cafe
Sidewinder Cafe is located right inside Fort Rapids Indoor Waterpark. You can get a hot pizza, drinks (with cheap refills), nachos, and other snack items.
We fed a family of 4 a large pizza with 4 drinks for just over $20. This is a good deal compared to other parks we have visited. I like the family-friendly prices and the convenience of eating in the 80 degree weather with the sun beaming down on us. Loved it! The pizza was good too!
Branding Iron Grille & Copper Star Saloon
Let me just tell you that you have to check out Branding Iron Grille & Copper Star Saloon if you go to Fort Rapids Indoor Waterpark. The Saloon is open for drinks and snacks long into the night. We went to the Grille for dinner. When we first go there, there wasn't many people seated for dinner. I wasn't sure what to expect. We don't normally go for buffets as they are normally loaded with just starch and nothing healthy. Well, we were pleasantly surprised with the Branding Iron Grille. There were 2 buffets available for an affordable price. One was primarily geared to kids with fried chicken nuggets, fries, mashed potatoes, etc. The other buffet had the most amazing BBQ beef, stuffing wrapped turkey, mashed potatoes, french beans, vegetables, salads, and more.
Doesn't this look delicious? My mouth is watering just looking at it. Yummy! My kids ate it up, it was a satisfying dinner. Pies, cakes, brownies, and cookies were at the buffet for dessert too.
Fort Rapids Indoor Waterpark Resort Gold Rush Arcade
Gold Rush Arcade is 5,000 square feet of arcade fun for the whole family. They have all the classic arcade games with lots of prize tickets shooting out to be redeemed for prizes and toys. The tickets are my kids favorite part!
Fort Rapids Cold River Mining
My son is really into gems, fossils, and shiny rocks. He is always on the look-out and often spies special rocks! The Cold River Mining was just perfect for him. Elizabeth, my 4 year old had a great time too. For about $6, you get a bag of dirt with various gemstones and fossils. Kids (and adults) shift the dirt out into the water revealing precious stones! Some bags are better than others but it is always an adventure!
Fort Rapids Indoor Waterpark Resort Free Activities
I was happy with the Fort Rapids Indoor Waterpark Resort free activities in the lobby.  The first day, there was a giant bouncy house for kids to jump in, which was perfect for when we were checking in! There were also 3 large flat-screen TVs hooked up to the new Microsoft Kinect game system where your body is the controller. We hung out and played this several times, lots of fun for kids and adults. There was also kid karaoke hour where my kids just danced around to the music. At bedtime, we sat by the fireplace to hear a bedtime story. My kids liked the free milk and cookies best at storytime.
Lodging at Fort Rapids Indoor Waterpark Resort
There are 2 options for lodging at Fort Rapids Resort. You can stay in the tower with traditional hotel rooms or in the villas with family suites. The traditional rooms sleep 4 in their Western decor room. There are 6 family suite styles sleeping 6 – 12 people.
We stayed in a Fort Rapids Indoor Waterpark Resort Oak Creek Canyon Family Suite. It features a very spacious room with microwave, free wireless internet, mini-fridge, hairdryer, coffee maker, specially designed swimsuit dryer, and 2 flat screens TV.
The suit was just perfect, large enough to feel at home and not cramped in a bedroom. I loved the dryer, it's so much nicer to put on dry swimsuits than wet ones! The beds were comfy and there were plenty of extra blankets, pillows, and towels for our stay.
The Western decor tastefully adorns the entire resort, including the hotel bathrooms. Just check out the cow hide wallpaper, it even had a texture that felt real!
Video of Fort Rapids Indoor Waterpark Resort Family Suite
Is Fort Rapids Indoor Waterpark Resort in Columbus, Ohio fun for families?
YES! We had a great time. The water was warm, the air was warm, there were plenty of free activities, and great food.  I recommend Fort Rapids Indoor Waterpark Resort for your next central Ohio getaway. It was a great Ohio winter escape.
The only things that I did not like were minor in nature. The locker rooms were not heated to 80 degrees so it felt freezing when  you had to change clothes or go to the restroom, my guess is that it was set for 68 degrees or so. There were not enough life guards on the 1st day for the amount of people there, this was a concern. Just keep a close eye on your kids. The staff was friendly and helpful but young and not well-trained. There was not enough towels in the waterpark, so plan to bring your own towels. Their website states that there are limited complimentary towel use but we didn't see it, so we were waiting and waiting for clean dry towels both days.
Make Reservations for Fort Rapids Indoor Waterpark Resort in Columbus, Ohio
You can make reservations on the Fort Rapids website. Rooms start at around $189 and up with 3 bedroom suites around $450 a night.
This was not a paid post. My own opinions were used based on my perceptions and experience. Thank you to Fort Rapids Indoor Waterpark who provided accommodations and dining for the  review.