We had a great time at the Ft Island Griffiths Park Playdate this week. There were 2 naturalists there to give our kids a great program on animals that can be found right here in Ohio! They engaged our kids in great conversations about the animals that we got to check out: a turtle, bird, cat, and guinea pig. They were great in asking kids the compare the animals and point our similarities and differences. This was perfect for our mostly toddler and preschoolers in attendance. The naturalists at Ft Island Griffiths Park design programs to fit their audiences and offer programs throughout the year that you gotta check out.
The kids were so quick to answer the naturalists' questions.
Most of the animals in the Ft Island Griffiths Park Learning Resource Center are found right here in Ohio. Below is a picture of a Red Slider Turtle that can be found in the rivers and banks right in the Akron, Ohio area. This was a favorite for Elijah as we just found and released a Red Slider Turtle last week.
This parakeet was also found in Fairlawn, Ohio although not a native of Ohio! This parakeet was found in the fall last year in the backyard of a local neighborhood. They called up Ft Island Learning Resource Center to see if they would like to take care of it. They have been taking care of it ever since. The kids knew that this type of bird would not make it through an Ohio winter, smart kids!
This Guinea Pig was also donated to Ft Island Learning Resource Center and was a big hit with the playgroup. One thing that I personally learned was that a guinea pig only has 3 toes on their back feet and 4 on their front feet. The naturalists had kids counting, comparing, contrasting, and learning all sorts of stuff during the whole playgroup time.
Lisa, the naturalist held the kids attention with a wonderfully illustrated book about baby animals growing up.
In the end, the naturalist gave the kids a tour of the various animal cages and allowed tons of questions from the kids. It was a great learning experience. The Learning Resource Center is open daily at Ft. Island Griffiths Park Nature Resource Center 461 Trunko Rd. Fairlawn, OH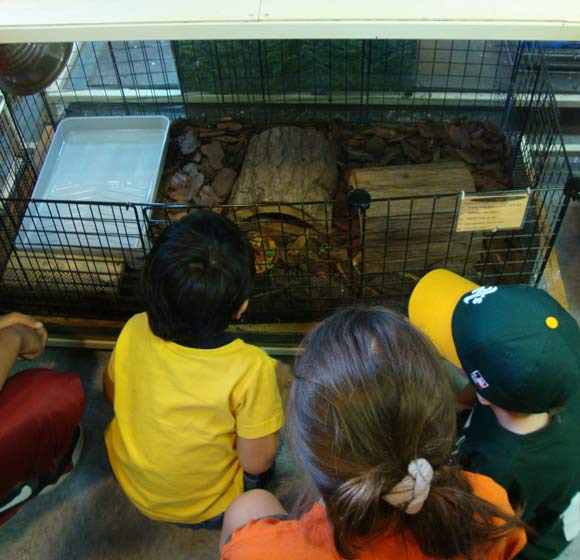 Congratulations to Sonya who won The Family Groove Prize Pack of Ultimate Green Store products.  Everyone was must impressed by the Green Garmento something every home needs!
We plan to schedule another tour in the fall.