I found a hidden treasure right here in NE Ohio, Geauga Lake Wildwater Kingdom! Seriously, I didn't know anything was still at Geauga Lake! Wildwater Kingdom is an amazing waterpark that you have to take your family to this summer! It is an impressive 17+ acre premier outdoor waterpark and fun for all ages!
Geauga Lake Wildwater Kingdom Hands On Review
No arms had to be twist to get us to review Wildwater Kingdom, we were happy to! My nephews joined us to give an older kids' perspective. We all had a fabulously fun time!
There is something about Wildwater Kingdom that brings out the kid in you as you splash, play, and have fun as a family! A disclaimer here: The best pictures of our trip to Geauga Lake Wildwater Kingdom are now memories in our minds. Unless you have a waterproof camera, those shots cannot be taken with a camera. I did my best to capture moments to share with you so you could get an idea of how fun the waterpark is below.
Here's a breakdown on the feature attractions at Geauga Lake Wildwater Kingdom:
Tidal Wave Bay
Tidal Wave Bay is a 390,000 gallon wave pool with all of the excitement of the ocean waves without the risk of sharks. 🙂 Seriously, kids are jumping into the waves at the shallow end, it's zero depth walk in so even the tiny tots can enjoy Tidal Wave Bay. The bigger kids and adults head can head out to the tidal waves at depths of 6 feet.
Check out the waves by watching the below video:

We grabbed a few tubes to float on and headed the waves. We switched back and forth with and without the tubes, it's a different experience for both.  Everyone loved Tidal Wave Bay. After a couple wave sessions, we had to head for dry land as it was exhausting splashing and swimming against the waves with 4 kids! The people just floating on the tubes had the right idea!
Elizabeth had to wear a life jacket since she was under 48″ tall, there were plenty to choose from throughout the park, so it was no big deal. Elijah started off with one but then shed it later for some underwater swimming!
You'll see many people with their chairs at the edge of the water, just relaxing while their kids play. You can also rent private VIP cabanas on a daily rental.
At the entrance of Tidal Wave Bay are several geysers shooting up water from the ground, people of all ages can be found playing in the water. Elijah, Jacob, and Brian are pictured below with some bigger kids too. Kids like to stand right in the middle of the geysers for a huge burst of water, it's pretty powerful! Closing it off with your feet is pretty fun too but not easy to do with all that water pressure!
Splash Landing Family Activity Center
Splash Landing was everyone's ultimate favorite part of Wildwater Kingdom! This is an excellent place for toddlers though adults to play, slide, splash, and have fun! There is something amazingly fun about using their buckets, wheels, levers, and guns to get other people wet that I never tire of! There are so many levels and different ways to get from place to place including steps, tunnels, rope ladders, and bridges. It's an all-out adventure!
Please allow Elijah to give you a brief tour.

Splash Landing Family Activity Center is so massive that I took several pictures just to get the scope of the place.
The giant bucket of water dumps down with incredible force! I don't know how the little kids can handle it as it about knocked me over! It was so fun! Check out the below video of the bucket being dumped!

People line up to get splashed on by this huge bucket of water!
Splash Landing Family Activity Center also has a section with smaller slides for the younger kiddos. I love that it is zero depth entry so even the smallest kids can enjoy this area with their parents.
Check out this video of Elizabeth going down the slide!

There was even a super soft ship slide for the babies and young kids with no splash landing. Wildwater thought of everyone when designing this park.
There are so many slides of various sizes, types, and 'thrill level' throughout the Splash Landing Family Activity Center for every age. Some are set only for smaller kids and some require kids to be at least 48″ to ride. Your family could spend hours in just this one section and never get bored – we did! We had kids from ages 3 – 10 with us and nobody complained of being bored here!
Coral Cove Activity Pool & Riptide Run
Coral Cove Activity Pool is yet another chance to explore, swim, climb, and get other people wet with huge squirt guns. This pool is 3'6″ so younger kids are required a life vest. In this pool there are many animals to climb up on including giant sea turtles, snakes, and wheel barrels.
You can even play water basketball here and swirl around in the whirlpool! Coral Cove use to be Dolphin Cove when it was Sea World many years ago.
Riptide Run winds its way around Coral Cove, all 1,100 feet of it! This super long lazy flowing river is a great way to relax while the river takes you along for the ride. That is if you don't have 4 energetic kids trying to swim away and push eachother's tubes into the many waterfalls along the way! They had a great time. Again, depth is 3'6″ so kids under 48″ are required a life jacket.
The lifeguards at Wildwater Kingdom are top notch. They are specially trained by a technique called Jack Alice where they are always scanning the water so that every section is covered every 10 seconds. I felt very safe knowing so many eyes were on my kids while at this park. Check out this lifeguard doing his job along the lazy river.

Liquid Lightning
Liquid Lightning is quite intimidating but looks like a ton of fun! It is a 60 foot tall tornado slide that shoots a raft with up to 4 people up the tall sides of the tornado!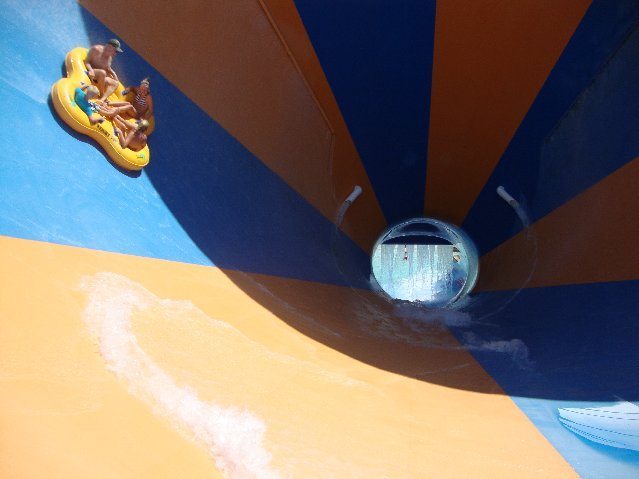 The heavier the load, the higher the tubes go up the sides of the slide. Keep that in mind when deciding who to go with! This is such a convenient slide because you don't even have to carry the rafts up to the top, they have an elevator to do that for you.
With 4 kids in tow, we were unable to convince the bigger kids to go with either of us so we saved this ride for another time.
Thunder Falls Water Slide Complex
Thunder Falls Water Slide Complex are big single & double raft and body slides for people 48″ and up.
Elijah was just a bit overwhelmed with these slides. He's only 5 and barely 48″ so it's understandable. In fact, as I saw him climb the stairs with Daddy and the bigger boys, I was scared for him! My 8 year old nephew, Jacob loved it pictured above! My husband and I took turns taking the bigger kids on all of the slides while the other played with the smaller kids.
Wildwater Kingdom thought about families with the same situation as ours. They have 2 areas for kids to play in that are too little for the big slides right next to the Thunder Falls Water Slide Complex. There is a large area with lots of Little Tikes houses and cars for kids to explore. Elizabeth and Elijah didn't mind at all taking a break from the water to play here.
There is also a large beach area for kids to play next to the water slide complex. Next to it is a boardwalk area with games to take a break from the water.
Take your family to Geauga Lake Wildwater Kingdom this Summer!
Don't miss out on a remarkable day at Geauga Lake Wildwater Kingdom this Summer. Plan a visit soon because you will want to go again right after!
Admission:
$27.99 for everyone 48″ and up
$12.99 for everyone under 48″ or 65 and older
$88 for a 4 pack of tickets for people 48″ and up
Season passes are the way to go at only $176.96 for a family of 4! You can't beat that price for a full summer of fun! Plus, members get specials like early arrival, free parking, discounts on food, cabanas, swimming lessons, and more.
Special Discount for AkronOhioMoms Fans!
Since you are an AkronOhioMoms.com fan, you can receive $5 off! Just print the below coupon and present it at the ticket booth.
Geauga Lake's Wildwater Kingdom
1100 Squires Road
Aurora, OH 44202
330-562-8303
(Just over 1/2 hour drive from Akron, Ohio!)
This was not a paid post. My own opinions were used based on my perceptions and experience. Thank you to Geauga Lake Wildwater Kingdom for the tickets for review.