Spring is soon on it's way and there is proof in the Cuyahoga Valley National Park. (Don't look outside at last night's ice and snow storm!) Our beloved Great Blue Herons have returned home. If you've never seen this popular attraction, head on over to Bath Road in Akron, Ohio. The heronry on Bath Road in Bath, Ohio has seen up to 176 nests in one season. The Great Blue Heron Viewing Spot is located between Akron- Peninsula and Riverview Roads. (Also at Pinery Narrows heronry, located on the west side of the Cuyahoga River, 1/2 mile north of the Station Road Bridge Trailhead.)
Each year the Great Blue Herons come back to this spot and a few others around Akron, Ohio. In early February, the male herons come and claim their nest. It is uncertain if returning herons lay claim to the same nest they used previous years or not.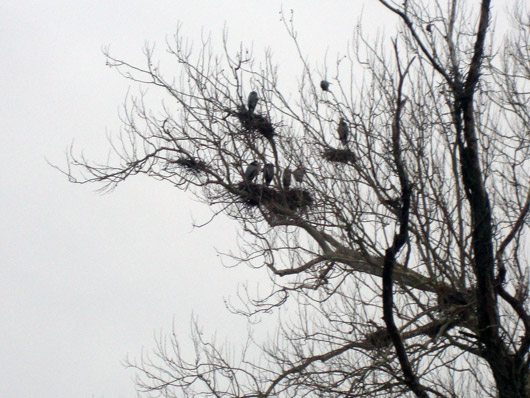 Why do Great Blue Herons return to Cuyahoga Valley National Park?
It is actually a very good sign to see the great blue heron around the Cuyahoga Valley National Park and Akron, Ohio. It means we are doing something right in preserving nature. Everything has to be just right for the blue heron to build their nest. Their nesting colonies are always near wetlands or along the river. They need to be near water for their food source of fish, amphibians, and aquatic invertebrates. Plus, they prefer to build their nests 30-70 feet high.
Exact Location on Bath Road in Akron, OH
More on the Great Blue Heron
The Great Blue Heron is the largest heron found in North America. They stand four feet tall, weigh about 4lbs, and have a remarkable wingspan of nearly 7 feet!  The male and female herons share in nest building and caring for their babies. They are at least seasonally monogamous, although it is not certain if they mate for life or more than 1 season.
What can you see at Great Blue Heron Viewing Areas
So, are you wondering why cars are pulled off to the side on Bath Road?
You can obviously see the large herons, but do you know what they are doing? Here is their schedule.
The males are here now, claiming their nests. In the next couple weeks, the females will arrive. They will find their partner, court, and mate. Then, the female great blue heron will lay 3-7 eggs around mid-march. After 28 days of sharing incubating responsbiliites, the baby herons will hatch in late april or early may. Both the male and female care for the babies.
The best time to check out the Great Blue Herons is from early March to early April. This is when they are building their nest. The male herons gather sticks and give to the female who weaves it into the nest. It is so fun to watch the males bring the sticks and see the female start working on the nest, sending the male right off for more! From May to June, you can see the adults working tirelessly bringing food back to the nest for their baby herons. In July, the young herons will fledge or leave the nest.
Attend the 4th Annual Blue Heron Day-Pancakes in the Park
Want to share the wonder of the Great Blue Heron with others? Plan on attending the 4th Annual Blue Heron Day-Pancakes in the Park on Saturday, March 05, 2011 8:30am-Noon at the Old Trail School in Bath, Ohio.
Early Risers hike begins at 8am and the pancake breakfast begins at 8:30am.  Other activities include educational projects, crafts, photos, puppet shows, live bird display and more.  For more information & to purchase tickets in advance (Adults $6, children 6-12-$4) call 800-642-3297 or visit www.conservancyforcvnp.org.
Old Trail School
2315 Ira Road
Bath, OH