If you have a toddler, my guess is that you may be surrounded by bubbles. Bubbles are a fun gift, they are inexpensive, and toddlers usually LOVE them! They are also great entertainment….my daughter would play with bubbles for hours at a time!
This is a sponsored post. This post contains affiliate links, which means at no extra cost to you, I earn on qualifying purchases. 
Ways To Make Bubbles Even More Fun
When I saw the Wave-A-Bubbles, Glove-A-Bubbles, and Big-A-Bubbles I knew my daughter would be so excited to get them! These products are a way to step-up your bubble game for even more fun!
The Wave-A-Bubbles and Glove-A-Bubbles come with fun gloves that kids can put on their hands. They also come with a pouch to pour the bubbles into. Then the kiddos can dip the top of the gloves into the bubble pouch and wave their hands around to create bubbles!
Big-A-Bubbles comes with a bubble pouch as well and then you dip the Big-A-Bubbles tool in the bubbles, take it out, and pinch your fingers back and forth to create BIG bubbles!! Big bubbles are so much fun. My daughter loves to see them and then be able to pop them!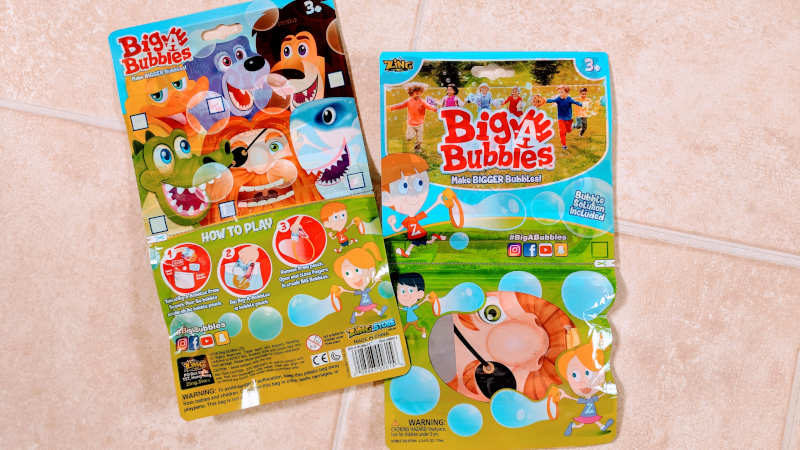 On the back of each of these bubble products, there are instructions for the 3 easy steps of how to play! Which makes it super simple to see exactly what you need to do to start making bubble-fun!
Bubbles – Great For Summer Parties
Now that I see how much my daughter loves playing with the Wave-A-Bubbles, Glove-A-Bubbles, and Big-A-Bubbles I know this is something I will have on hand for the kids to play with at Summer parties this year. We usually make sure we have side walk chalk and bubbles anyways but these products are a way to ensure even more fun & entertainment for the kids!
Making It Easier
The pouches that come with these bubbles are really convenient because you don't have to have anything extra in order to create bubbles! However, we did find that pouring the bubbles into a container allows kids to set the container down and be able to run around with the bubbles. My daughter loves to put the gloves on and twirl around to make bubbles and then run to chase them in order to POP them!
Summer Staple
Now that my daughter has experienced the Wave-A-Bubbles, Glove-A-Bubbles, and Big-A-Bubbles, I know they will be a Summer staple in our house. If you are interested in checking them out for your kiddos too, you can get them on Amazon! I have also seen them in some grocery and department stores recently!
Happy Summer & Happy Bubble-Making!
If you are looking for a stay-cation idea this Summer, check out this post!