Be amazed at 1.2 million Christmas lights at Stan Hywet's Deck the Hall event going on now through December 30th.  The grounds are decked out with Christmas lights from the moment you drive through the tunnel of lights to the manor house and all throughout. This is a magical place for family fun!
Start your evening with the lighting of the large Christmas tree in the courtyard, where you'll also find a jolly Santa and Rudolph. Don't forget hot chocolate and fresh ginger cookies to enjoy as you walk to the manor house.
The manor house is decked out in traditional Christmas decor this year with a Gracious Gatherings theme (each year they have a new theme, making it a new experience every year).  You'll find a mix of traditional red, green, and gold in the music room, displaying holiday dresses worn by Gertrude and the ladies of the house.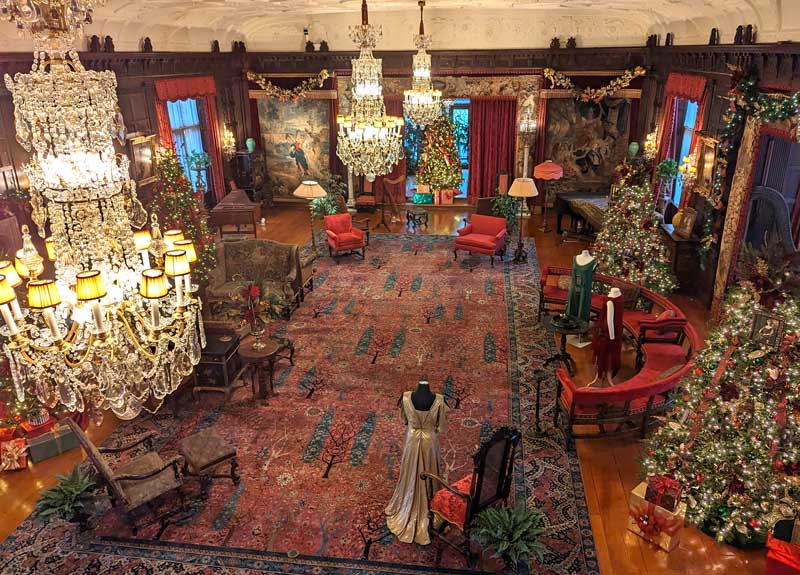 Then, step into the West Porch (my kids' favorite room since they were toddlers) to find a bit of whimsy with animals in tuxes and gnomes bathing in the fountain! ha! Kids of all ages enjoy Stan Hywet's Deck the Hall. My kids are now teens and look forward to it every year, but they had just as much fun as when they were toddlers!
If you love Christmas trees, you'll find inspiration and be amazed at the 30 trees in the Manor House – all professionally and beautifully decorated!
With so many trees, you can imagine that they will be in many rooms, 19 in fact.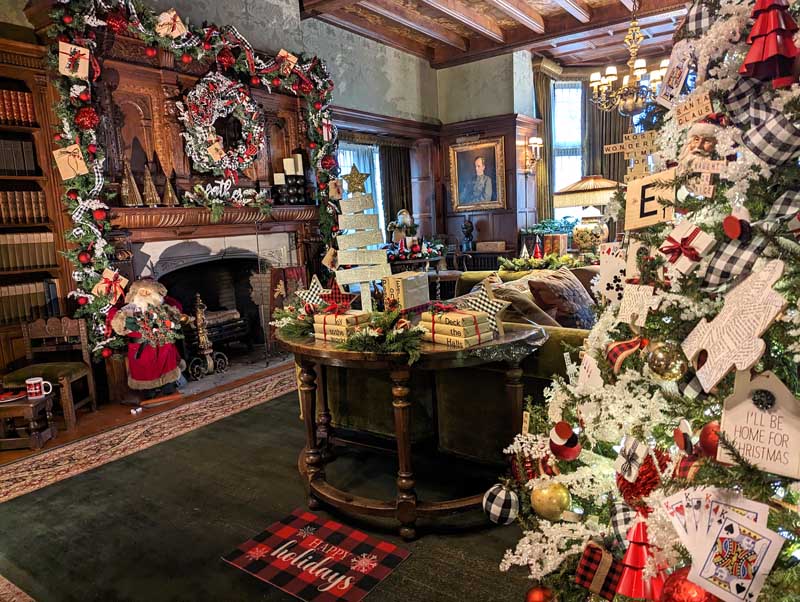 I always look forward to seeing the dining room because the table is immaculately set for a dinner party. I always wonder how amazing it would be to throw a Christmas party in this room!
Head outdoors to walk the grounds, whether it's warm or freezing cold, you'll enjoy walking the beautiful grounds at Stan Hywet as they are draped with Christmas lights. Don't forget to stop by to watch the Dazzle light show in the Great Garden, with the lights choreographed to some of your favorite Christmas music.
Gingerbread Land is a fun, kid-centered themed area that is magical to experience as you walk through larger-than-light gingerbread creations.
Next door is Corbin Conservatory, where you can warm up, take pictures in front of the poinsettia tree, walk through the greenhouse to marvel at the enormous and flourishing plants, and purchase a lovely variety of poinsettias of every color.
Back to the Courtyard on your way out, stop by the 2 animated shop windows that will take you back in time.
Don't forget to save time for a little shopping at Molly's Shop. They have the most unique gifts for everyone on your list, especially for women. I've found many gifts over the year here. You can also purchase their famous frozen ginger cookies to be enjoyed throughout the season at home there.
Stan Hywet's Deck the Hall is my family's favorite Christmas tradition. My kids look forward to it every year and have talked about how they will take their kids there once they are adults too. I see many, many delightful years of memories being made ahead in my family's future at Stan Hywet and it makes my heart swell.  Whether your kids are babies or have babies of their own, make this the year you start your family tradition at Akron's favorite Christmas location.
Stan Hywet Deck the Hall 2022
Deck the Hall takes place from 3‐8 pm on November 25‐27 and December 1‐4, 8‐23, 26‐30.
There are no daytime tours after November 23; those tours will resume on April 1, 2023.
Stan Hwyet Deck the Hall 2022 Tickets
Tickets to Deck the Hall must be purchased in advance at stanhywet.org or by phone at 330‐315‐3287. Admission includes a self‐guided tour of the Manor House and grounds, Dazzle, and Gingerbread Land.
Monday‐Thursday: Ticket Prices: $20 adults (18+), $9 youth (3‐17)
Friday – Sunday: Ticket Prices: $24 adults (18+), $11 youth (3‐17)
All nights: children 2 & under, free. College students with valid ID pay the youth price.
Stan Hywet
714 North Portage Path
Akron Ohio