NE Ohio loves Deck the Hall at Stan Hywet! This family friendly event boasts 1 MILLION Christmas Lights, Dazzle – a light display choreographed to Christmas songs, and the Manor House decked out with 25 decorated trees, shopping at Molly's Shop, and of course, hot cocoa and gingerbread cookies!
My family loves this event so much in fact that my husband turned down a job in DC this week so he could attend and my son missed his first day of work at Heritage Farms – they both said that Deck the Hall at Stan Hywet is their favorite family tradition. It warms my heart that my kids ages 14 and 16 still love Stan Hywet and that we've gone annually since they were toddlers!
Stan Hywet presents Deck the Hall in Akron, Ohio is on select nights November 26 – December 30.  We start our Deck the Hall night in the Carriage House Courtyard around the beautiful centerpiece decorated and lit Christmas tree. This is where you'll find Santa and Rudolf as well as refreshments including my favorite gingerbread cookies and hot cocoa.
We always enjoy our treats while warming by the fire.
Get in line for your visit with Santa and Rudolf – this covid-friendly setup has plexiglass between kids and Santa so you can still enjoy a visit!
Next door are two must-see window displays including my favorite of Akron long ago at Christmas!
From there, we head to the manor house while walking through some of the 1 million Christmas lights!
Inside the Manor House, you'll enjoy walking through 2 levels of the home surrounded by décor is inspired by the theme of Lights, Cameras, Christmas. This year's theme is one of our favorite themes that Deck the Hall has put on display!
You have a very good chance of visiting a room decorated in your favorite Christmas movie! In the header image at the top of the post you'll see my family's favorite – ELF! Go room to room with a red carpet walk in the Linenfold Hallway with walk-of-fame stars and film reels setting the scene.
 Family favorites and classic Christmas movies will be staged in 21 spaces in the Manor House plus there are 25 elaborately decorated trees throughout the manor house.
We loved Cindy Lou-Who's room! If you want to see her actual bed, visit Castle Noel this season too!
The main living room is decked out in a Harry Potter theme including floating candles!
Younger kids will love the FROZEN and Polar Express themed rooms.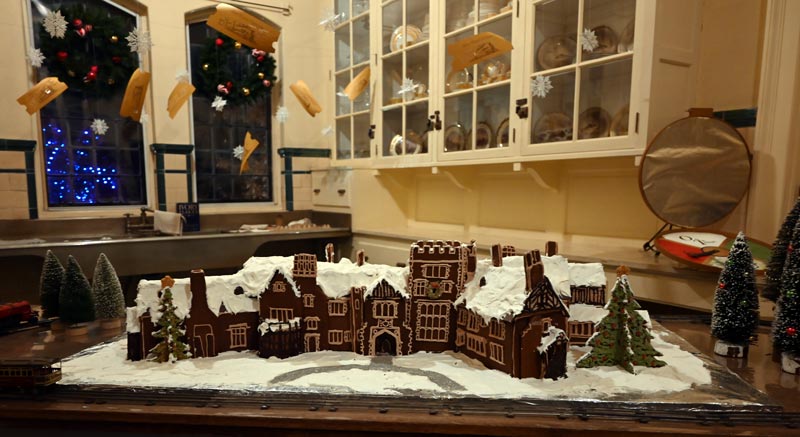 The display in the Music Room tells the story of The Nutcracker, featuring stage costumes from the Cleveland Ballet.

Other talented local decorators and artists, including Akron Makerspace and the local Lego Group, NEOLUG, are part of the team creating a Deck the Hall display in the Manor House worthy of the silver screen.
After the Manor House tour, plan to enjoy the outdoors! Be sure to bundle up and plan to spend at least 1 hour outside touring the estate gardens as you walk through the million Christmas lights displays.
The Manor house is just as gorgeous from the back!  Walk the trails through the lights and to Gingerbread Land – another kid-favorite!
We love stopping at Corbin Conservatory to walk through the green house and purchase a poinsettia. This year's poinsettia tree is one of the best ever! Great photo opp too!
On the way back to the courtyard and parking, you'll enjoy Dazzle in the Great Garden features three holiday songs choreographed to the display of lights.
Like I said, Stan Hywet is the place to see Christmas Lights in Akron, Ohio! 1 Million in fact!  Stan Hywet is part of the  Ohio Holiday Lights Trail — the largest one ever! Check it out for more Christmas Light displays in Ohio!
Exit Deck the Hall through Molly's Shop, a unique shop that is brimming with unique holiday gift items for everyone on your list. We love supporting local business and there are many opportunities here!
If you've never been to Deck the Hall or have a dozen times, you won't want to miss Deck the Hall at Stan Hywet this year! It's a magical experience! My family loves it every year and my kids have even said that they will be bringing their kids when they have families of their own. What a neat thing!
Purchase your tickets now online.  Enjoy discounted tickets on Value Nights Monday through Thursdays.