Check out the new indoor playground in Stow, Ohio, near Cuyahoga Falls at Cafe O' Play! This amazing new indoor playground features fun for kids up to age 12 with a separate area for toddlers.
There is even a full service cafe coffeehouse where you can grab lunch or a snack.
This is a sponsored post.
Indoor Playground in Stow, Ohio
The Cafe O'Play indoor playground is located in Stow, Ohio / Cuyahoga Falls area, right off of Rt. 8 Hudson Drive exit, near Walmart. Expect to spend hours when you visit because your kids will have that much fun!
Bring your tablets and catch up on emails with their free Wif-Fi while you watch your kids from the comfy chairs within the playground area or in the cafe, over looking your kids through the large floor-to-ceiling windows.
Cafe O'Play offers multiple levels of indoor playground fun in Stow, Ohio! There are many climbing structures, tunnels, obstacles, slides, interactive soft play floors, bumpers, landing pads, roller squeezes, tube crawls, sphere lookouts, and several slides including tube and their ultra-popular multi-lane wave slide!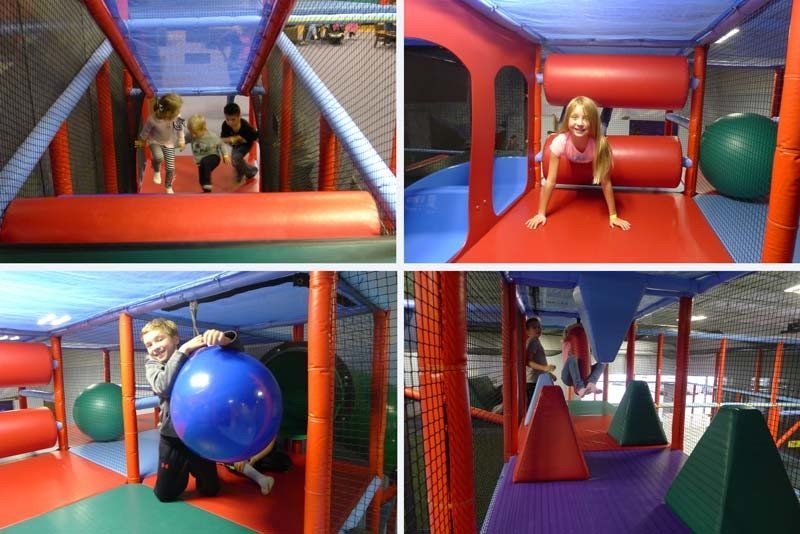 There are so many places to go, see, and experience within the indoor playground that your kids will have fun exploring and playing for hours!
The toddler area is fun for toddlers, without the big kids. Cafe O'Play offers soft play toys, play panels, mini slide, and more to keep your toddler engaged and having fun in a safe environment.
The interactive floor is a huge hit! The program changes throughout the day from coloring, games, and even educational fun activities.
There is also a sport court area for playing ball, tag, and dodge ball.  Older kids love this area to run and play!  My 10 year old son and his 10 year old friend spent a lot of time in this play area!
No worries if your child is younger, there is always an attendant in this room, as well as throughout the indoor playground. The attendants guide the play into what is suitable for the age group there.
If it gets too crowded in one area, an attendant will start up a new game elsewhere to thin the crowd, keeping it safe and fun for everyone. A huge favorite is Gaga Ball. I love how the attendants – and owner John Green below – engaging with kids during play! Gaga Ball is similar to dodge ball, but on a knees and below level with no hands – kids LOVE it!
Cafe O'Play is the best way to give your child a safe place to play and have fun year-round, but especially during the upcoming colder months in Ohio!  Kids don't get the chance to run and play when it is cold outside, Cafe O'Play gives them a fantastic place to play with other kids and burn off energy!
Besides the indoor playground structure, activity room, toddler room, and gaga ball court, Cafe O'Play offers even more, including this dance room! With popular trendy music, disco ball, and a light show, kids could show off their dance moves for hours!

After all that fun and exercise, your kids will appreciate the Cafe as much as you will! Choose from an entire menu of tasty hot sandwiches, gourmet salad, their signature cupcake pan snacks for kids, ice cream, and other desserts.
Their hand scooped ice cream is amazing – and they are generous with their serving size!
Cafe O'Play also offers craft time for kids at no additional charge, just ask what the craft of the week is when you sign in.
Consider booking your child's birthday party in Stow, Ohio at Cafe O'Play. They have 2 party rooms to accommodate friends and family.

Cafe O'Play offers fun and engaging events and classes that are fun for the whole family. Enjoy Kindermusik,  live music nights, home school study & play, arts & crafts, Mom's Book Club, holiday themed events, schools out events, dance parties, events for those with special needs, family yoga, and many special appearances from talent like Outback Ray, Spiderman, Snow Queen and other princesses and super heroes.
Stop by Cafe O'Play indoor playground in Stow, Ohio (near Cuyahoga Falls) and with your toddler and kids up to age 12. Tell them AkronOhioMoms.com sent you!
Connect socially with Cafe O'Play on Facebook
Cafe O'Play
911 Graham Road #27, Stow, OH 44221
{330) 928-7517