The Lighthouse Resort Hotel is a lovely resort located right off the shores of  Lake Erie in Marblehead, Ohio.  The location is serene by the lake but close to all the Sandusky area attractions. The Lighthouse Resort Hotel is walking distance  of Marblehead Light House State Park.We were given the opportunity to take a trip to Marblehead, Ohio to stay at The Lighthouse Resort Hotel.
Lighthouse Resort in Marblehead, Ohio Review
As we drove into Marblehead, Ohio, we drove through this picturique village looking for the resort to be in the middle of it all. To our delightful surprise, once we saw Lake Erie shore, we found The Lighthouse Resort. I like that it is set apart from the village but still close enough to walk.
This is a very friendly, welcoming resort.  There are 69 rooms as well as suites with gorgeous views of Lake Erie.
We were lucky enough to stay in the luxurious Catawba Suite.  The Catawba Suite has 2 separate living areas with windows all around for a gorgeous view of Lake Erie.
Check out our video tour of the Catawba Suite!

Inside, there is a Jacuzzi for Two with a view of the Lake. My kids started squealing when they saw the jacuzzi and insisted that it was already bathtime! This would be very romantic suite for a honeymoon, anniversary, or birthday getaway.
The Living room comes with a drybar, complimentary snacks (big hit with the kids!), large screen TV, sleeper sofa, chair, refrigerator, microwave, and board games. As a family, we enjoyed watching a movie in the living room snuggling on the couch. There was plenty of room for the kids to run around and play unlike small, cramped hotels. I could easily see us staying her for a few days and feeling very comfortable as a family of 4 vacationing.
The spacious private bedroom includes another sitting area with a couch, chair, coffee table, King Bed, and TV. Having a private bedroom with a door is so nice when  you are traveling with kids. With an earlier bedtime, my kids were able to sleep in the living room on the pull out sofa while we could stay up late. It was very convenient that there was a couch, tv, and free wifi in the private bedroom too.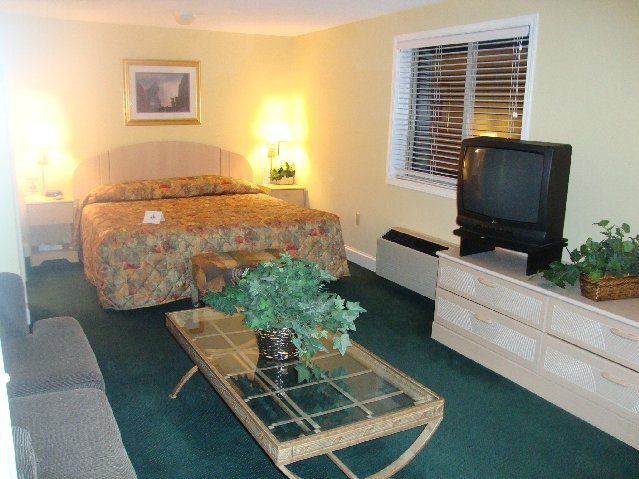 The Catawba Suite has a King size bed with end tables in the private bedroom. We chose to leave the blinds open on the 4 windows in the private bedroom so we would get a sunrise wake up call and have morning views of Lake Erie.
The bathroom has tile floors, large vanity, and tub/shower unit.  The most important part of any hotel room for me is that it is clean, especially in the bathroom. The Lighthouse Resort Hotel is immaculate throughout. I was very pleased. Plus, the bathroom was overly stocked with towels and wash cloths. This made me very happy, I really hate to ration out towels for a family of 4 at bathtime at a hotel. The bathroom was extra large as well.
We loved the Lighthouse Resort and would stay here again as a family getaway, romantic getaway, or for a special event such as a family reunion or retreat. We enj0yed our stay as a family. The suite was so spacious, it felt like we were home. In fact, my 5 year old said it would be a nice place to live at the Lighthouse Resort! I highly recommend The Lighthouse Resort for your next Ohio getaway, or while you are visiting Lake Erie, Cedar Point, and other nearby attractions. If you are looking for an immaculate, private hotel with a view of Lake Erie,The Lighthouse Resort is for you.
Lighthouse Resort Amenities
You could easily stay at the Lighthouse Resort and never have to leave. They offer a full service restaurant, Ritski's Bar & Grill for all your dining needs.  Enjoy everything from sandwiches to lobster on the menu as well as a full service bar. They have special buffets, pasta nights, etc throughout the year. Ritski's is known for good food with people outside the hotel visiting for the food and atmosphere. Eat indoors or go outside and enjoy the Waterfront Patio.
The Lighthouse Resort has a Heated Outdoor Swimming Pool with Tiki Bar (open Memorial Day thru Labor Day). The pool was very clean with plenty of lawn chairs to sit back and relax on.
The Lighthouse Resort offers a well-equipped fitness room, free wi-fi, and the Captains Gift Shoppe where you can find everything nautical, Ohio and Lake Erie souvenirs, snacks, and other gifts.
The Kid's Play area was a big hit for my kids. The playset is sturdy and new. The area is surrounded by large grassy open spaces for kids to run and play with picnic tables and seating scattered around.
The Lighthouse Center Conference Center can be reserved for weddings, dinner parties, company events, family reunions, holiday celebrations, banquets, and wedding receptions on Lake Erie. This is an elegant setting for any event.
The outside grassy area is uniquely decorated with hand-painted lighthouses with various themes. My kids loved them.
Across the street is the rocky shoreline of Lake Erie. This property is owned by The Lighthouse Resort, so go explore. We did! Others choose to sit by the lake and read which is another good option.
The Lighthouse Resort is close to attractions
The Lighthouse Resort is within walking distance of Marblehead Light House State Park, however with kids, we still drove.
They are also just minutes away from Kelly's ferry and downtown Marblehead shopping, as well as the Lake Erie Islands, East Harbor State Park, and Cedar Point Amusement Park. It is a great place to stay as you make day trips all around Lake Erie and Sandusky attractions.
Living in Akron, we take a trip up to the Lake Erie area about 6 times a year, there is so much to do and see so close to home! My kids would live at Cedar   if they could! See how much they love it here.
Stay at Lighthouse Resort Hotel
I highly recommend the Lighthouse  Resort Hotel for your next trip to the Lake Erie area. It is a perfect family spot or romantic getaway. Check out their website and their facebook page for the best deals and specials. Click here for pricing and to make reservations.
They offer great deals and specials when planning events such as scrapbooking weekends, Christmas parties, and more. Plus, they offer special events at The Lighthouse Resort throughout the month including wine tasting events. The next wine tasting event is Sept 23, 2010.
The Lighthouse Resort
614 East Main Street
Marblehead, Ohio 43440
Phone: (419) 798-9600
Fax: (419) 798-9605
This was not a paid post. My own opinions were used based on my perceptions and experience. Thank you to The Lighthouse Resort for the stay for review.