Last Friday I had the honor of attending a press only event at Little Tikes here in Hudson.  Little Tikes was celebrating their 50th year  in an eventful day that including their wonderful employees, amazing founder and their inspiring parent company CEO.  We became a part of the Little Tikes family and greatly enjoy being able to see a little behind the scenes of one our favorite Ohio based toy companies.
50 Years of Toys!
Little Tikes has been a household name for five decades. Our visit at Little Tikes included a tour of their private museum.  The kids were ELATED when MGA Entertainment's CEO Issac Larian, gave them to go ahead and play with the toys!  We  were expecting our visit to treat the toys as visual fun only, so we were excited to be permitted to play with all the amazing toys from the past and present.  Mr. Larian and his family (who were all in attendance from California) were wonderful, and my kids enjoyed meeting and playing with his grandson.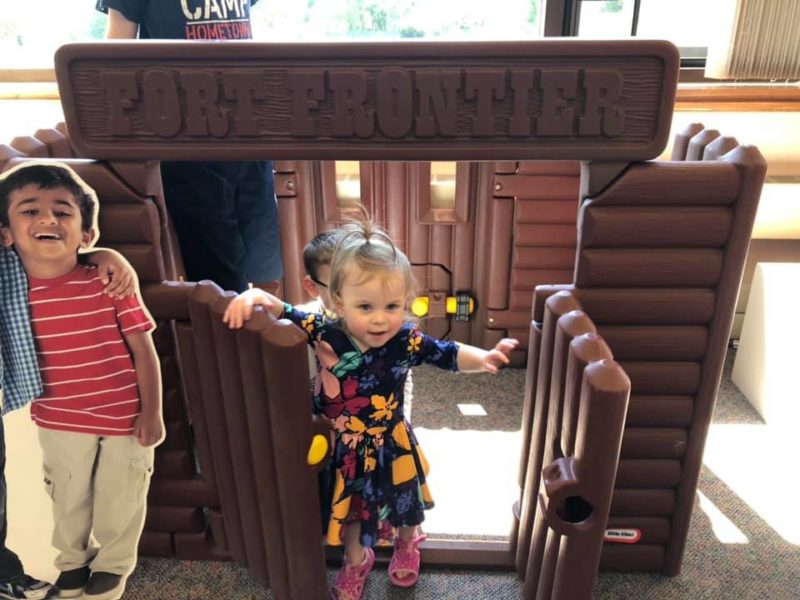 I was floored by all the Little Tikes staff, they made us feel like family the whole time and they were the happiest,most kind people. Once the kids started to play, it didn't take them long to pick their favorites! The kids favorite toys were 1. The OLD doll house and dolls: The kids love that there were babies, a boy in a wheelchair and a minivan like mom's. Here is the current style 2. The playhouse toys: what kids doesn't love these? We had never seen the fort style so the kids really loved that.  3. The ride on toys: my kids love being on the move so these are always on the top of their toy list.
Honoring From the Beginning
The best part of our visit to Little Tikes was by far seeing Mr. Issac Larian, expressing his appreciation to Little Tikes Founder Thomas G. Murdough Jr.  hearing the heartfelt speech where Mr.Larian thanked Mr. Murdough for all the hard work and the company that he built. Mr. Murdough in turn applauded Mr. Larian for purchasing Little Tikes and building it with his passions. He also honored and thanked the entire Murdough family for being in attendance of such an important milestone.
Happy 50th Anniversary Little Tikes, We can't wait to see what joys you bring to children everywhere in the next 50 Years!