The Harvest Festival at Hale Farm & Village is this and next weekend in Bath, Ohio.  This full-day festival is fun for the entire family for one low price.  The Harvest Festival includes admission to the village as well as horse-drawn wagon rides, early American craft & trade demonstrations (blacksmithing, glassblowing, etc), photo opps, live music, and more in the scenic Cuyahoga Valley.
This is a sponsored post.
Hale Farm & Village Harvest Festival
Whether you have babies & toddlers or teenagers, there is family fun for all at Hale Farm & Village Harvest Festival.  The entire village is open to tour and enjoy. Throughout the village, you'll find fun Fall themed activities for young and old. This straw pile is a hit for the younger kids!
Moms will appreciate the many staged photo opportunities throughout Hale Farm for the perfect social media-ready posts!  Let's face it though, all the gorgeous barns, gardens, and scenic vistas provides plenty of photo opps!
It is a fun Fall outing to meet up with friends and family too. We went with my parents, who have never made it to Hale Farm before. They had a great time exploring for the first time. My kids enjoyed showing all the ropes to them since we visit often!
The horse-drawn wagon rides are included in admission to the festival just be sure to sign up for your favorite time-slot and then return later to ride. This is a great system that avoids waiting in long lines. It is also a great way to see the entire farm and village.
We love watching the early American craft and trade demonstrations and all the staff in costumed character at Hale Farm. We watched the blacksmith hammer out decorative leaves during our visit. Such skill and precision.
I've never made apple butter but now I know how!  You and your kids can try your hand at making apple butter over an open fire!
Yum! It looks pretty good!  If you do get hungry, there is plenty of snacks and drinks at the entrance of the festival and at the general store.
We enjoyed learning all about how glass blowing is done and watching a live demo. My son would love to get into glass blowing some day after years of watching these demonstrations! I wouldn't mind because I adore glass-blown decor. You can even purchase glass blown ornaments and decor that they make in the gift shop. The gift shop is a great place for unique, Ohio-made gifts for Christmas too!
The Hale Farm Harvest Festival is all about good, old fashioned fun. Here and there, you'll find games and toys that kids from the 1800's played. 
Kids of all ages have fun trying out the games and improvising if they can't play it the old fashioned way!
I've always said that making memories with your family involves parents playing and participating with their children. This guy is doing it right! Get out there and have fun with your kids at these events, don't spend your entire time taking photos of them and sharing on social media. You'll have a better time if you are playing the games, petting the animals, and eating the pie with your kids!
Even in the houses there are interactive games kids can pick up and try. My daughter was mesmerized by the horse-shoe game and purchased one for herself in the gift shop!
The general store and attached home is a perfect place to stop. You can explore all of the houses inside and out. Most of the rooms are open to walk in or peek inside.
The general store was even open for business with cold drinks and pie!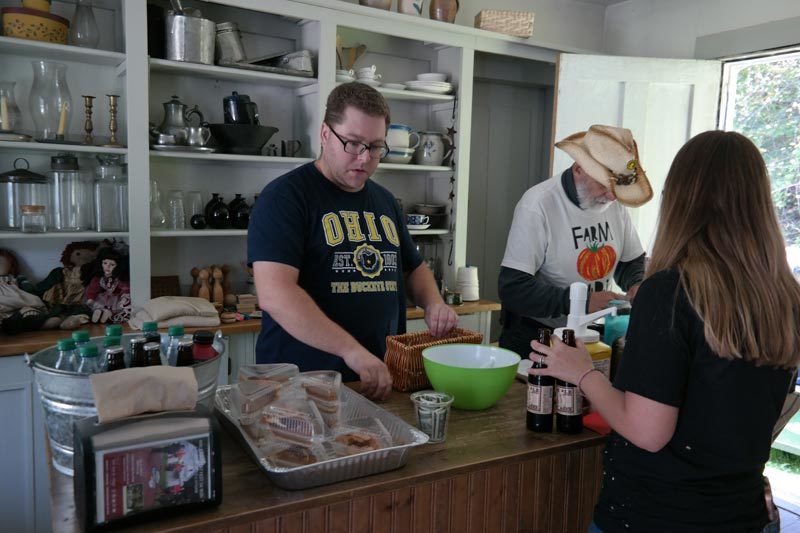 Inside most of the homes were costumed characters that would tell the story of the home, what it was like to live there, and answer any questions you or your children may have. They are always fascinating to talk with and always patient and eager to answer as many questions that your kids can throw at them. Hale Farm & Village is a museum of Western Reserve Historical Society. I love how they make history fun!
The rooms are decorated and preserved, like taking a trip back into time.
You can even learn how to make home-made sauerkraut at the festival in one of the home's kitchens.
The one-room school house is always fun to visit.
Inside, we learned that this one-room school was for kids up to 8th grade. Kids would be placed on a bench based on ability rather than age.
Another favorite stop is the church.
My dad is a retired pastor. When he saw the old hymnals, he knew his favorite song, Bringing in the Sheaves would be in it. It was! This American Gospel song from 1890 was sang in church all my growing-up years and many before that!
The church is beautiful inside but you should see it during their Holiday Lantern Tours when it is lit by candles and Christmas carols are sung! It begins November 30th.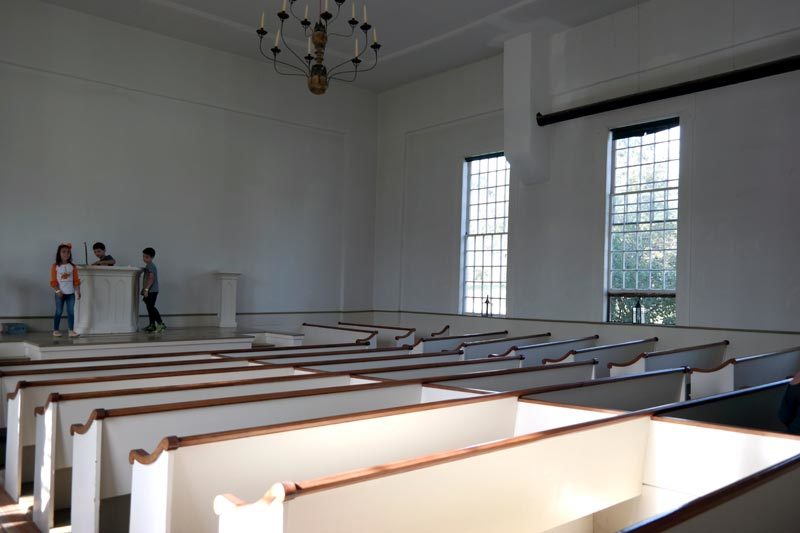 Your kids will enjoy many farm animals at the festival too. The sheep were a big hit!
Everyone wanted a chance to pet the sheep.
Kids have the unique opportunity to see the animals and even how their wool is spun into yarn.
And of course, kids with animals are the perfect photo opps!
My kids have been wanting to get chickens for some time, so visiting these chickens re-opened that discussion. hmm
I know there are a lot of pictures in this post. I wanted to show you how much there is to see and do with your family, so I hope I accomplished that. What I really want to drive home is the fun you'll have and memories you'll make together at Hale Farm Harvest Festival. It's not all about the learning and fun activities, it is about sharing those experiences with friends and family. I highly recommend you inviting grandparents, aunts, uncles, cousins, and friends to join you for a fun Fall outing at Hale Farm.
Hale Farm & Village Harvest Festival Dates & Admission
Hale Farm & Village Harvest Festival is October 5, 6, 12, 13, 2019 from 10am – 5pm (some activities end at 4pm). I suggest setting aside at least 3 hours but 4 or 5 is even better!
Admission: $10 adults (age 13+); $5 youth (ages 3-12 yrs); members, youth 2 and under and active military free. All activities are included. Food, drinks, and pumpkins are available for purchase.
Hale Farm is located in beautiful Bath, Ohio next to the Cuyahoga Valley National Park.
Hale Farm & Village
2686 Oak Hill Rd.
Bath, Ohio 44210
330-666-3711