We are so excited to see things start to get back to normal here in Ohio. Now that we have social distancing measures in place, fun activities like the Hale Farm & Village Maple Sugar Days & Pancake Breakfast returns! This family-fun activity is on March 13, 14, 20 & 21, 2021. It's a great day outside while learning in-person the process of maple sugaring past and present from 9am – 4pm. Don't miss this fun day out with your family – you deserve it!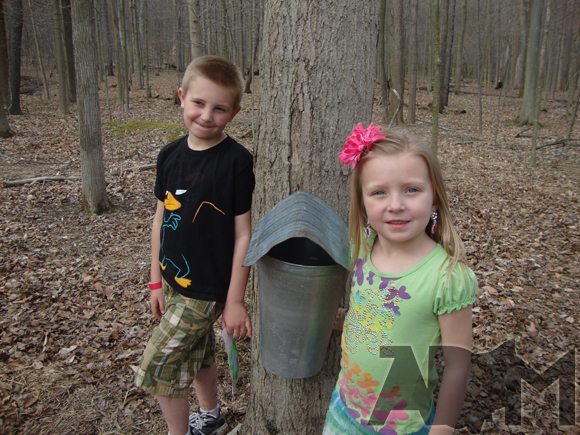 This is a fun event for families, seniors, and kids of all ages. Above, my kids were just 3 and 5 years old when we first visited Hale Farm & Village during Maple Sugar Days. We had a lovely warm day that year. My kids loved exploring the farm and learning how maple syrup is made! This year, my kids are teenagers and just as excited! In fact, they want to tap their own tree in our yard this year!
The 19th century village is open to experience outdoor demonstrations including tree tapping, oxen talks, a sugaring camp and the process of boiling sap into syrup. Historic crafts and trades are also demonstrated throughout the day.
You and your children will learn so much about how it was in the 19th century and now – fascinating. It's good to teach kids where things like maple syrup comes from, not just from Acme although Acme Fresh Market is a proud sponsor of the Hale Farm & Village Maple Sugar Days.
If you like to support and shop local, The Marketplace at Hale Farm & Village is the place to be! They will have Ohio made maple products including syrup, candy, sauces and snacks for your delight. Plus, our favorite are the handcrafted at Hale Farm items including hand-blown glass, pottery, iron work and wool items. Check out all their Ohio made and maple sugar season souvenirs.
Pancake Breakfast on-site and carry-out
Come hungry because you don't want to miss the pancake breakfast! Dine in or carry out this year!
Enjoy a hearty pancake breakfast of pancakes, sausage links, fruit, coffee, juice and milk provided by Acme Fresh Markets will be available to eat on-site or can be a carry-out. Admission for breakfast and all activities is $17 for adults, $11 for children 3 – 12 years of age, and $7 for pancake breakfast only tickets (breakfast is served until 3 pm).
Reservations are required and a limited number will be sold for admission each hour. Face coverings, social distancing and presale timed admission tickets are required.
ADMISSION 
Adults $17 (includes breakfast)
Children 3-12 years $11 (includes breakfast)
Adult museum Only $12
Youth Museum Only $6
Members or Breakfast only (carry-out available) $7
Breakfast served: 9 am – 3 pm (Hale Farm closes at 4 pm) Includes, pancakes, sausage, fruit, coffee & juice.
The 2021 Maple Sugar Festival is proudly sponsored by Acme Fresh Market and Bissell Maple Farms. Hale Farm & Village is a property of the Western Reserve Historical Society.
For GPS directions use 2686 Oak Hill Rd. Peninsula, Ohio. No Pets, only service animals permitted