Pack up your family for a short drive to picturesque Peninsula, Ohio for Heritage Farms Pumpkin Pandemonium! Nestled in the Cuyahoga Valley National Park, Heritage Farms is a family tradition  for families since 1848. Make a visit at Pumpkin Pandemonium your family's new fall tradition for a day of fun.
Heritage Farms Pumpkin Pandemonium in Peninsula, Ohio
Heritage Farms Pumpkin Pandemonium is an explosion of fun for families with kids of all ages, youth groups, school field trips, and even college student outings. There is no age limit on good old fashion fall fun! There is something for everyone and it is conveniently located just a short drive down Rt. 303 off Rt. 8/77 North or I-271.
Corn Maze in Peninsula
Get lost in the Peninsula corn maze at Heritage Farms. At first glance, I thought this maze was a 'baby maze' meaning my teenager kids and I would quickly run through it.
Boy was I surprised at how turned around…and around…and around we got! It was such a fun maze to challenge ourselves with. I love that the screen fencing allows parents to watch their kids wander through the maze. Plus, little kids won't feel scared if they do get turned around and 'lost' when a parent is watching – or better yet, walking through it with them.
Heritage Farms is not a place where you drop your kids off or even let them do the activities while you stand on the sidelines and watch. It is a place for families to enjoy experiences together. If you don't play with your kids, you and your kids are missing out on so many memory making opportunities and fun!
Farm Fall Activities in Peninsula
There are many different activities to participate in at Heritage Farms Pumpkin Pandemonium all around the farm and inside the barn.  Some activities including: Straw Bale Bird Nest, Pumpkin Rolling, Scarecrow Bean Bag Throw, Corn Box, Coloring Wall, Straw Tunnel, Music Corner, Leaf Pile, and more.
This farm is for the whole family – young and old. There are just as many activities for toddlers to enjoy as teenagers and adults.  It is a great place to meet with family and friends to make it a whole day outing – they even offer family and group discount tickets – see below.
We enjoyed walking through the fields for the scavenger hunt. There are two to choose from: Fall Friends Trail & The Scavenger Hunt. I've always loved scavenger hunts as a kid and so do my kids. It was a relaxing walk and fun to find everything on the check-off list.
Younger kids will enjoy the pumpkin roll just as much as their older siblings and parents! It was fun watching the little ones throw the small pumpkins down the hill and just as fun watching the parents try to show them how to throw far – sort of like bowling!
Nothing beats a good corn box! That's a lot of corn and a lot of happy faces in the barn!
We had a fun time playing giant jenga too. There are plenty of places to sit and relax, play a game, and enjoy family time together at Heritage Farms.  It helped us to all get off our phones and have fun together. My kids dream of living on a farm, being out in the countryside. Even if we can't all live on a farm, it is awesome that we can enjoy spending time at a farm so close to Akron, Copley, Twinsburg, Richfield, Hudson, Stow, Streetsboro, Sagamore Hills, Macedonia, Brecksville, Bath, Fairlawn, Cuyahoga Falls, Hinckley, and more. It's such a convenient location and so close to major highways and interstates.
Another fun activity are the slides!
There are special guests at Pumpkin Pandemonium including live music. There is plenty of food on-site at reasonable pricing too including pulled pork sandwiches, hot dogs, burgers, and more. Cash only for food.
Family Fall Photos in Peninsula
If you are looking for the perfect spot for family fall photos in Peninsula, Heritage Farms is it. They have many photo opp locations set up for family pictures.
Isn't this a cute picture of the kids with their pumpkins? I'm sure that is already on facebook and soon to be framed at home!
My family has been going to Heritage Farms for years. It is fun to chart the years with photo opps like this one that includes height and year!
Peninsula, Ohio Hayride
You can also take a hayride that takes you on a scenic ride through the farm. Heritage Farms is surrounded by the Cuyahoga Valley National Park, so it is a gorgeous property and hayride!
Pumpkin Patch in Peninsula
Heritage Farms has an enormous selection of pumpkins large and small and everything in between to choose from! We all picked out our favorite big pumpkins for jack-o-lanterns as well as more for decorating.
We loved all of the unique yellow, white, and orange pumpkins and gourds to choose from too. There is so much variety and selection of pumpkins at this Peninsula farm – plus the prices are great!
There is something special about picking out pumpkins together as a family. It really is a family bonding time – way more than picking up a few at the grocery store. It is a hunt to find the perfect one with each person – so interesting to see which pumpkin interests each person differently.
On this Peninsula covered bridge, you'll find a pinterest-worthy display of pumpkins, gourds, Indian corn, and more for all your outside and inside fall decorating needs.
What a lovely display and fun place to shop for all our home decor.
Pumpkins of all sizes, shapes, and colors can be found at Heritage Farms in Peninsula. You don't have to pay admission to shop at the farm.
Before and After Fall Front Porch
Once we got home, the fall fun continued. I asked my kids to help dad and I unload all of the pumpkins, corn stalks, and straw. To my surprise, my kids took over and enjoyed setting up our entire front porch fall display. This is our before picture.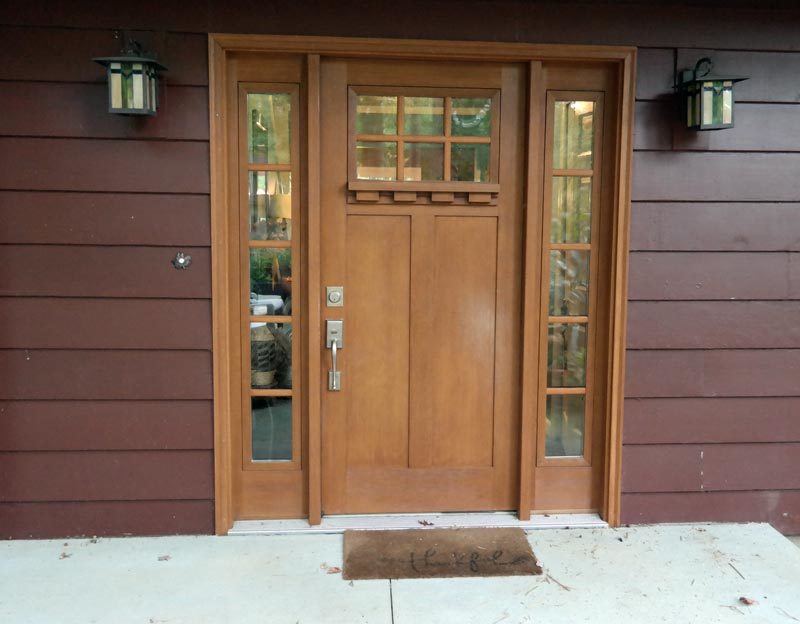 They did a great job working together. They wanted the pumpkins and gourds that they picked out to get the proper display.
I love how our front porch is decorated for fall. I think my kids did an amazing job, I didn't move a thing! Not only it is pretty but it represents a day of fun with my kids, is there anything better than that?
Peninsula Farm Activities
Heritage Farms is a family-owned and operated 'farm for all seasons' for all of us. They have events and activities year-round for families, school groups, youth groups, and more.  Pumpkin Pandemonium is now through October 27th.  You can even go camping at this Peninsula farm for a quiet, peaceful experience where the nearest campsite is a minimum of 300 yards away!
After that, you'll want to go back for a fresh-cut or cut-your-own Christmas tree during Christmas Traditions event on November 23-29, 2019. Check their calendar for special events year-round.
While walking on the scavenger hunt, I took this picture of the tree farm. This is just one small portion of the property and of the tree farm but so scenic. We can't wait to go back this November to pick out the perfect Christmas tree. We already have our eyes on a couple of them!
Heritage Farms Pumpkin Pandemonium Dates
Pumpkin Pandemonium is open 5 days a week now through October 27, 2019.
Saturday & Sunday – 10:00 am to 5:00 pm
All Activities Open, All Product Sales Available
Friday September 11 – 10:00 am to 5:00 pm:
All Activities Open, All Product Sales Available
Wednesday Thru Friday – 2:00 pm to 6:00 pm:
Product Sales Available, Only Scavenger Hunt & Maze Activities Open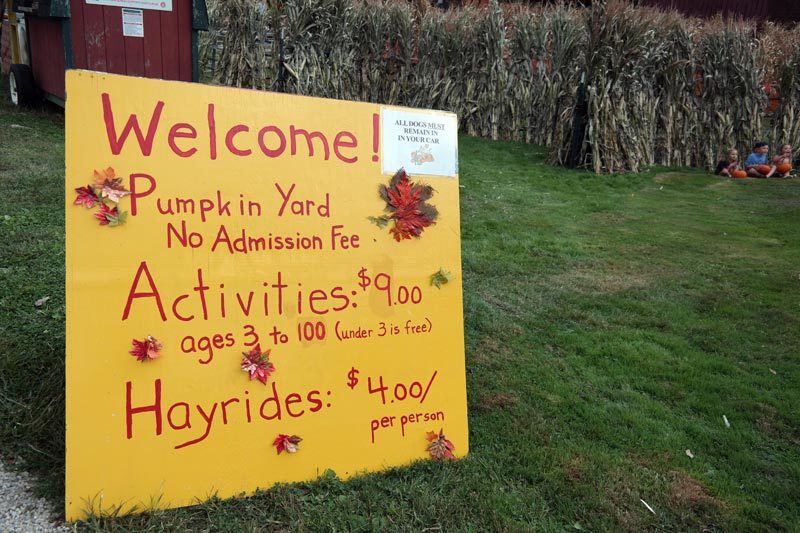 Heritage Farms Pumpkin Pandemonium Pricing
Admission is free.
Activities ALL DAY (Ages 3-100) $9, Kids under 3 FREE
Hayride: $4
Activities and Hayride: $11
Maze or Scavenger Hunt Only: $5
Family 4-pack (4 activities and 4 hayrides): $42
Family 10-pack (10 activity wristbands & 10 hayrides) $100
Plan to spend at least 3-4 hours at this event. We were only there for 2 hours and ran out of time to have as much fun as we wanted! That's ok because we have plenty of time this month to return with family and friends. This is not a pet-friendly event.
I'm a firm believer that the family that plays together stays together. If we take time to actually be with our kids, have fun with them, and interact with them, we will be doing more than we can imagine for their self esteem, self worth, and our relationship. When we spend time with our kids, talk with them, and have fun with them, they are more likely to talk with us about the big things in life and seek our advice.
I hope your family will have as much fun as mine does at Heritage Farms Pumpkin Pandemonium. You'll feel good about supporting a local business too.
Heritage Farms
6050 Riverview Rd
Peninsula, OH 44264
(330) 657-2330