You're invited to a family-friendly fun event at the Graham Rd Cuyahoga Falls, Ohio McDonald's on September 29, 2018 from 2-4pm. We are celebrating National Breakfast and Coffee Month with a FREE food tasting of their All-Day Breakfast menu! Plus, we are bringing our Giant Prize Wheel loaded with fantastic prizes from local businesses and national brands – every spin wins*!!
This is a sponsored post.
FREE Food Tasting at McDonald's
My family loves the McDonald's All-Day Breakfast menu.  I'm so excited to participate in this free food tasting at McDonald's in Stow.  We will be serving all the favorites including FULL-SIZE Egg McMuffins, Sausage McGriddles, Parfaits, Smoothies, and Drip Coffee*. You can't go wrong with any of these choices – morning, noon, or night!
Spin the Giant Prize Wheel
You will also have the chance to spin the AOM Giant Prize Wheel at the event for a chance to win a prize – in fact, every spin wins!!!!
As you know as a blog reader, we promote both local and national brands. Our generous partners have provided thousands of dollars worth of prizes for this event. Everyone 18+ will have 1 free spin. If you RSVP on Facebook before the event, you get 2 free spins!!!
The list is growing but here are the prizes you'll have a chance to win!!
$25 Arch Cards and Coffee Coupons
McDonald's is giving away three $25 Arch Cards!

McDonald's is also giving away Free Coffee coupons!! We'll be giving out coupon for free medium-sized drip coffee!!
Put-in-Bay Day Trip
Spin to win a trip to Put-in-Bay with 4 round trip adult tickets aboard Miller Ferry to Put-in-Bay and a 4-seater day golf cart rental from E's Carts.  ($130 value)
Plan one last excursion to the island this Fall or save it for next year, this prize is valid now through next September 2019. Read all about our experiences and things to do at Put-in-Bay here.
Graco Infant Car Seat
Win a Graco SnugRide SnugLock Car Seat ($160 value)! We reviewed it and loved it earlier this year! This top safety rated infant car seat protects rear-facing infants from 4-35lbs, hassle-free installation, and offers 1-step attachment to Click Connect strollers.
Graco Booster Car Seat
The Graco Turbo Booster LX Highback offer the best head protection in the industry plus it grows with your child up to 110 lbs. The headrest is fully adjustable for the perfect fit and the contoured back adds comfort and support, and the 2-in-1 belt positioning coupled with the safety surround adds more protection. ($80 value)
Akron Rubber Ducks Tickets
Enjoy a day at the ballpark with Akron's very own minor league baseball team with Akron Rubber Ducks game tickets – perfect for family fun. Tickets valid for any 2019 regular game. ($44 value)
Stan Hywet Hall & Gardens Ohio Mart Tickets
Win tickets to the 52nd annual Ohio Mart artisan showcase at Stan Hywet October 4-7th. ($40 value) Enjoy the shops of talented artisans and exhibitors while getting a head start on Christmas shopping. Enjoy strolling the beautiful autumn gardens of Stan Hywet.
Boo at the Akron Zoo Tickets
Win Tickets to Boo at the Akron Zoo (2 treaters and 2 non-treaters)! ($44 value) Visit the animals while trick or treating at 12 treat stations!

Lil' Frog Fashions $50 Gift Card
Win a $50 Gift Card to Lil' Frog Fashions, the largest children's resale shoppe in Cuyahoga Falls! They buy and sell top quality items everyday! Check out our reviews to see what my family bought for $50 here and how Megan got her girls ready for back to school at Lil' Frog Fashions! Now is the time to shop for Fall styles!
Cleveland Monsters Tickets
Win Cleveland Monsters Tickets to enjoy electrifying energy of Cleveland's professional ice hockey team with an action packed hockey game! Plus, we'll be giving away autographed photos! ($30+ value)
ROXs 2 Interactive Gaming system
ROXs brings video gaming play patterns into the real world as kids run, search, and scan PEBBS to reach high school in real life! Compete against friends, team up or play alone with this indoor or outdoor active play gaming system. ($100 value)
Goldfish Swim School Hudson Prize Bags
Goldfish Swim School Hudson is giving away several gift bags with Bubbles plush toy, swim goggles, and family swim passes! ($25+ value) Plus, we'll be giving away additional family swim passes! Read about our Goldfish Swim School Hudson experiences here.
Play Passes for Café O' Play
Win play passes for Cafe O' Play huge 5,000 square foot indoor playground for children ages 10 and under in Stow, Ohio. Kids love the colorful tubes, slides, climbing structures, obstacle courses, ramps, and stairs! There is even a separate play area for children up to 48 months. ($22 value) Read my family's review here.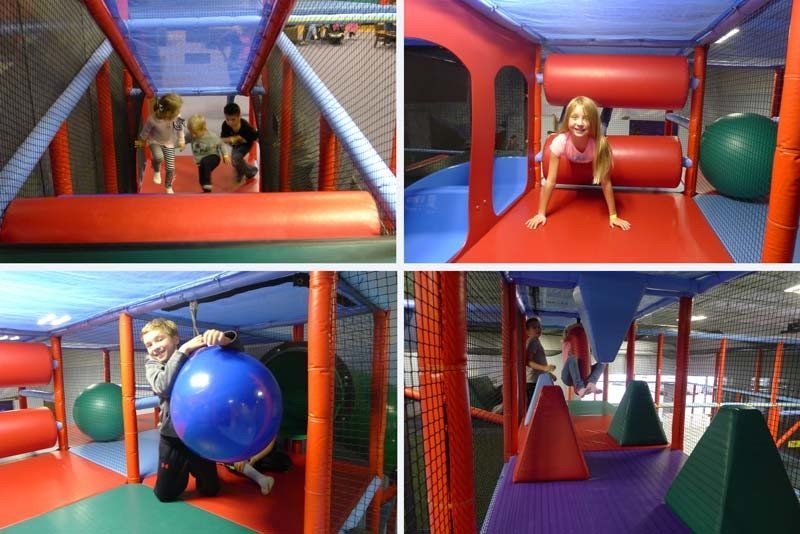 Great Lakes Science Center Tickets
You will have the chance to win Great Lakes Science Center Tickets ($30+ value) to explore hundreds of hands-on exhibits and discover your passion for science and engineering. Tickets include NASA Glenn Visitor Center, the Cleveland Creates Zone, hundreds of hands-on exhibits plus daily science demonstrations.
AR Workshop Hudson Gift Card +
You could win an AR Workshop Hudson $25 gift card & mini Ohio Home Sign. This is an incredible place to hang out with friends as you express your creativity with hands-on classes to create charming & custom decor, wood signs, canvas pillows and more at this DIY workshop.
Art Class at Uncommon Art
Enjoy one Art Sampler class at Uncommon Art on historic Main Street in Hudson, Ohio with Shannon Casey. Shannon focuses on figurative with imaginative paintings that inspire people with stories they tell from ancient myths and modern tales. In the Art Sampler class you'll be working with pencils, charcoal, pastel, and paint. Your choice of Wednesday, October 17 from 7-8:30pm or Saturday, October 27 from 4-5:30pm. Suitable for teens or adults. Younger children may attend with a parent
Pet Wants Cuyahoga Prize Pack
Pet Wants Cuyahoga offers all natural pet products that you can trust giving your furry friends. They even deliver right to your door! Enjoy a sampling and swag bag if you win this prize! ($25 value)

Adora Twin Dolls
You have the chance to take home Adora's Later Alligator – Twins Gift Set.  This 17-Piece Gift Set comes with TWO 11" mini Baby dolls with sweet ADORAble faces and 15 Accessories! ($40 value)
Hale Farm & Village Harvest Festival Tickets
Celebrate fall with your family at Hale Farm & Village! Win tickets to their Harvest Festival October 6, 7, 13, or 14th! ($40 value) This is a great family event – read our full review here.
PetitCollage Stacking Toy
You have the chance to win this adorable Modern Bunny by PetitCollage. Children ages 12 months+ will enjoy stacking the six polished wooden rings onto the post in any order. ($24 value)
Smartickles Toy Store Gift Card
Smartickles Toy Store is a family owned and operated 2,000 sq ft. toy store the specializes in having something special for everyone, even families with special needs.
This store is packed with the toy brands you won't find anywhere else – plus even toys for pets. You have a chance to win a $50 gift card at the event!
Goliath Games Toys
Goliath Games has toys and games for all ages. We'll be giving away their Rocket Fishing Rod that propels and casts the line up to 30 feet and can catch real fish! ($50 value)
Akron Children's Museum Tickets
Akron Children's Museum is giving away tickets for FUN! The museum features hands-on, interactive exhibits that engage kids and encourages learning through play.
Baby Themed Haaka & Baby Butz Prize
Win a baby themed prize that includes Haakaa Fresh Food Teething Feeder and Baby Butz Cream and Sun Blocz themed prize ($35 value)
Baby Themed BooginHead Prize
Win these infant and toddler feeding and soothing accessories by BooginHead: Pacigrip, Teether Blanket, and Teether Bib ($28 value)!
More prizes are coming in daily! We will have the Giant Prize Wheel loaded with family-friendly prizes.  Get an extra spin when you RSVP on our Facebook page.
RSVP for AkronOhioMoms Free McDonald's Breakfast & Coffee Tasting and Giant Prize Wheel
Bring the whole family to enjoy a delicious free McDonald's Breakfast items and Coffee! Spin the wheel for a fabulous prize. Plus, meet the writers behind the blog!
McDonald's
1050 Graham Rd
Cuyahoga Falls, OH 44224
Saturday, September 29, 2018 from 2-4pm
Everyone is welcome to this event.
Prize wheel is for ages 18+ only. *Every spin wins, up to 1,000 prizes.*
*Free Egg McMuffins, Sausage McGriddles, Fruit 'N Yogurt parfaits, Strawberry Banana Smoothies, and Drip coffee 2 – 3:35 pm, while supplies last.*