Now in its 21st year, First Night Akron is a family-friendly celebration of the arts that brings the community together. Experience a diverse display of music, dance, theater and visual and interactive arts throughout Downtown Akron on Saturday, Dec. 31.  This year promises about 1/3 new acts, shows, and performers to keep this event fresh and fun!
I received tickets to facilitate this post.
Ring in the New Year with Your Family at First Night Akron
First Night Akron offers 40 entertainment experiences for all ages to enjoy. Check out the First Night Akron 2016 Schedule to start planning your night. Do not expect to be able to attend it all as there is too much to even try. We usually pick a few things that my family wants to see most and then play the rest of the night by ear.
Enjoy live music of every kind as well as dancing!
New last year and continuing this year is the addition of dancers performing with the Akron Big Band – feel free to dance along too. There are many dancing opportunities including becoming part of the Chinese dragon dance at the John S. Knight Center.
First Night Akron is the best place to experience live music of every genre with the family.  Where else would your family be able to experience the live music of the Klezmer band and their Yiddish music?!
One of our favorites is the steel drum band of the University of Akron. They are amazing and offer an exciting performance.
My family has enjoyed ringing in the New Year for years with First Night Akron because it is so family friendly. There are many, many activities for children including make and takes like creating your own New Year's Eve masks last year at Zion Lutheran Church courtesy of Pat Catan's.
Kids can also create faux stained glass windows for the Main Library's windows (or take them home) out of wax paper and markers.
There is a special Sensory Space this year at the library that is 'autism-friendly' offering soothing activities like reading, coloring, and playing wiht puppets.
Ice sculptures are always a favorite experience at First Night Akron for my family. This year they will be located in the new Akron Art Museum garden! I can't wait to see the abstract ice carvings and how they differ from years' past.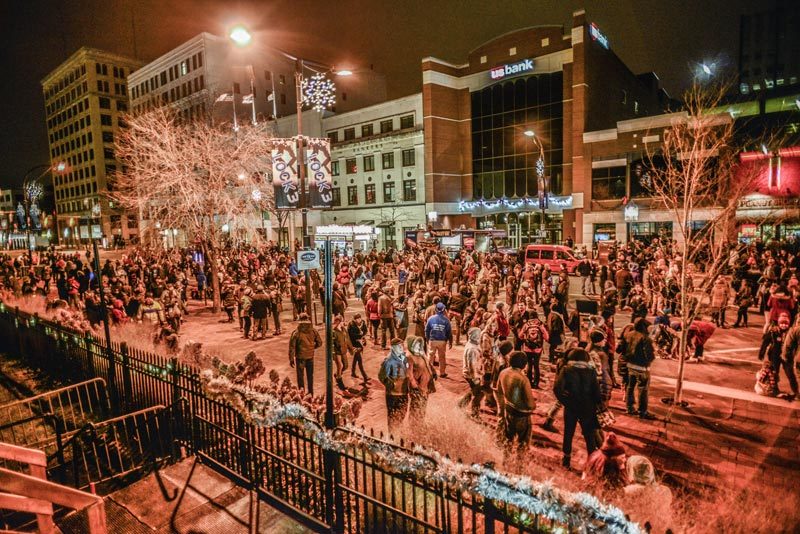 Also outside is the horse drawn sleigh where you can see Downtown Akron in a whole new way!
Our favorite part of First Night Akron are the fireworks. Enjoy a concert on the Mainstage at Lock 3 at 8:45 and 11:45 p.m. with fireworks at both 9pm and midnight. Taking advantage of the fireworks at 9pm is an excellent choice for families with younger kids who can't quite stay up till midnight yet!
First Night Akron Admission
Admission buttons allow access to all seven First Night venues, entertainment, activities and free METRO bus rides to each location. You can purchase First Night Akron Buttons for $10 and children under 10 are free with a button-wearing adult.
Purchase First Night Akron buttons a Acme Fresh Market, participating FirstMerit Bank branches, Akron Art Museum, Akron Civic Theatre box office, Angel Falls Coffee in Highland Square, Lock 3, Seiberling Nature Realm (1828 Smith Rd.) and The Library Shop at Main. Buttons may also be purchased at the DAP office in Greystone Hall (103 S. High St, 4th floor). On Dec. 31, buttons can be purchased at Acme stores (until 8 p.m.), Akron Art Museum, Akron Civic Theatre, The Library Shop at Main and Lock 3.
Volunteer at First Night Akron
Volunteers are still needed.  Friends, families, couples and groups are encouraged to volunteer together. Volunteers receive special volunteer credentials to wear at the event, a complimentary admission button and an invitation to the annual volunteer party on Jan. 10. All volunteers admitted free to all performances and sites before or after their shift.
Volunteers are required to attend a one-hour orientation to learn about new and exciting enhancements to the event on Wednesday, Dec. 28, 10:30 a.m. at the Main Library Downtown.
Two shifts are available: 5:30 to 9 p.m. and 8:30 to 11:30 p.m. Applications and complete details are at www.firstnightakron.org or through volunteer coordinator, Tiffany Schmidt at 330-535-3179 x 211 or tschmidt@akroncivic.com.