Wuggle Pets are one of the hottest toys this Christmas. My daughter yells for me every time the commercial for Wuggle Pets is on TV. Wuggle Pets offers your kids ages 4 and up their own "make your own stuffed toy" with their own personality. You choose the personality your Wuggle Pet will have before you bring him to life with the stuffing press.
Wuggle Pets are the perfect size for kids to connect to their backpacks and take with you anywhere.
Wuggle Pets (make your own stuffed animals kit)
Each Wuggle Pets kit comes with everything you need to make your own Wuggle Pet. We reviewed the Wuggle Pets Starter Kit that makes two Wuggle Pets.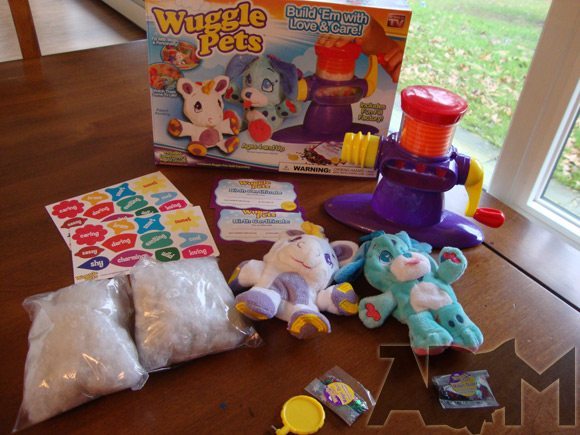 Cuddly Puppy And Magical Unicorn Pets With Clip Attached
Fun Filled Factory
2 Bags of Fluffy Stuffing
12 Personality Charms Pet
2 Bags of Magic Dust
2 Birth Certificates
1 Zipper-Up Tool
This starter kit comes with 2 Wuggle Pets to bring to life – the puppy and unicorn. The magic dust is what brings them to life.
It is easy to make your own stuffed animals with Wuggle Pets Starter Kit. Below is a set of pictures that shows how easy it is.
[slickr-flickr tag=howtomakewuzzlepets]
Kids ages 4 and up will enjoy being able to do the majority of this craft project by themselves. First, remove the stuffing press. Next, kids can add the fluffy stuffing. Then, add the magic dust that will bring the pet to life. Then, you screw back on the stuffing press.
Each Wuggle Pet comes with a zipped down back. You attach the Wuggle Pet to the stuffing device through this opening.  Next, your child can turn the handle around and around to stuff the Wuggle Pet.
[slickr-flickr tag=stuffwuggle]
Finally, your child gets to choose what kind of personality traits their Wuggle Pet will have and put those cards in their pet before closing. Finally, use the zipper tool to close up the Wuggle Pet while saying the magic words "Snuggle and huggle my Wuggle Pet!".
[slickr-flickr tag=finishwuggle]
It is that easy to make your own stuffed animal with Wuggle Pets Starter Kit!
It is super fun and easy to make your own stuffed toy with Wuggle Pets. This will be a fun Christmas craft project to do with my kids this winter too!
I can see this as a really fun birthday party craft idea too. It is both an activity and a gift for the guests to go home with. They sell Wuggle Pets party packs with 8 Wuggle Pets.
Buy Wuggle Pets
You can buy Wuggle Pets individually or in two packs on Amazon.com.
This was not a paid post. My own opinions were used based on my perceptions and experience. Thank you to Wuggle Pets who provided the products for review.