Buddy the Elf is a sugar expert (although he may not know it!) – that's why we've taken him on to help us tout the wonderful, non-calorie uses for sugar!
You'd be surprised how well this beautifully organic tool can be used around your house and home.
Without further ado, let's get to it!
We do invite you to add your own sneaky uses to the comment section below!
Need a Elf Fix?Buy the Elf (Infinifilm Edition) on Amazon.com
Use Sugar for Long Lasting Lipstick
Pour a little sugar on a flat plate or into your hand.  With freshly applied lipstick, press your lips into the sugar so that it fully coats them.  Licking your lips will not only be the best taste of the day, but it will make your lipstick stay and last longer.
Sugar Cubes as a Moisture Absorber for Cheese and Biscuits  and Santa Fight Wounds
We're rather upset that our favorite non-Santa wasn't into cheese, cakes, and biscuits, but what are we to do!  Sugar cubes can absorb moisture from the air and hamper the spread of bacteria on a wound, on a cake, anywhere where an infection can exist or food can go bad!  To use this cure place the a few sugar cubes in the enclosed space with your food, or around and in your wound wrapping.
Sugar- a Cure for Spicy Foods and Burned Tongues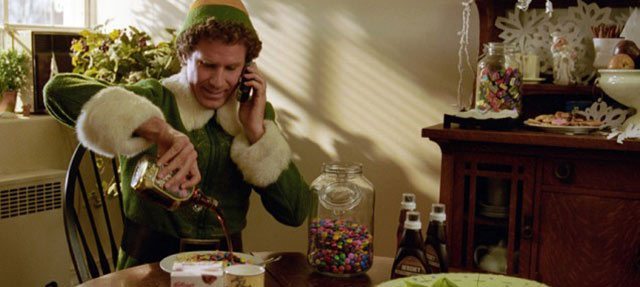 Useable for both Spicy Hot and for Temperature Hot, sugar can calm your burning taste buds!  Save your burned tongue with sugar next time you are at Don Amigo's Mexican Fiesta Palace.
Body Scrub!
Make your own exfoliating sugar body scrub!  The rough edges of sugar crystals are perfect for exfoliating your skin.  Mix olive or canola oil, your favorite essential oils, and sugar to your own desired consistency.  As long as you can feel the sugar scraping off dead skin cells, its working!
Grass Stain Remover
Although Buddy didn't learn what grass was until he visited New York City, it turns out that the grass stain is arch enemies with sugar.  To kill a grass stain, get the clothes wet, sprinkle sugar on the stain and scrub it out.
Clean your Coffee Grinder
Spice Grinders and Coffee Grinders need cleaning- how else can you make the World's best cup of coffee??  To clean your grinder, just add a quarter a cup of sugar and start spinning!
Hand Cleaner
Just like the exfoliant use above, create your own gritty hand cleaner to clean off grimy greasy hands.  Mix canola oil with sugar to your desired consistency.  Oh wait, you're too much a man to use oil?  Just scrape sugar against your fingers and palms directly… Tough guy.
Keep Flowers Fresher Longer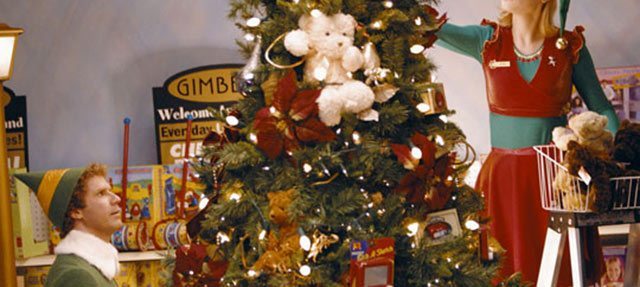 Although the recipe for Christmas Tree upkeep is a little different, you can be sure to keep flowers fresher longer by adding sugar into the mix.  Add 3 spoons of sugar and 2 spoons vinegar to your favorite vase to preserve your flowers as long as possible. (In the winter check the water level more often- absorption goes up in drier months)
Learn To Tackle Garden Pests
By adding a bag of sugar to your vegetable or flower garden, you can  increase the organic content.  Organic content in your soil makes the environment a caustic one for microscopic nematodes.  Nematodes are the nasty critters that cause ugly knots at the roots of your plants.
Catch Wasps and Flys with a Syrupy Trap
So you've been using vinegar to catch pesky flying insects?  Useful, but, as we all know, you catch more flys with honey (read sugar)  than vinegar.. Create your own low cost syrup by boiling a sugar water mixture and evaporate most of the water until you have a sticky consistency.  Set the concoction on a saucer plate outside to catch wasps or leave it inside to collect piles of fruit flies that congregate around your bananas.
Kill the cockroaches dead
Cut sugar with baking powder in equal measure and spread it along the walls where  your favorite cockroaches live.  The sugar entices the cockroaches to visit your little concoction, and the baking powder acts as a chemical poison.  Cockroaches 'have been around for millions of years'… but not in your house…
Fire Fire!  It's so pretty!
I tested this one last night…. My husband was struggling with lighting the last charcoal grilling session of the year outside- but the lighter fluid ran out.  As a stop gap measure, we used sugar, which we now know is quite flammable, to help get the charcoal embers glowing.   Hooray for burning sugar outside!!
Pin Me!