The wait is over! Captain Marvel is now available on Blu-ray™, DVD, and 4K Ultra HD™! Scroll down for free activities for your family too!
This is a sponsored post.
My family loved watching CAPTAIN MARVEL in theaters (read our review)!  We love everything about the movie from the action to the positive message of women (it's not an all feminist agenda). In fact, the overall message of integrity, perseverance,strength (inner & physical), and confidence was an unexpected surprise for an action super hero movie.
If you didn't see it int he theater, your are in luck because it is already available to purchase for at-home entertainment!
This is a great family movie with only a couple swear words. There is plenty of action but nothing bloody or gory. This would make a really fun outdoor screening if you have a projector and either garage door or white curtain to hang for watching under the stars with family and friends this summer.
Make it a Captain Marvel event with these crafts below too!
FREE Captain Marvel Paper Glider
This is a fun activity to do with your kids so they can fly higher, further, and faster just like Captain Marvel! This DIY  Captain Marvel Paper Glider is easy to make, download the instructions & template here.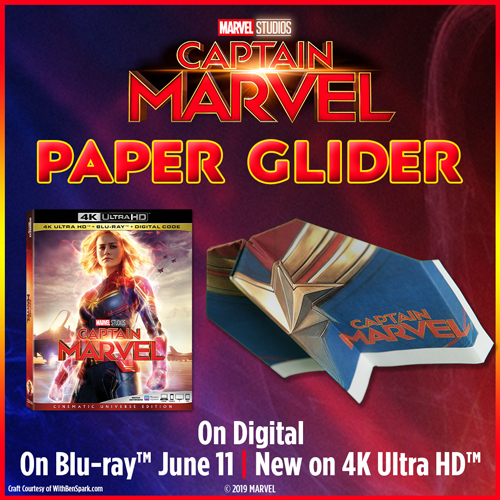 Captain Marvel Goose the Cat Puppet
We all love Flerken the cat on Captain Marvel!
Now you can have your own Flerken when you make your own Goose puppet! Download instructions here.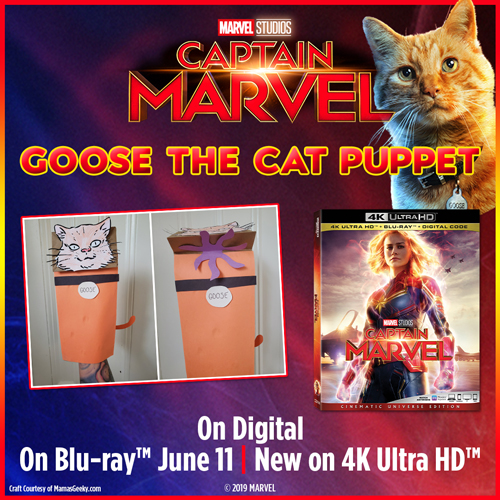 Captain Marvel Deleted Scenes
I love watching deleted scenes and imagining how those scenes would have affected the movie. If you do too, check these Captain Marvel Deleted Scenes:
CAPTAIN MARVEL is now available on Blu-ray™, DVD, 4K Ultra HD™, and Digital at retailers nationwide and on Amazon.com.