There is nothing like seeing a part of your childhood brought to life on the big screen. every child grows up loving Pooh and I felt like a little kid again and I think that is exactly what Disney was aiming for with Christoper Robin! It will bring out your inner child!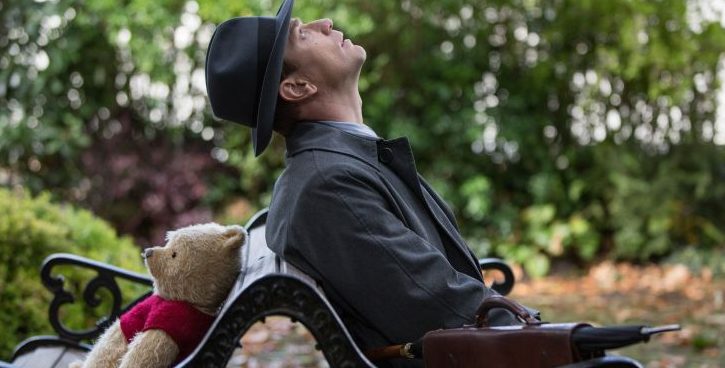 I received tickets to facilitate this post.
Adulting
At some point, we all grow up and the fuss of life gets in the way! Ewan McGregor plays Christopher Robin and he is perfectly charming and just like the all of us, caught up in adult life! Finding the balance with his wife (played by Hayley Atwell), daughter and work, It's a struggle we all have. But while Christopher Robin was growing up and is now hard at work, his stuffed friends have been patiently waiting for his return.
Silly Old Bear
Poor Pooh Bear needs Christopher Robin's help. He can't find any of his other stuffed friends, so in his silly, illogical way he heads out in search of Christopher Robin. I love the funny things pooh says and I feel like they Captured his spirit perfectly. He stumbles upon Christopher Robin while he's in the middle of figuring out how to make things work the craziness of the adult world. They start their journey to return Pooh home and find all the missing friends. I had lots of laughs and even a few moments of tears, with my favorite cuddly friends pulling at my heartstrings.
Stuffy Friends
EEK! I want to pull them all off the big screen and into my lap! They are so well animated and look exactly like my well-loved stuffed animals. Eyore steals my heart with his gray disposition, Kiernan was laughing so hard. I was so amazed at how great they look! I also love the way they incorporated the actual storybook pages in. Scarlett said her favorite part was Pooh's balloon.  I love that Christopher's daughter Madeline ( Bronte Carmichael) gets in on the action too, try to help her daddy out!
I don't want to give away too much just know that it is worth every moment! Grab the kids and go see it!!! I promise you won't regret it!