As huge fans of Marvel Studios and Benedict Cumberbatch, we are excited for the Blu-ray and Digital HD release of Marvel Studios' DOCTOR STRANGE! We saw it at the theater and instantly knew it was a movie we HAD to have in our movie library!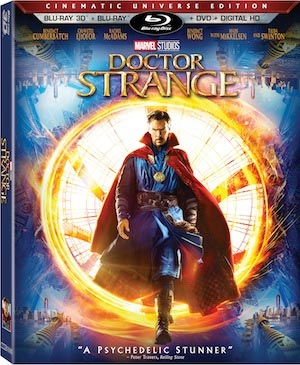 The story of Dr. Stephen Strange, the world-famous neurosurgeon changes when he is involved in an awful car accident. The hands that allowed him to operate with precision were left useless. Dr. Strange's entire identity was in his hands and work. When traditional medicine fails to help, he becomes desperate and travels to Kamar-Taj for a cure.
Dr. Strange discovers more than a cure but a new reason for living as he discovers the mystical arts and becomes a powerful sorcerer.
We loved the special effects including the mind-bending action scenes when we didn't know which was was up! If you have older children, this is a great movie for family movie night as it is rated PG-13 for sci-fi violence, action, and a few swear words.

What I love about getting an actual Blu-ray disc are the extras! The deleted scenes are the best! Here is a sneak preview of a couple that will give you a deeper understanding of the villian, Kaecilius and the Zealots that follow him.


We usually watch the entire movie and all of the extras right after to keep movie night going in my house.
Make movie night even more fun with FREE DOCTOR STRANGE activities!

DOCTOR STRANGE is available NOW on Digital HD and tomorrow, February 28, 2017 on Blu-ray at retailers everywhere and on Amazon.com!