Birthday parties must look a little different these days due to coronavirus health concerns, but we continue to celebrate birthdays in unique ways, regardless!
Someone incredibly special is celebrating a milestone birthday all May. Toot, Toot! It is Thomas the Tank Engine.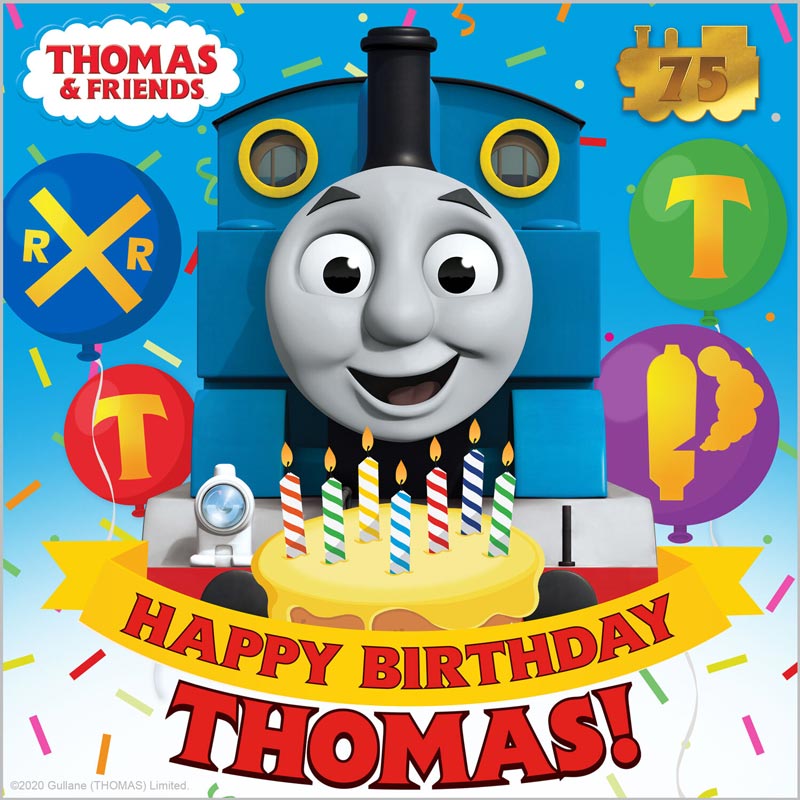 I am sharing how you and your kids can party along with Thomas and his engine buddies, too, just like we are doing in my house.
Each of my three boys thoroughly have enjoyed all things Thomas & Friends, including Thomas-themed books, puzzles and games, and of course, the television program featuring the No. 1 Blue Tank Engine and his pals.
Thomas officially turned 75-years-old Tuesday, May 12, but you can join in on the month-long celebration at any time.
Thomas first started chugging down the tracks in 1945, when he was created by the Rev. W. Awdry, specifically for his son, Christopher. This pastor's love for trains and his child led to iconic stories adored by children for decades.
Just what do and your children love most about Thomas & Friends? To me, a friendship with Thomas & Friends has allowed my three boys to comprehend valuable life lessons. Thomas stories show young ones how to handle emotions and work through problems in positive ways. There is no better time than the present to have the No. 1 Blue Engine aid in showing kids we are going to get through this difficult time in our country, together, just like Thomas & Friends always are able to do!
If you are like me, it can be a challenge to find new, fun activities to keep the kids busy as we shelter-in-place to help combat the spread of COVID-19.  What better way to spend a whole day than celebrating one of the most famous trains ever!
Here are some neat ideas, provided directly by the Thomas & Friends brand, to celebrate Thomas' big birthday, both day and night:
"Happy Birthday, Thomas! Album– Have fun with your kids and throw a dance party with this brand new birthday album! It comes with 3 new celebration themed songs and now available across all major digital music platforms. Watch for the upcoming 50 new songs coming out this year with music videos on YouTube. If you want to throw a dance party during the quarantine, check out these virtual party ideas.
Thomas & Friends Storytime Podcast– A podcast just for Thomas fans! Enjoy 46 new Thomas & Friends stories every week!  They are about 5-10 minutes each and available on all major podcast platforms.
Caribu App Video Series featuring Kevin Jonas– Kevin Jonas is teaming up with Mattel and the video app Caribu to read books on video. The singer and actor is sure to delight! There will be 1 featured video each week in May – get caught up now on the 2 already released! They are FREE for the month of May on Thomas & Friends Facebook page.
Thomas & Friends Adventures! Birthday Bonanza App  – There is a new app to celebrate Thomas' 75th anniversary starting on May 19! The Adventure! With this app, your kids can race against Thomas' friends, build custom tracks, and more. Available in the Apple App and Google Play stores.
Thomas & Friends Bedtime Stories– Even Calm, the world's #1 sleep app is celebrating Thomas!  Your kids can calm down for a restful night by listening to Thomas & Friends-themed sleep stories and guided meditations for FREE during the month of May on the Calm app.