The wait is over! INCREDIBLES 2 is now available on Digital HD, and arrives on Blu-ray 4K Ultra HD™, Blu-ray™, DVD and On-Demand November 6th! Scroll down for your chance to win your own copy!
This is a must-have movie for your Disney collection and an incredibly fun movie to enjoy for family movie night. The story line, visuals, and action lives up to the high expectations from the first INCREDIBLES movie!
This family fun movie is packed with the best in animation, humor, action sequences, and a fun and unexpected plot. Throw in the unexpected discovery of Jack-Jack's varied powers and Mr. Incredible's take on common core math and you have laugh-out-loud fun! If a superhero can't get common core math, is there hope for any of us?!
It is an exciting adventure for Elastigirl in this movie as she takes on the main role of superhero. Her action scenes are incredible and fun to watch with her stretchy arms and body!
I won't give away the plot and end of the movie but let's just say that it is a feel-good, fun movie that will make you wish super heroes were real!
Kids review on Auntie Edna Mini Movie
We love bonus features! With INCREDIBLES 2, there is a mini movie called Auntie Edna that is super fun to watch! We watched it as a family and this is what my kids had to say.
Elijah – I liked seeing all the powers that Jack-Jack has and Edna's reaction like when Jack-Jack turned to metal and she dropped him and when she tried feeding all of the Jack-Jacks cookies like animals! LOL
Elizabeth also laughed out loud at the mini movie. She said it was kind of like when she and her brother go to their grandaparents' houses when they were little and they tried to show them all their tricks like gymnastics, ninja warrior moves, and karate. She also liked that Edna was very calm and didn't get worried about Jack-Jack.
Bonus features are a must-see, especially with INCREDIBLES 2 because it extends the fun. My son said that they could have put the mini movie in the main movie but that it was fun to get EXTRA fun at the end of the movie.
Free INCREDIBLES 2 Foldable Activity
Extend the fun at home with this INCREDIBLES 2 paper foldables activity!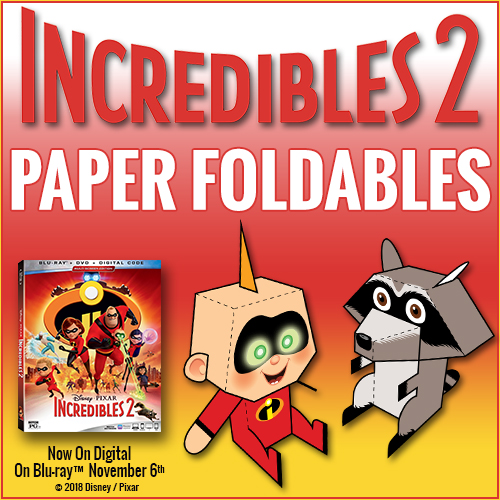 Purchase INCREDIBLES 2
You can purchase INCREDIBLES 2 on Digital HD NOW, or wait until November 6th to purchase on Blu-ray 4K Ultra HD™, Blu-ray™, DVD and On-Demand November 6th. Get it on digital now or pre-order on Amazon.com.
Win INCREDIBLES 2
You have the chance to win your own DIGITAL copy of INCREDIBLES 2 here.