Attention all Coaches and Parents with Kids in Sports: Organize, Communicate, and Manage your entire team's information (practices, player availability, game location, payment, volunteers, etc) in real-time with on-the-go access with the #1 Sports Team Management Software, MyTeamSpot.
This is a sponsored conversation for MyTeamSpot.
MyTeamSpot Sports Team Management Software App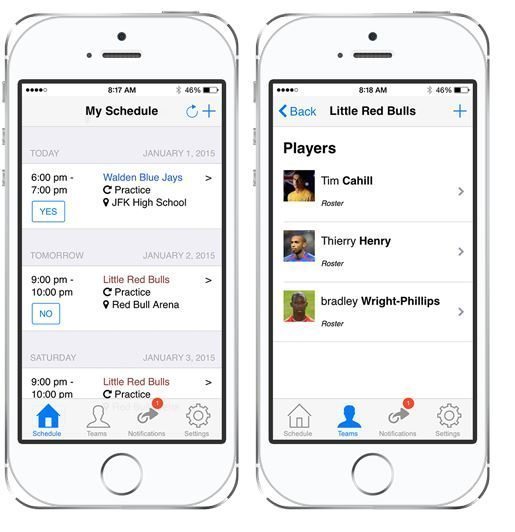 MyTeamSpot app is an easy to use app keeps team coaches, players, and parents connected in a modern way, accessible via your smartphone or computer. Everything is located in one space, so there is no need to sort through emails or miss important information and event changes. Players can even RSVP to let everyone know their availability for a up-to-date roster at every practice, game, and event which results in better attendance.As a parent of kids in sports, I spend a lot of time sorting through emails and trying to update my calendar with the information from various coaches, parent volunteers, etc.  Sometimes information gets lost, especially when it is a last minute change like a different ball field or time! With MyTeamSpot, coaches, players, and parents are receive all the information in one easy location, in real-time.
Everything can be managed on MyTeamSpot app including:
Scheduling (practices, games, tournaments, and events)
Event information (maps, arrival times, etc)
Finances (take payments online via paypal)
Share training videos and photos
Store team documents, rosters, volunteer assignments, attendance
RSVP for games, practices, and events so everyone know player availability
Communicate – Send players and parents important emails, text alerts, and reminders in real-time.
The MyTeamSpot app is a fantastic tool to organize and communicate with any sports team or even clubs and other organizations like cub scouts, moms clubs, home school groups, and play groups.
The MyTeamSpot Sports Team Management Software App is the best way to have all of your team's information with you at all times for up-to-date information with on-the-go access. Never miss an email about a last minute change again!
Simply download the app to manage your entire team with up to 50 players. Coaches can even manage multiple teams with MyTeamSpot.
Coaches, parents, and players can even sync with your Google calendar or mobile device.
Players, parents, and coaches can download the app at the App Store or on Google Play on as many devices as they like for only $5/month for the WHOLE TEAM!
Plus, get a 14 day FREE trail with no credit card required to try it out for FREE.  Joining an existing team is always free. It is just $5/month for the entire team.
Want more information? Visit the MyTeamSpot website or email support@myteamspot.com.
Connect with MyTeamSpot on Facebook and Twitter.