Have you made New Year's Eve Plans? Make it a night to remember for the whole family at First Night Akron! This year marks the 20th year for this family-friendly festival of the arts, complete with fireworks at midnight!
I received tickets to facilitate this post.
First Night Akron New Year's Eve Celebration
The one thing that I love about First Night Akron is that there are so many amazing things to experience and see that you can't even make it to 1/4th of them! We try to do and see something new each year but always have to see our favorites like the Jason Alan Magic show!
Enjoy musical and dance performances of every genre (Broadway, Big Band, Acapella, Gospel, Bluegrass, Blues, Acoustic, Chinese, Jazz, R&B, Funk, and Today's biggest hits). Take in a theatrical show at the Magical Theatre Company, Civic Theatre, The Nightlight, and Actor's Summit Theater.
There are plenty of hands-on activities and fun including larger than life LiteBrite, Akron Video Game Truck, Temporary Tattoos, Mask Making, Horse Drawn Sleigh Rides, Caricatures, Bubble & Ink Printmaking, Balloon Twisting, Face Painting, Live-Acton Star Wars Show, and much more!
There are also interactive entertainers that will surprise and delight you like the Spoon Man, Gypsy/Folk entertainer, and living art performers.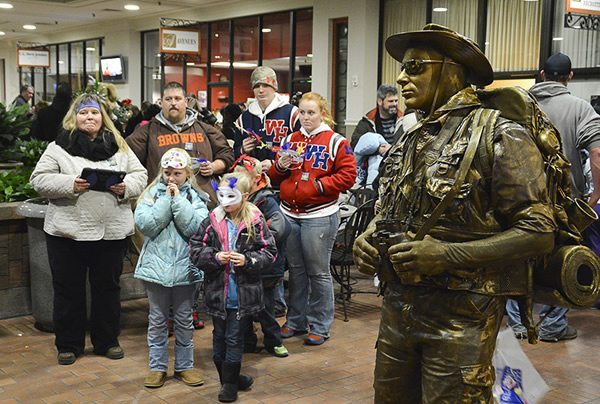 My family has an amazing time every year that we attend! There are activities and events that everyone can enjoy – from young children to adults of all ages. The midnight fireworks are amazing but if your kids can't make it that late, check out the laser light show and countdown at 9pm!
Purchase your First Night Akron Button today!
Admission is just $10 for kids ages 10 – adults. Children under 10 are FREE when accompanied by a button wearing adult.
Purchase your button at one of these locations:
Acme Fresh Market (store locations, buttons available at all but #30)
Akron Art Museum
Angel Falls Coffee (Highland Square)
blue: a Goodwill boutique (Downtown Akron)
FirstMerit Bank (participating branches)
The Library Shop at Main (second floor)
Lock 3
Akron Civic Theatre Box Office (175 S. Main St., Mon-Fri 10 a.m.-4 p.m.)
On December 31, admission buttons will be available at Acme until 8 p.m. and on site at the Akron Civic Theatre and The Library Shop at Main.
Extend Downtown Akron Fun All Year with Passport
Sometimes we take for granted the amazing attractions in our own backyard. Make it your New Year's Resolution to discover what our great city of Akron has to offer. Be a tourist in your own city with the Discover Downtown Akron Passports 2016.


We've owned and given passports as gifts for years. It is packed full of FREE admission to popular downtown Akron venues, free events, free food, free tours, and more for the whole family! You'll never have the chance to say "I'm bored" or "there is nothing to do" with this passport!
Take in a show at The Civic, a concert at Lock 3 or Akron Symphony, visit the Akron Zoo, enjoy the YMCA with a 3-day pass, enjoy the arts at the Akron Art Museum or the Rubber City Rollergirls during a home bout! Plus so much more!
Download Akron Life's FREE app and view the event guide on Android, iPhone/iPad and Kindle.
Passports can be purchased at:
Acme Fresh Market
(store locations)
Actors' Summit Theatre
Akron Art Museum
Angel Falls Coffee (Highland Square)
The Library Shop at Main
NOTO
Akron Civic Theatre Box Office (175 S. Main St., Mon-Fri 10 a.m.-4 p.m.)
and online through PayPal.