Blue Hen Falls is a must-see Ohio waterpark in the hear of the Cuyahoga Valley National Park. It is a family-friendly hike for kids ages 5 and up as it is only 1/2 mile long. It may not be suited for very young children because of the incline and it is not very stroller-friendly.
Limited parking is available at the start of the trail with additional parking across the street.

The trail starts with a some-what steep grade downhill – be prepared to walk back up the hill. Spring Creek winds through pours over the Blue Hen Falls. This Ohio waterfall is 15 feet high with a 5 crest.  It is a pretty walk through the park with lush greenery and trees surrounding both sides of the trail. The trail itself is rather short at only 1/2 mile, but with the hills and turns, it'll take about 20 minutes or so to walk.
A bridge corsses over Spring Creek, which is too tempting for most kids and dogs not to stop and walk through!

Once you past the bridge, the Buckeye Trail goes off up-hill to the north, stay to the right and the waterfall will be right around the corner.
Blue Hen Falls scenic waterfall that is easily visible from the top for a great view and scenic backdrop for family photos.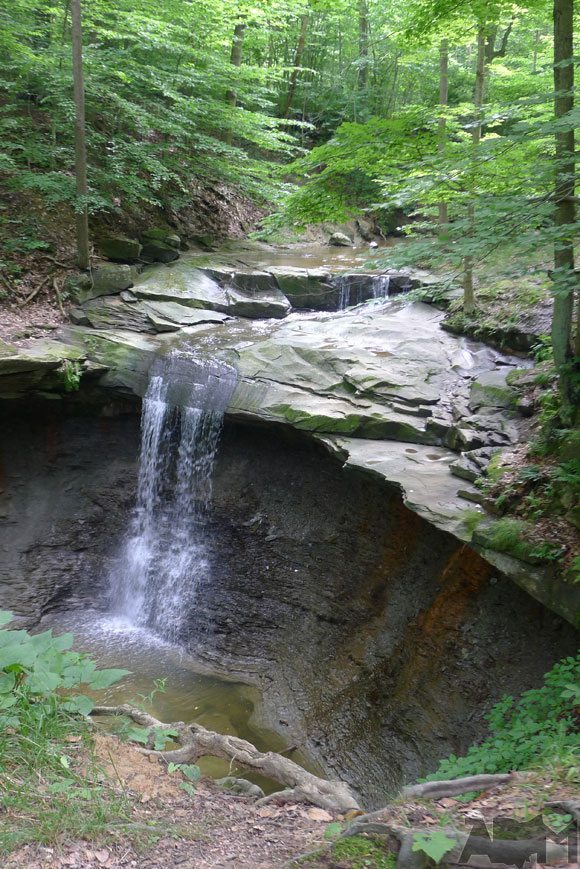 Every time we've visited, there has been at least one professional photographer taking a family or senior portrait. There are a couple benches to sit, relax, and take in the view.
The more adventurous can hike down the steep hill to the below creekbed for a closer looks and tons of fun walking through the shallow creek and exploring the shale rock.
You can capture some pretty cool photos at the bottom of the waterfall too!
This rock formation was one of several we found in the creek.

From what we have heard, there is another fall that is even more impressive down stream about 1/2 mile. The trail is rough once you past Blue Hen Falls. Many people walk down-stream to get to the falls, which takes about 45 minutes from what I have heard. We didn't want to take the chance of a twisted ankle walking that fall down the creek. If you have, please share with us your experience.
Blue Hen Falls
2001 Boston Mills Road
Boston Township, OH 44236