"Hi there! I'm writing a story about this park. Do you come here often?"

"No. This is our first time here!"

"How did you find out about Killbuck Lakes?"

"We have no idea…we got lucky to stumble on it while driving around looking for places to fish!"
This was the conversation I had with the Fodor family from Rittman, and is the typical story for a park like Killbuck Lakes. Northeast Ohio has so many of these little hidden gems! Despite living less than five miles from this park for the past 10 years, I only discovered it myself about two years ago.
Killbuck Lakes has something for everyone
This 411-acre park is tucked back on a country road in southern Medina county. The park was created when Medina County Park District acquired the property from Baker Sand and Gravel Company through a grant. The gem and highlight of this park is a deep 47-acre lake created by the old mining operations.
Walking at Killbuck Lakes
There are over two miles of relatively flat and easy walking trails. The Lake Loop Trail is a wide and well-maintained grass trail that circumscribes the beautiful lake. It is an excellent place to view wildflowers in late spring and early summer. The new Primitive Loop Trail is narrower and less-maintained, but worth going the extra .7 miles as it leads you through a wetland and young forest area with lots of opportunity for wildlife viewing.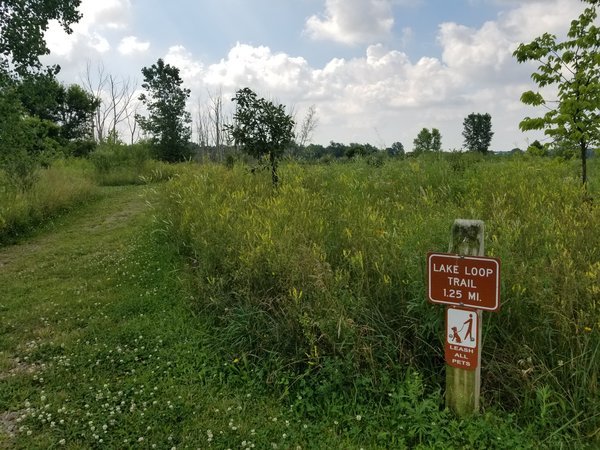 Birding and wildlife viewing at Killbuck Lakes
Between the open waters of the lake and the extensive wetland area, Killbuck Lakes is temporary home to many migratory species of birds and ducks. Even a few loons are known to make a stop here in the fall! The park staff, in concert with local volunteers, have constructed a wonderful bird and wildlife observatory that can be accessed on the Primitive Loop Trail. The observatory gives people a chance to view and photograph wildlife without disturbing it. In addition to transient wildlife, there are also plenty of permanent residents, including deer, fox, coyote, muskrat, raccoon, frogs, toads, and snakes.
Kayaking, canoeing, and boating at Killbuck Lakes
This is probably my favorite thing about this park. It's one of the few local places we can dump the kayaks in the water for a quick paddle. There is a well-developed boat ramp and unloading area. Once on the water, you can get in a good mile of paddling along the shoreline, and unless it is very windy, the water is usually very calm. If you look closely, you may spot fish, turtles, and frogs in the clear waters. The lake is non-motorized and electric-only, so you won't run into any noisy and dangerous speed boats or wave runners.
Fishing at Killbuck Lakes
Fishing is quite popular at this park. There are multiple access points for anglers along the shoreline, and even more opportunity for those who have a boat. (Just remember – the lake is non-motorized or electric motors only.) Several species of fish are known to inhabit this deep lake, including bass, crappie, and bluegill. Bag limits are posted on signs around the park.
How to get to Killbuck Lakes
The park is located at 7996 White Road in Burbank, Ohio. For those familiar with the Lodi outlet mall, the park is right behind it. For more information, check out the park website or view a map of the area.
Enjoy an outing at one of Medina County's many parks!
Why not make it a day and tour a couple of southern Medina County's hidden gems? Spend the morning paddling and fishing at Killbuck Lakes, and then head over to Letha House Park for lunch and an afternoon hike!
And please…make many memories, take only photos, and carry your trash with you when you leave.
Have a great time out there!