Letha House Park – A hidden gem in southwest Medina county!
Have you ever had that feeling you've found something special? Kind of like your own little secret? That's how I felt the first time I went to Medina County Park District's Letha House Park in southwest Medina County!
You can find me at Letha House Park
The outdoors is my thing. I'm an avid hiker, walker, and, less frequently, a runner. I have a few favorite trails that I hit regularly, but it wasn't until about a year ago that I discovered Letha House Park. What a gem!
I can't believe I didn't know about this place sooner, especially since it's literally less than 5 miles from my house! Letha House Park has quickly become one of my favorite places to escape for a walk or a hike.
And "escape" is a great way to describe the 203 acres that make up Letha House Park. It's about as far south and west as you can get in Medina county, and is not a heavily used area. I rarely run into more than one or two people. In fact, I'm not sure many people even know this park exists!
What gives Letha House Park a special place in my heart?
Letha House park is quiet and offers a unique array of outdoor recreation opportunities.
Over 3.5 miles of multi-purpose walking/hiking trails lead you through a diverse array of landscapes, including grassland, mature forest, and restored wetlands.
A 7-acre lake offers catch-and-release fishing and is surrounded by a crushed lime-stone walking trail.
The nearby 3-acre wetland attracts multiple migratory bird species, and, if you're patient, you may also spot snakes, turtles, toads, and frogs.
The woodland trail takes you next to the winding Gray's Creek, a tributary of the Black River. It's a great place for kids to skip rocks, or search for frogs, toads, and salamanders!
A space observatory is also located at this site and operated by the Cuyahoga Astronomical Society. Check the program schedule for night sky viewing opportunities.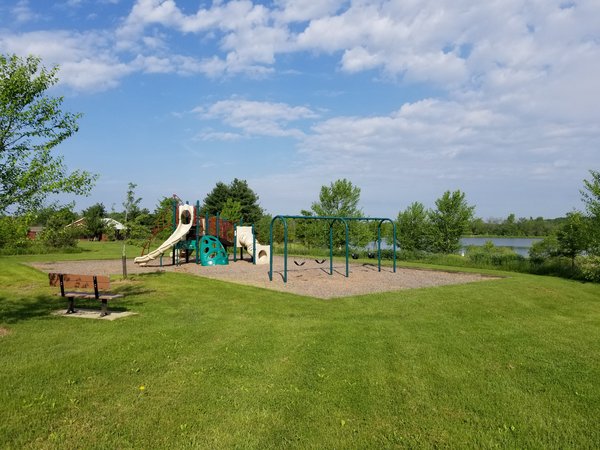 What other amenities does Letha House Park offer?
Playground. The little ones will love the small playground and swings.
Fishing. Bring your own fishing gear and catch and release bluegill and bass to your heart's content in the 7-acre deep-water pond! There are handicap accessible fishing piers too!
Horse trails. The 1.6 mile Great Horned Owl Trail is shared by hikers and horse-back riders. The east parking lot offers a spacious area for trailers.
Free picnic shelter. This first come, first served shelter is located at Letha House Park East. It's right next to the forest loop and horse trails and is a great place to hang out and have a snack after a walk.
Reservable Pavilion. The indoor pavilion, located at Letha House Park West, is a beautiful and completely enclosed shelter with running water, heat/AC, kitchen, flush toilets, and drinking fountains. The pavilion can hold up to 48 people, making it perfect for family reunions and baby showers!
How do I get to Letha House Park
The park is located at the intersection of Richman and Spencer Lake roads, and is only a few miles from Spencer Lake Wildlife Area (which is another great place to fish or launch a kayak!).
You can view a Google road map and get directions here.
Once you get to the park, you'll also want a trail map. You can download one here.
Be prepared before heading to Letha House Park (or any park)!
Enjoying the great outdoors is great, but you need to be prepared! When headed outdoors, always remember that, even close to home, you can get lost, the bugs can be bad, and you may get more sun than anticipated. You should have at least these basic items every time you head out:
Small backpack
Water
Sunscreen
Bug spray
Always tell someone where you're going and when you plan to be back
I hope you enjoyed this post! Have a wonderful summer and enjoy the many great outdoor opportunities that northeast Ohio has to offer!