Today we went shoe shopping.  All four of us.  Well, that's an experience that no mom should face very often. We stopped by the Munroe Falls Brust Park as a much-needed nature break. It is a great place to see the Cuyahoga River up close from the river's edge and viewing platform.
There is a raised viewing platform along the edge of the water as well as parts of the dam left in the grass providing seating on large slabs of granite.  My kids like it because they get an up close view of the Cuyahoga River with all it's rushing waters while I keep a close eye on them even though it is only a few feet deep a the center!
There is even a canoe launch area below.  The Kent State Crooked River Adventures uses this launch area.
Munroe Falls Brust Park is the spot where there use to be a dam for 188 years! It was removed in 2006.  You'll find people resting, taking in nature, and even getting their portrait taken on the large granite. The granite looks like it is outdoor theater seating with the Cuyahoga River as the stage.
Read up on the history of Munroe Falls Dam and how they are returning it as a natural resource.
During our visit to Munroe Falls Brust Park, we always take a walk on the Hike & Bike Trail that runs through it. It offers a nice smooth surface to walk or bike with very pretty scenery. My kids spied a fantastic looking tree house being built in the backyard of one of the houses that backs up to the park too. I guess Daddy better start working on their tree house!
Portraits at Munroe Falls Brust Park
While we were visiting Munroe Falls Brust Park, we saw 2 photographers taking a family portrait and baby's 1st birthday portraits. This park offers a beautiful, natural backdrop for professional photography. You can even rent the gazebo and facility for weddings, etc.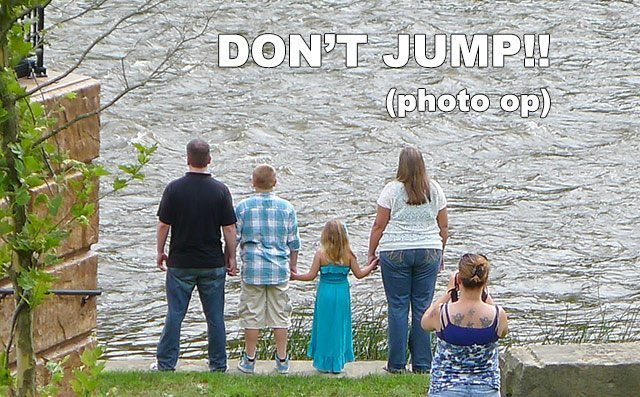 While we were there, we found 2 pairs of shoes that were left. I know that the baby shoes were left by the 1st birthday portrait but they were gone by the time we found them.
Hopefully they will return to find the baby shoes on the sign! 🙂