I love to go to Stan Hywet.  Their themed events, actors, decor and gardens are really a highlight of Akron.  My children like to tour the house, run through the big open fields and quaint, no, sprawling,  gardens.  I enjoyed sharing with them that an actor they've seen on TV, John Lithgow, grew up at Stan Hywet as the son of a caretaker-they thought that was awesome.
Anyway, I'm just thinking about how much I love one of our crown jewels.
But it's getting better.
In the Spring of 2014, Stan Hywet will cut the ribbon on a new PLAYGARDEN for children, and adults alike.  The garden is currently being designed with landscaping firm  The Pattie Group from Novelty, Ohio.
I'm apparently on the need to know list and I got a copy of one of their first renderings of the PLAYGARDEN.  I'm so excited to share with you!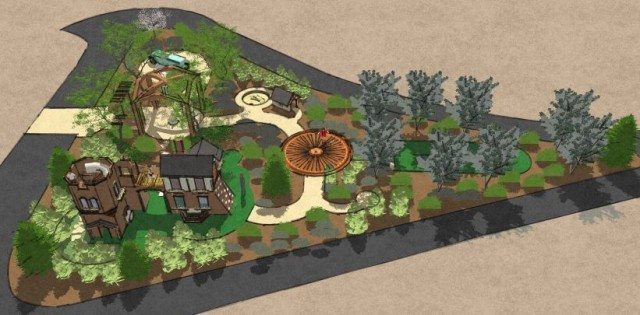 Sponsored by the Orr Foundation, the new PLAYGARDEN promises a water feature, and interactive play areas that let kids dig, climb and crawl.  All, and I say again ALL of which are forbidden elsewhere on the grounds, and definitely no climbing IN THE HOUSE! ha ha ha
The new PLAYGARDEN will be installed just north of the conservatory.  There is currently a lonely gazebo in that location right now.
This is really a great addition- Thank you Orr Foundation!!