One of our favorite parks to visit in Cuyahoga Falls, Ohio is Valley Vista Park.  It has something for everyone including a wading pool, multiple playgrounds, basketball courts, tennis courts, pavilion, picnic tables, and large grassy areas.
When my kids were babies till about age 5, we visited the wading pool all the time. It is FREE and open daily in the summer with a life guard.

The play areas are numerous with various different play stations and play grounds. My kids enjoy the teeter-totter and have for years. I like it because it isn't like the old fashion kind that would drop a kid flat on the ground if the other kid got off! It makes it so kids of different sizes can play together too. Kids love the play house beyond too. Now, they want their own club house at home!
There are several sets of swings, including swings for babies and handicap accessible.
The actual playgrounds are accessible as well with ramps. There is so many ways to explore Valley Vista Park!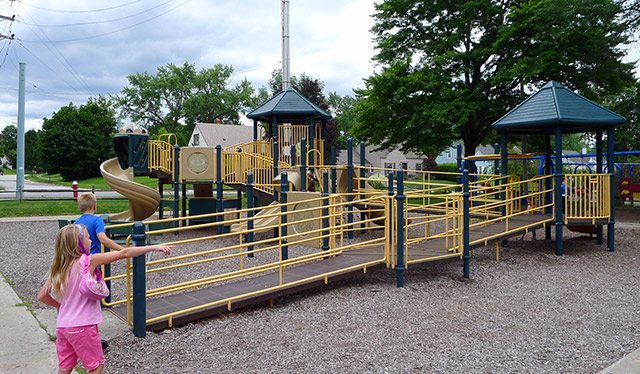 Large grassy areas with plenty of places to run, play, and have fun make this a park to retreat to as well. Bring a picnic, there are plenty of picnic tables!
The basketball courts are close by so that your older kids can play ball while your younger kids swing and play on the play equipment.
Have fun, no matter how you play! Kids find the most creative ways to explore and have fun, don't they?
The large sand pit is always a favorite too. There are shovel devices to put up and move sand that my kids have had fun playing with since they were toddlers.
There are plenty of ways to climb up on top of the playground too – rock walls, rope walls, ladders, ramps, and, um walking up the slide too! 😉 Notice my daughter is on the rope all, NOT the slide. ha! She does both though. 🙂
Valley Vista Park
2790 Valley Rd
Cuyahoga Falls, OH 44223
(330) 971-8225