Are you planning a kids birthday party? Do you want to make it magical?  We had a local Akron, Ohio birthday party magician, Jason Alan Magic  perform at my son's 8th birthday party this year. Magician Jason Alan was amazing, entertaining both kids and adults with is magic.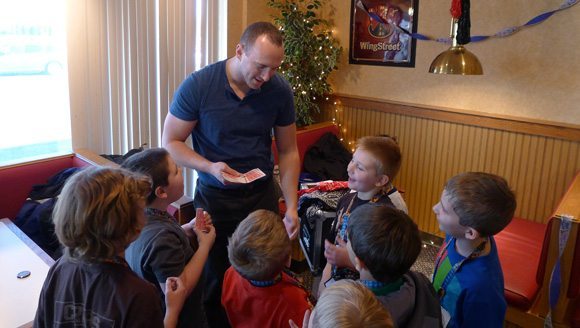 We were remodeling our living room, so we couldn't have the party at our house.  We had the birthday party at a local Pizza Hut in Hudson, Ohio. They offer amazing party deals that you've gotta check out.  With the limited space, I wasn't sure how we could keep the kids entertained.  I searched for birthday party entertainment in Akron, Ohio and found Jason Alan Magic.  I knew it would be a hit with 8 year old boys but I had no idea just how entertaining and memorable it would be!
While the kids ate pizza, Magician Jason Alan engaged with the kids in a few card and coin tricks to get the excitement started.  The kids were amazed at the close-up magic – and so were the adults!  He was giving us just a taste of what was to come! Once the show started – the kids were all smiles with the look of amazement on their faces the entire time!
It wasn't just a show, but an experience. Magician Jason Alan aims to entertain and focuses on entertainment, not just magic tricks. His performance is led by each individual group. He offered a variety of magic to keep everyone guessing, with eyes of amazement while he engaged with the audience. Elijah's friends couldn't get enough of him! They kept asking "How did he do that?" throughout the show.
Jason Alan Magic is all about giving you an experience that your party will remember for a long time!  Magician Jason Alan combines comedy, magic, and mind reading to entertain. Yes, mind reading – he is always watching reactions and directs his performance to each audience. He kept the show moving with many different kinds of magic, nobody knew what his tricks were or what he would do next.  Magician Jason Alan was amazing with his coin tricks too. They appeared out of then air! Up close and in a group, this magician was able to perform flawless magic!
As a mom, I loved how he gave each child the special time to be up "on stage" with him to perform a magic act.  The kids loved this! I don't know how Jason Alan did it but below he performed a magic trick where he made a balloon animal – which all kids love! However, it popped "accidentally" a couple times when it was placed in the magic hat.  In the end, he magically made one appear in his magic hat. There is no way that large balloon animal could have been hiding in the hat the whole time! Amazing! Birthday party magic is the way to go – for kids and adults!
One of Elijah's friends was handed a very special magic wand and was told to use it with extra care. It broke. He was given another one, it broke too. This continued on until he was given the huge magic wand below. With the huge magic wand, he released an enormous about of paper from the magicians mouth! The kids were in awe – I simply have no idea how he had anything in his mouth during the performance to be able to release so much paper – it was crazy!
The birthday boy was able to help with a magic scarf trick. Elijah loved it – and I loved seeing how amazed and excited he was with his birthday party magician! He liked being able to help the magician with his magic. You can see him trying to figure out what is going on – and nobody could!
Just look at my son's pose when magician Jason Alan reveals the extra red scarf that was nowhere to be seen during the act!  He is taken aback with surprise!  I like how animated and personable Jason Alan was as well – the kids loved him!
Anyone that can get 8 year old boys engaged, having fun, and focused has to have magic, right? There wasn't a time that the kids weren't smiling, laughing, and having a hollering good time.  The performance went too quickly as everyone was having such a good time!
My son's birthday part was magical for sure. All the kids had a fantastic time and are still trying to figure out how Jason Alan did all the magic! They are still saying, "How did he do that?".
Book Jason Alan Magic
Whether you have girls or boys, I highly recommend checking out this Akron, Ohio birthday party magician – Jason Alan Magic!  I'll be talking more about Jason Alan Magic's offerings soon. He is available for performances big and small including: Kids birthday parties, adult birthday parties, church events, school events, weddings, proms, corporate events, city events (performs at Akron First Night), Christmas and other holiday parties, retreats, and more.
You can email Jason Alan Magic at: Jasonalan@JasonAlanMagic.com or call 330-692-7912
This was not a paid post. My own opinions were used based on my perceptions and experience. Thank you to Jason Alan Magic who provided the performance for review.