We drove through Peninsula today after going to the Hale Farm Fall Festival – which was AMAZING! We spent 5 hours there – I'll have a post with plenty of photos tomorrow.
It looks like Peninsula, OH is open for business regardless of the Government Shutdown of the CVNP.  I've never seen Szalay's so hopping! People have the parking lot to the Corn Maze full, plus they are parking on the side of the road pretty far back since the parking lot for the CVNP is closed.
The corn maze looks extra exciting this year – it looks like there is some kind of smoke in it? I'm not sure. There was also entertainers with music instruments when we drove by. We plan to stop by another weekend since we were tired from Hale Farm.
Others were enjoying the shops, treats, and fun hanging out in the CVNP without actually being IN the CVNP. Still others took the risk and walked and rode their bikes on the forbidden trails.
We drove past several of the CVNP parks and found the same thing over and over. People are parking outside the park gates and walking up to the parks and trails. I'm not saying you should do this, I'm just saying that lines and lines of cars are there. People can't resist taking a hike during this gorgeous Fall weekend! The bathrooms that are owned by the CVNP by Szlay's are even open!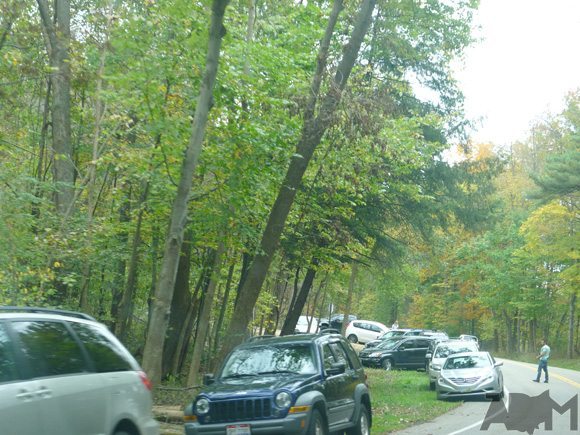 It makes me sad that the government has closed down all of our national parks – hurting many local businesses. I'm not saying you should go to the park when they are closed, although many, many are.
There is plenty to do to enjoy our parks this weekend including the Hale Farm Fall Festival – or drive down through Peninsula and enjoy dinner at the Winking Lizard – I'm sure people are parked all over along the road there too.