I haven't met many celebrities or creative geniuses in my lifetime. During my trip last month to Disney Animation Studios, that all changed. I was able to walk through the halls of where all the Disney magic happens at the Disney Animation Studios.  I had the opportunity to sit down with a dozen other bloggers to talk face to face with FROZEN's Directors Chris Buck and Jennifer Lee and Producer Peter Del Vecho!
I had the amazing opportunity to visit Disney Animation Studios last month during an all expense paid trip to L.A. to learn about the upcoming home releases of three fantastic movies.
From the first step inside Disney Animation Studios, I could feel the creative energy and magic that was all around us! How could you not be inspired by such an environment? It must be pure joy to work there, creating magical stories for the entire world to enjoy.
We were welcomed with a delicious breakfast as we waited for our tour to begin and our time to interview the filmmakers.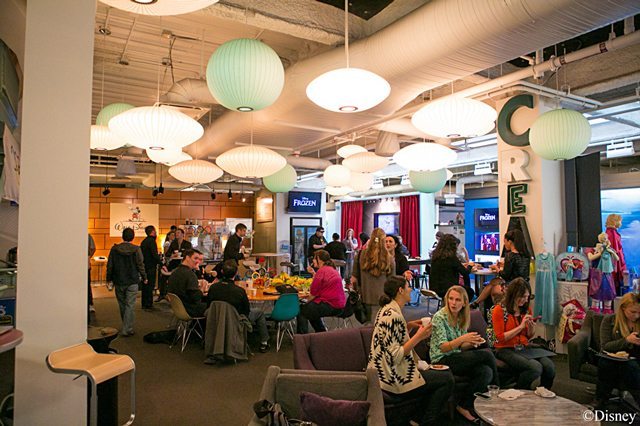 Q&A with FROZEN Filmmakers at Disney Animation Studios
I admit that I was a little star struck when first meeting FROZEN's Directors Chris Buck and Jennifer Lee and Producer Peter Del Vecho. What a talented team! I was put at ease immediately once we started the interview. They were the kindest, most humble individuals with a passion for FROZEN. Their enthusiasm for the movie, the entire process to get the film to theaters, and the story itself was contagious! What genuine, remarkable, talent people.
We were set up in a cozy area where we could talk with them face-to-face, asking any question we desired.  What an amazing opportunity!
Disney FROZEN Director Jennifer Lee
Disney FROZEN Director Jennifer Lee joined Walt Disney Animations Studios in March 2011 as one of the screenplay writers for the hit "Wreck-It Ralph," one of my kids' favorite movies! Jennifer Lee is one of the brilliant writers of Disney's FROZEN. I had the amazing opportunity to ask her a few questions about the development stages of the movie.
I asked Jennifer Lee how they determine when and where to place the songs and how and when they are added to the movie. She explained that the soundtrack shaped the film as they created the screenplay. The creation of both the soundtrack and screenwriting is created side by side.
My favorite song from Disney FROZEN is "Do you want to build a snowman?" For me, this song sets the stage for the movie as the viewer experiences the heartfelt love and anguish between sisters, Anna and Elsa. I tear up every time I hear it! I asked Jennifer Lee about how the song and the screenwriting was brought together during this integral moment in the film.  Jennifer Lee explained how difficult the process was. They had to portray the sadness without making the entire movie down and sad. They worked and reworked the song to show Anna, even as she was dreadfully lonely. Showing the sisters' 12 year span of life was also a difficult challenge in this part of the movie, with the "Do you want to build a snowman" song. They even held movie screenings without the song, which resulted in a unanimous agreement that they had to have the song!
Disney FROZEN Director Chris Buck
Disney FROZEN Director Chris Buck made his directing debut in 1999 with Disney Tarzan. He worked on many other films since 1984, as well as directing Surf's Up.
Every Disney movie has love, in the end the main character finds true love. I asked Chris Buck how they decided to make this story's true love between the sisters. Chris Buck was the brainchild behind the idea for the true love in Disney's FROZEN to be between the two sisters, not a romantic love between Duke of Weselton or even Kristoff. This was a huge and risky undertaking!  Being able to convey this message onto film was one of the movie's biggest challenge.  He did an amazing job conveying it.
I was 'tricked' with the introduction of the Duke of Weselton, I thought he was Anna's true love. Then, I thought Disney did a great job giving Kristoff, the underdog the princess. In the very last few moments, I was truly touched to find that the love between Anna and Elsa was the truest of all loves.
Disney FROZEN Producer Peter Del Vecho
Disney FROZEN Producer Peter Del Vecho has been with Walt Disney Animation Studios since 1995 with a background in theater, including the renowned Guthrie Theater. Films he has managed include Hercules, Treasure Planet, and Chicken Little.
I asked Peter Del Vecho if they had any idea Disney FROZEN would be as popular as it has become. He said that, "FROZEN became bigger than anyone working on it. It has become bigger than we could have imagined. Magical." I couldn't agree more!
It seems as though Disney FROZEN was exactly what we needed this Winter. Amidst our own frozen tundra this Arctic Winter, we all flocked to the theaters to watch Disney FROZEN, and again when the Sing-A-Long version came to select theaters.  Bigger than they could have imagined, Disney FROZEN has just passed the $1 Billion mark at the global box office! We couldn't get enough for the songs as over 1 million copies were sold!  At Christmas, Frozen merchandise was flying off the shelves as everyone wanted a piece of the movie! We can't get enough of Disney FROZEN!
Frozen's Directors Chris Buck and Jennifer Lee, Producer Peter Del Vecho, and the entire Disney Animation Studios earned the Oscar for Best Animated Film,  Academy Award Winner for Best Animated Feature Film and Best Orignal Song "Let It Go", and Golden Globe Winner Best Animated Feature awards hands down.
You can buy FROZEN on Blu-ray and DVD everywhere March 18th! Preorder FROZEN (Two-Disc Blu-ray / DVD + Digital Copy)
on Amazon and receive it on the release date! Or download FROZEN digital copy now from Amazon.
Like FROZEN on Facebook
Follow FROZEN on Twitter
Follow the conversation with #DisneyFROZEN
This was not a paid post. I received an all-expense paid trip to L.A. to visit Disney Studios and gifts. My own opinions were used based on my perceptions and experience.