When I got the invitation to attend the Red Carpet World Premiere of Cinderella last month, my first thought was, "What is a red carpet premiere at El Capitan Theatre like?" I'm not a movie star or famous celebrity. This is not a common event for a mom from Akron, Ohio! It was a dream to even be invited! I still feel like I have to pinch myself, but yes, it was true. For one night, I felt like Cinderella at the ball!
Disney invited me to Los Angeles on an all-expenses paid press trip, in exchange for my coverage. All opinions are my own.
What is a Red Carpet Premiere at El Capitan Theatre Like?
I want to give you at least a glimpse of what it is like to attend a red carpet premiere at El Capitan Theatre in Hollywood, CA. The whole city stops and gets ready for the event.  Hollywood Blvd was shut down in front of El Capitan Theatre for the red carpet premiere and reception. People lined the entrance starting in the morning, hoping to sneak a peek at the celebrities as they arrive.
The time had finally come, it was time to walk the red carpet!! This is what it looks like with the paparazzi behind me – not sure why they weren't taking pictures of me! ha!
This is what it looks like with the Cinderella wall behind.
Here is another view. We were so thankful for that this red carpet premiere had a roof since it was raining!
I couldn't resist taking a quick video so you could see what it is like to walk the red carpet premiere!

The paparazzi was lined up 3-5 people deep armed with their cameras, lights, microphones, and yelling for the attention of the celebrities. The celebrities walk closer to the paparazzi for photos and interviews – except for those that try to sneak by, we saw both. This is how what the red carpet premiere looks like to the movie stars like Lily James (Cinderella).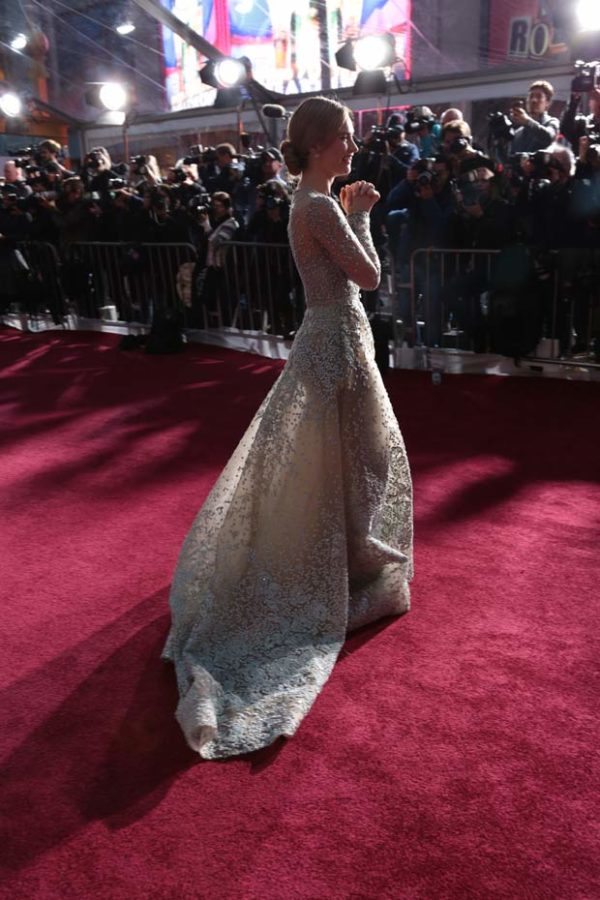 The celebrities entered the red carpet earlier through a slightly different entrance that had a different background as you'll see in this picture of Cinderella (Lily James) and her Prince Charming (Richard Madden). Aren't they a gorgeous couple?
It was amazing to see these beautiful, talented actresses at the Cinderella World Premiere! Cate Blanchett, Holliday Grainger, Lily James, and Sophie McShera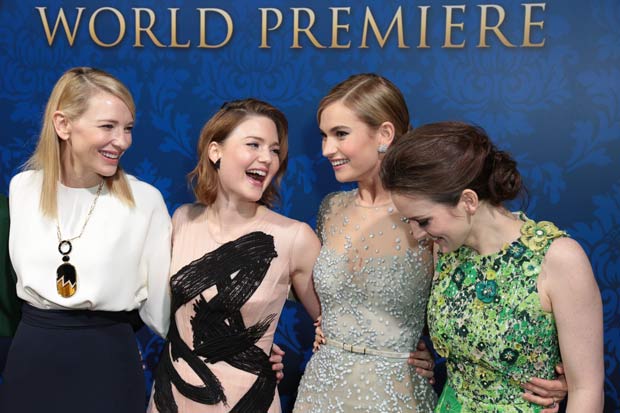 I actually snapped a few of my own photos of them as they arrived! Below are the evil stepsisters, Sophie McShera in green and Holliday Grainger in the pink with black dress.
Here is a great picture I snapped of Cate Blanchett (Lady Tremaine).
I was obsessed with meeting Sophie McShera who plays one of the evil stepsisters in Cinderella. I am a big fan of her character, Daisy in Downton Abbey! I was able to get a few great pictures like this one but unable to steal a shot with her. She is just as sweet as I would have imagined. She gave everyone the time to interview her, even a child who was trying to interview people that wasn't set up in with the media. I'm an even bigger fan now!
As you can see, it is unbelievable! The red carpet went on and on and eventually led into the reception area.
We received a royal entrance fanfare as we entered the ball with 4 men with heralding trumpets! I felt like a princess! I was so thankful that the JCPenny Glam Ball and my evening gown from Kohl's prepared me for this event or I would have had no chance!
The reception was amazing, filled with so much to see and do! I wish my daughter was with me because there was even plenty for kids to do including crafts! Who knew?! There was plenty of live entertainment too including stilt walkers, court jesters, dancers, sword fighters, photo booths with green screens, food (that I didn't even have time to touch), and live music.

I could watch these dancers for hours!

My kids would have loved the sword fighting! This lady was a hoot!
They even had a mini mani station! Morgan Taylor offers an exclusive Cinderella line of nail lacquer at salons, they were there to do our nails! I actually met Morgan and her parents! They were lovely, lovely people and so proud to be a part of the Cinderella premiere!
None of this could have been possible without my friend, Marshall who selected 25 mom bloggers and social media influencers to cover this event! He is a gem!  Thank you, Marshall!

All the media was at the event, either inside hoping to get an interview with the celebrities or outside covering the event. Local KTLA5 covered it and I was caught on tape behind David Alan Grier about 1 min 40 seconds into the clip!

A-list celebrities were all around – on the red carpet and at the reception. What I noticed most is that they were parents first and celebrities second. How cute it was to see Mario López get a juice box for his daughter!
Academy Award Winner Octavia Spencer was also there, giving out smiles and interviews to everyone.
Check out this clip from PopCorn Talk with Octavia and notice the red-head all the way to the left of her, it's ME with Kiri from CafeMom!  I was snapping pictures of all the celebrities with Kiri!

I was so excited to see the adorable August Maturo from "Girl Meets World" too.
Ian Ziering was there with his wife Erin Kristine Ludwig and daughter Mia Loren Ziering.
I didn't get to snap a picture of Josh Gad (voice of Olaf) with his daughter Ava Gad, but he was there too. Don't forget, FROZEN FEVER airs right before the Cinderella movie! #FrozenFever
I hope that this post has given you an inside look at what it is like to attend a red carpet premiere at El Capitan Theatre!
After the reception, we were ushered into El Capitan Theatre to watch CINDERELLA!! I loved it and will be sharing my review soon!
Don't forget CINDERELLA opens in theaters March 13, 2015!

Like CINDERELLA on Facebook, follow on Twitter and on Instagram.
Connect with JCPenny on Facebook, Twitter, and Pinterest!