Christmas is coming soon and I am looking for toys that actively engage my boys.  I thought back to my childhood and I remembered my brothers and I building scale models and we loved it! But it was sometimes messy with 5 kids , glue and paint. Revell has stepped in to save the day with kits that make scale model building easier and accessible to younger kids with their SnapTite line.
I received product to facilitate this post.
Revell History
For over 6 decades Revell has been the leader in quality scale model kits that are fun and affordable for all ages. In 2007 Revell was bought by Hobbico. Hobbico is 100% employee-owned, which gives Revell employees a vested interest in helping both, the products and the company succeed. Started by modelers and made for modelers, Revell's employees zeal is personal.
Hands On
Both my boys love to build. Kelton had never built a model car before but was excited that not only could he build it but he could play with it. Revell's SnapTite line is perfect for children who are just starting out building scale models. Revell has divided their kits into levels by a few traits that make selecting the right model for you child easier. Age recommendations start at 6 years old. I suggest looking at the number of parts and taking your child's abilities into consideration when picking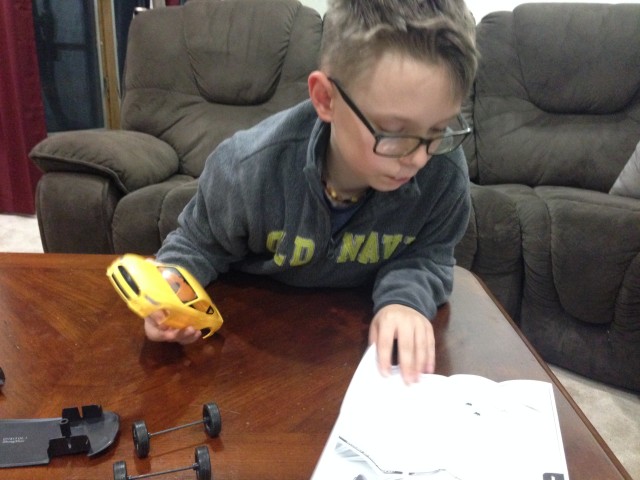 Revell Level 1 Kit: Can You Build It?
The level 1 Kit that Kelton built was the Revell SnapTite 2015 Mustang GT. This kit contains 12 pieces and does NOT need glue, paint or tools. the box says build time in 30 mins and is recommended for ages 6-8 years old. Kelton completed the Mustang on his own in 3 minutes!  I really feel like Kiernan who is almost 4 year old could have done this kit with a tiny bit of parental guidance. For Kelton it was to simple, again both my boys do lots of building (blocks,wood projects etc.) so this may be perfect for your 6,7 or 8 year old. I would recommend having glue on hand for pieces that might pop loose while the model is being played with.
Revell Level 2 Kit: Tools Needed?
Some level tool kits may require tools. Our SnapTite Max Grave Digger only needed a Phillips head screw driver.This kit contains 40 pieces and again no glue or paint needed. For this kit I would consider using glue from the beginning. We had a minor issue with some of our pieces for fitting together perfectly. So I had to help Kelton with the interior as some parts would pop out while you were putting other parts on. The level 2 kits are recommended for ages 8-10 years old. Build time was listed as 1 hour. It took us about 30 minutes to complete.  Once it was together it held up well!
If you are looking for a great gift to keep hands busy and minds thinking for Christmas I highly recommend considering Revell's Scale Model Kits. They also have some really awesome looking new Star Wars Models.