Don't let the frigid weather deter you from ringing in the New Year with friends and family this year. First Night Akron is the ultimate family-friendly New Year's Eve celebration with more than 45 music, dance, theater, art and interactive experiences for all ages.
Most locations are INDOORS so don't let the cold temperatures deter you from all the memory-making fun that is waiting to be had on the evening of December 31st from 6pm-midnight in downtown Akron, Ohio.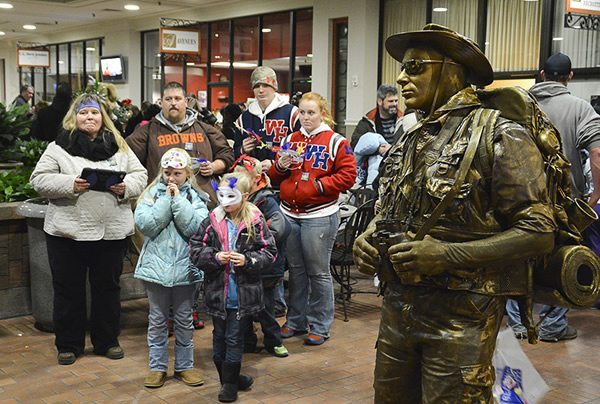 First Night Akron INDOORS
Your family will be entertained all evening with the majority of First Night Akron held indoors in venues including Akron Civic Theatre, Akron-Summit County Public Library, Akron Art Museum, John S. Knight Center, Mainstage at JSK Exhibit Hall 2, Greystone Hall and Summit Artspace.
Due to extreme weather forecast, the Mainstage performances (Charm the Guard, Floco Torres and Umojah Nation) will now take place in the JSK Exhibit Hall 2. These live performances are fun for the whole family including a teen band, hip hop, R&B, soul and pop sounds and reggae music throughout the night.
Download the entire performance schedule on your phone to mark the must-see performances. The Alans magic is at the top of our list!
You can also download this artist guide to base your evening's schedule on type of entertainment. With the cold temperatures, this may be the year to choose just a couple locations and really enjoy the performances and activities in those buildings. We typically try to visit each venue for one or two events but can never take it all in as there are over 45 options to choose from!
First Night Akron OUTDOORS
There are plenty of activities at First Night Akron held outdoors too so be sure to bundle up! You won't want to miss the fireworks presented by Huntington Bank ! There 2 fireworks shows on Main Street at 9 and midnight.
The first fireworks show is at 9pm, so this is great for families with young children that need to get home. Guests are encouraged to experience more of First Night Akron. At 11:45, meet outside by the Main Stage on High Street by the John S. Knight Center to march along with the Matrix Performing Arts drumline procession leading up to the midnight fireworks on Main Street.
There will be food trucks and a heated tent located near the Akron Art Museum and Greystone Hall to warm up, eat, and play games.
Be sure to stop by the Akron Art Museum to check out the ice sculpture garden and popular ice throne and fire and ice tower. The horse drawn sleigh rides on Main Street are a hit too, get in line between 6 to 9 p.m. and Lock 4 will be programmed with firepits and music, showing off the recent seating and lighting enhancements made to this space.
First Night Akron admission buttons are $10 each, kid 9 and under admitted free with a button-wearing adult.
Buy First Night Akron buttons at Acme Fresh Market locations, participating Huntington Bank branches (23 locations), Akron Art Museum, Akron Civic Theatre, Angel Falls Coffee in Highland Square, The Library Shop at Main and Lock 3, or online at www.firstnightakron.org.
On the evening of Dec. 31, admission buttons will be available at Acme Fresh Market until 8 p.m. and at the Akron Civic Theatre, Akron Art Museum and The Library Shop at Main. First Night buttons provide admission to all event sites and free METRO shuttle bus to each venue.