During our road trip to Santa Claus, Indiana, we spent the day at Santa's Lodge to enjoy zip lining, bungee jumping, climbing walls, and lunch at St. Nick's Restaurant.
This is sponsored post.
Santa's Lodge offers outdoor recreation for both hotel guests and visitors. Our love for zip lining started earlier this summer in Columbus, Ohio.  While planning our road trip to Santa Claus, Indiana, I asked my kids what they'd like to do on our trip and they both responded with zip lining!
There are many places to zip line near Santa Claus, Indiana and you'll see billboards all along the state routes, however, Santa's Lodge is the only zip lining location in Santa Claus, Indiana or within a hour from there!
The zip lining guides will help you get suited up with the proper fitting gear for you and your children. Kids as young as 7 can zip line, just be sure to inquire before making your appointment. There are weight requirements.
Santa's Lodge offers a 4 zip line course, starting off with a shorter zip line to get you comfortable!
We were with another family of 3. Both the mom and daughter were reluctant since this was their first time zip lining but they loved it! This is an excellent zip lining course for beginners. If by chance you are not enjoying it, you can get off after the second zip line, which is what they told the young girl that was in the second family. She had so much fun that she stayed for all 4 zip lines!
Our zip lining guides were amazing. They were so friendly, helpful, and fun.  I felt completely confident in their ability to keep us safe while zip lining. Plus, the course is in excellent condition and felt very professional and secure as well.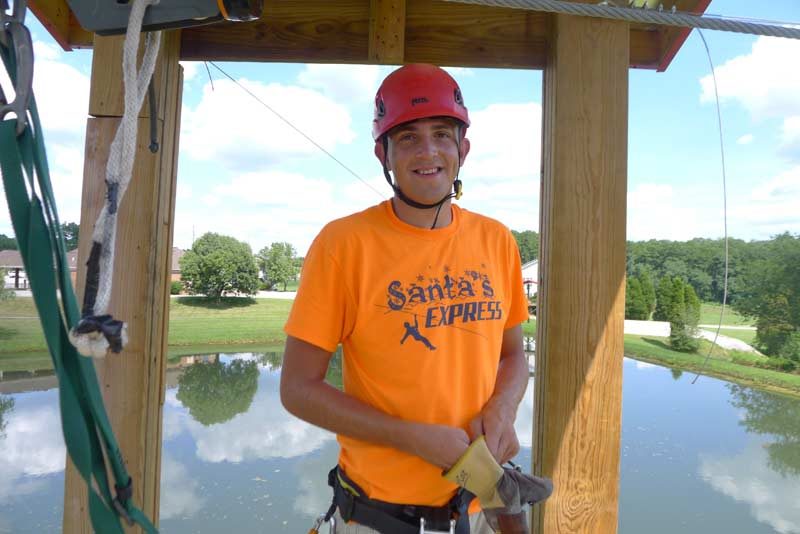 We had a blast zip lining! The 4-course zip lining took a little less than 1 hour to complete – the perfect addition to any day in Santa Claus, Indiana. The Christmas shops are located just across the road, so it is the perfect location for an afternoon of play while touring the town.
The most thrilling – and scary for me – zip lining course was over the lake. I've never zip lined over water, although my husband and son did during our trip to Myrtle Beach and they loved it. 
Once I pushed back the fear, I loved zip lining over the lake!

Our zip lining guides enjoyed showing off a few special techniques that left us in awe and gave my son a few ideas of what he'd like to try once he's more seasoned at zip lining.
The Bungee Jump at Santa's Lodge is fun for kids and adults of all ages too! There is always an attendant on duty for your safety. This and the rock wall operate during zip lining hours.
This was the first time my kids have tried a bungee jump and the loved it. Below is my daughter's first attempt, by the end, she was doing double back flips!!

St. Nick's Restaurant
Enjoy Southern Indiana hospitality, unique Christmas decor, and a delicious buffet for breakfast, lunch, or dinner at St. Nick's Restaurant. This is one of just a few restaurants located in Santa Claus, Indiana and a must for anyone visiting the area.
My kids love buffets because they can sample so many different types of food – and so do I! On the menu during our visit, we enjoyed country favorites including fresh fried chicken, meat loaf, mashed potatoes, breakfast items, and more.
There is also a complete salad bar – to which we required our kids to enjoy a full plate before diving into the main course or desserts! 🙂
This hearty lunch kept us full all day long, as you can imagine!
Enjoying a home cooked meal while on a road trip is welcomed over fast food! We had such a lovely visit at St. Nick's Restaurant. We were able to meet with the manager as well. They take pride in making every customer feel like their own personal guest. Many locals also dine at St. Nick's and the staff know them by name.
You must try their banana upside down cake during your visit – it's divine…as was the mixed berry cobbler.  As you can tell, we indulged way too much!
A delightful, quirky little thing we saw was a large bowl of day old biscuits that they keep for guests to feed the fish in the lake outside. My kids couldn't wait to finish eating so they could feed the fish!!
We spent at least 40 minutes sitting on the dock feeding the fish and enjoying the scenery. My kids couldn't get over how large the coy and catfish were! We even say a few turtles. Now I know why I was so afraid to fall into this lake while zip lining! ha!
Santa's Lodge offers a retreat from the everyday business of life.
Santa Claus, Indiana is America's Christmas Hometown. There is so much to do and see that you'll want to spend at least several days. Santa's Lodge is the closest hotel to Holiday World, located in downtown Santa Claus, Indiana. The lodge is decorated for Christmas year-round but I hear that at Christmastime, it is stunning with extra decor both inside and outside!
Plan your visit to Santa's Lodge for your next road trip to Indiana. It is a quaint little town with plenty of charm and things to do for the whole family.
Santa's Lodge
91 W Christmas Blvd
Santa Claus, IN 47579
Phone: (812) 937-1902